As a music student, you will be involved in one of the most progressive and nurturing university environments in the region. You will work with a truly resident faculty active nationally and internationally who will challenge you to develop your talents and hone your skills to the fullest, while encouraging you to expand your horizons and realize your goals.
Graduates Prepared for Success
Our mission is to prepare dynamic music educators, performers, and composers for leadership roles in our profession. We are committed to educating students as well as enhancing and enriching our community through music.
Rodney Dorsey, University of Oregon
Featured Clinician
Congratulations!
Dr. Daniel Tacke's im Rückblick ("in retrospect") for mixed quartet performed in San Francisco to great reviews.
William Kazyak (BM, Keyboard) has been named a recipient of the 2015 A-State Distinguished Service Award, and is in the running for the Wilson Award.
Allen Zirkle (BM, Keyboard) has been named a finalist in the Trinity Presents Collegiate Showcase Competition. He has already won $500, and will play in a recital to compete for another $1000 at a concert on April 12 at Trinity United Methodist Church in Little Rock.
Lecture-Concert Series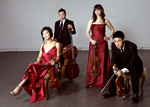 The Lecture-Concert Series serves ASU and the surrounding communities by bringing notable guest speakers and performers to campus.