Department News
Student Research Presentations
Morgan (Caples) Thrasher presented her research at the
CREATE @ A-State, winning *FIRST PLACE* in the
Graduate/Oral category "Other Analytic Studies."
Presentation Title: The Use of Speech-In-Noise Testing as a Measure of Hearing Aid Benefit
Mentor: Mike McDaniel


Bethany Burkeen is a second year Communication Disorders graduate student from Collierville, Tennessee. As part of her graduate degree experience she has conducted research for her thesis entitled, "Behavioral Measures of Audibility as Indicators of Hearing Aid Benefit". Bethany will be defending her thesis on October 17, 2014. She will also be presenting her thesis in conjunction with Morgan Caples, a first year graduate student expanding on Bethany's thesis research, at the 6th annual Arkansas Academy of Audiology convention in the spring of 2015. Her faculty mentor for the project was Dr. Mike McDaniel, Audiologist and Professor of Communication Disorders.
Maegan Inzer is a graduate student in Communication Disorders from White Hall, Arkansas. As part of her graduate degree experience she has conducted research for her thesis entitled, "An Investigation of Dialect Variation and Spelling: First Graders' Representation of Final Consonant Clusters". She will be presenting her thesis at the state convention of ArkSHA on October 10, 2014 at 10:15 am. Her faculty mentor for the project was Dr. Amy Shollenbarger, Assistant Professor of Communication Disorders.
Morgan Caples presented research at the 5th Annual Arkansas Academy of Audiology Convention, held May 1-3, 2014, at Mount Magazine State Park, Paris, AR. The title of her project was Fluent Communication as a Measure of Hearing Aid Benefit. Her faculty mentor for the project was Dr. Mike McDaniel, Audiologist and Professor of Communication Disorders.
Convocation of Scholars 2014
The annual Convocation of Scholars Banquet for the college was held April 21st at 6pm in the Hames Room of the Convocation Center. Honorees for the department include:
Undergraduate Program Scholars
Laura Azzarello, Jessica Benton, Laura Brown, Morgan Caples, Mallory Causey, Valerie Ham, Sarah Hamilton, Andria Hutchison, Malloree Madding, Bailey Mustain, Keely Ruble, Bailey Sisson, Nichole Terry, Taylor Troillett, Megan Wilcox, Jessica Wilkison.
Outstanding CD Undergraduate
Morgan Caples and Bailey Sisson
Outstanding CD Graduate Student
Stephanie Simpson
Reception for Incoming Graduate Students
The Department of Communication Disorders hosted a reception for the incoming MCD Class of 2015 on Friday, April 18th, at 2:30 pm in the Student Lounge (room 223) of the Donald W. Reynolds Center for Health Sciences. Light refreshments were served. Welcome to our new graduates!
WHO'S WHO Congratulations!!
Morgan Caples and Andria Hutchison were recognized for Who's Who awards, congrats, ladies!
HONORS Congratulations!!
CD senior Amanda Layer was included in the Honors Recognition Ceremony & Reception on Friday, May 10, 2013. She Graduated in Honors for having completed a minimum of 18 credit hours in Honors coursework and graduating with a 3.50 or higher cumulative GPA. Way to go, Amanda!!
WILSON AWARD WINNER, Candice Mey-Biggers!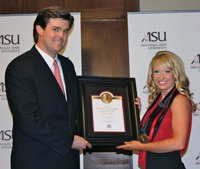 The 126th R. E. Lee Wilson Award was presented to Candice Mey-Biggers of Jonesboro. She will graduate in May with a bachelor of science degree in communication disorders through the College of Nursing and Health Professions. Her advisor is Dr. Richard Neeley, who nominated her for the award. Her achievements include being named to the Chancellor's List and Dean's List, being a Global Student Leader and being named a Nedrow Scholarship recipient. She was Head Orientation Leader in 2011, participated in Shared Governance, and was named to Who's Who Among Students in American Colleges and Universities. Included in her community service was Relay for Life and the Miracle Rodeo. She was a Diamond Doll, an organization which supports the baseball team as well as all ASU athletics. She served on the ASU Student Conduct Board and was elected Homecoming Queen in 2011. Congrats Candice!
Create @ state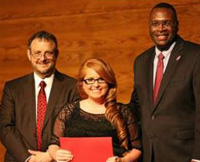 The second annual Create @ STATE: A Symposium of Research, Scholarship & Creativity was held on Thursday, April 5, 2012 in the ASU Student Union. The winners were announced during an award ceremony at the event. Brittany Bailey, a Communication Disorders major, has participated in this event both of those years, and both of those years has been recognized for her research endeavors by placing 1st in the Health Sciences Undergraduate category in 2011, and following up in 2012 winning Best Overall Undergraduate Panel Presentation! Congratulations, to Brittany and her advisor, Dr. Mike McDaniel, for such stellar performance in communication disorders research! The title of the research project is "A Preliminary Investigation of the Potential, Subtle, Middle Ear Differences in Children with Reading Delays."
Phi Kappa Phi
Phi Kappa Phi is an honor society established 1897 to recognize and encourage superior scholarship without restriction as to area of study, and to promote the "unity and democracy of education." It is the third academic society in the United States to be organized around recognizing academic excellence, and is the oldest all-discipline honor society. Membership is by invitation only at a campus with an established chapter and is restricted to students with integrity and high ethical standards and who are ranked scholastically in the top of their class, regardless of field of study. The 2012 inductees into Phi Kappa Phi from the Department of Communications are: Adele Miller, Robin Snider, and Andria Hutchison.