Beck PRIDE Center Receives Funding From Attorney General McDaniel
JONESBORO — Attorney General Dustin McDaniel has announced the Beck PRIDE Center for America's Wounded Veterans at Arkansas State University has received a distribution of settlement funds under Act 763 of 2013.
The Beck PRIDE Center received $15,000 that will be used to support the needs of the veterans in the program in the areas of personal rehabilitation, individual development or education. The Attorney General's office often gives settlement monies to non-profit organizations whose constituents may have been adversely affected.
"We always feel so fortunate when we have additional funding to support our veterans and their needs," said Dr. Susan Hanrahan, dean of the College of Nursing and Health Professions. "The Attorney General has been generous with Arkansas settlement funds and we are grateful that our Beck PRIDE Center for America's Wounded Veterans has been a designated recipient."
Two weeks ago, McDaniel presented a check for $100,000 to A-State's College of Engineering, saying, "The law allows for reallocation of resources gained in legal actions for the people of Arkansas, and these funds were the result of consumer practices fines in our settlement with a major pharmaceutical firm."
Read the complete news release.
31 Distinguished A-State Faculty Selected for Wall of Honor
12/5/2014
JONESBORO – The Arkansas State University Faculty Association will recognize 31 individuals who have been selected for the Distinguished Faculty Wall of Honor during the association's annual holiday event on Wednesday, Dec. 10.
All A-State faculty, family and friends of the honorees, and previously designated distinguished faculty are invited to the 4-5 p.m. ceremony and 5-6 p.m. reception at the Cooper Alumni Center, 2600 Alumni Blvd.
Recognition of distinguished faculty began during the university's Centennial Celebration in 2009-10 when the Faculty Association selected the "First 100 Distinguished Faculty." Every five years the association selects a number of retired faculty, through a well-defined faculty committee nomination process, who have made long-term significant contributions to Arkansas State.
Read the entire press release.
Read article on Dr. Elizabeth Stokes.
Governor Appoints Manning to State Group
Posted: Dec 2, 2014

Gov. Mike Beebe has appointed Veronica Manning, clinical coordinator in the Department of Medical Imaging and Radiation Sciences, to the Medical Ionizing Radiation Licensure Committee. The appointment represents A-State's continuing involvement with this regulatory group; her predecessor on the committee is Ray Winters, department chair. Previously she has been featured in a faculty spotlight video.
Arkansas State University Hosts Disaster Preparedness Conference
Posted: Nov 13, 2014 7:41 PM CST Updated: Nov 14, 2014 12:57 PM CST
JONESBORO, AR (KAIT) -School administrators from Region 8 schools gathered at Arkansas State University on Thursday for a disaster preparedness conference.

ASU Assistant Professor Brent Cox said the program is part of the Educational Renewal Zone initiative. The program helps provide training to school districts on disaster preparedness and response.

"No matter if it's from a tornado, to an active shooter, earthquakes, thunderstorms, accidents, whatever it may be we are talking to the safety teams and planning commissions of the schools on how to respond to and recover from disasters," said Cox.

Blytheville Superintendent Richard Atwill attended the conference. He said he wants his schools to have a unified command system with the Mississippi County Sheriff's Department to help keep all citizens safe during possible disasters.

Copyright 2014 KAIT. All rights reserved.
KAIT-Jonesboro, AR-News, weather, sports
Report: Large number of veterans under-employed
JONESBORO, AR (KAIT) -For the sixth straight year, Arkansas State is listed among the Military Times "Best for Vets College" in the 2015 rankings. The Beck PRIDE Center has been serving veterans since 2010.

According to a survey from the University of Phoenix, the unemployment rate for veterans is dropping but a large number of them are under-employed.

The survey shows that 72 percent of veterans say they took a job because they were unemployed even though it was beneath their skill set.

"We may not have all the answers but we can help them find the answers and refer them to where they need," said Lynda Nash, director of the Beck PRIDE Center at Arkansas State University.

The center is currently helping 219 veterans and has assisted more than 400 veterans since the opened their doors about four years ago. The Beck PRIDE Center focuses on personal rehabilitation, individual development and education. Nash said their primary focus is recent combat veterans.
"Helping them identify the resources to pay for school, accessing those resources or do they need adjustment," she said. "We help provide support for not just veterans but spouses, significant others and children of those veterans."
The Beck PRIDE Center offers veterans access to counseling, placement tests and career options. Finding a job just adds to the list of challenges veterans face once they return home.
"When they first come back, a lot of is hyper-vigilance, they're so aware of what kept them safe which was being completely aware of their surroundings," Nash said.
A Veterans Affairs counselor meets with veterans once a month on campus. The center also has a combat support group. Nash said they just completed a workshop for mental health providers and religious leaders in the local community.
Copyright 2014 KAIT. All rights reserved.
For Release to the Media
November 10, 2014
Military Times Ranks A-State Among Top Universities In "2015 Best For Vets Colleges" For Sixth Time
JONESBORO — For the sixth straight year, Arkansas State University is listed among the Military Times "Best for Vets Colleges." The rankings factor in the most comprehensive school-by-school assessment of veteran and military students' success rates. A-State has appeared on the rankings since its inaugural year of 2010.
According to Military Times, as with all Best for Vets rankings, Best for Vets Colleges 2015 is an editorially independent news project that evaluates the many factors that make an organization a good fit for service members, military veterans and their families.
Services offered through Arkansas State's Beck PRIDE Center, based in the College of Nursing and Health Professions, also was a major factor contributing to the ranking.
The Beck PRIDE Center focuses on "Personal Rehabilitation, Individual Development and Education," which is the basis for the PRIDE acronym. Its mission is to supplement, not replace, other traditional forms of assistance to military veterans.
Establishment of the center was made possible in 2007 through the generosity of Buddy and Charlotte Beck of Fairfax Station, VA, who are A-State alumni. From the beginning, more than 400 veterans have received services from the Beck Center.
The U.S. Department of Defense, recognizing the Beck Center's progress, provided $1.4 million for program evaluation and replication design. The funding is supporting a research project titled "Beck PRIDE Center – An Effective Solution for Combat-Injured Student Veterans."
Read the entire press release.
Visit the Beck Pride Center web site.
DPEM Student, Holli Werner,
chosen as the spotlight student at the Center for Domestic Preparedness
The CDP welcomes Holli Werner to training this week. Holli is a fulltime student in the Disaster Preparedness & Emergency Management Program at Arkansas State University at Jonesboro. Through a partnership with the CDP, Arkansas State has included CDP training in its disaster management curriculum.
Holli is attending one of the CDP's first courses called TERT. The course can be traced back to the CDP's beginning of June 1998. TERT is part of a handful of courses that allow emergency responders to train in a nerve agent and biological material environment.
Read the article on the FEMA web site.
DAV Charitable Service Trust Grant to Aid A-State's Beck PRIDE Center Veterans
JONESBORO — Arkansas State University's Beck PRIDE Center for America's Wounded Veterans has been awarded a grant for $60,000 by the DAV Charitable Service Trust. The grant will provide counseling, advocacy and educational programming for veterans at Arkansas State.
Dr. Susan Hanrahan, dean of the College of Nursing and Health Professions, was notified of the funding by the chairman of the Charitable Service Trust Richard E. Marbes.
"We are so appreciative of the support of the DAV Charitable Services Trust," Hanrahan said. "This gift will provide an opportunity to extend our work with the student veterans and their families especially in the areas of psychoeducational programming, tutoring and counseling. Beck PRIDE services to date have impacted over 500 student veterans and their families. The DAV is making such a difference in the lives of veterans nationwide."
Visit the Beck Pride Center web site.
A-State Social Work Department To Hold Delta Health Disparities Conference
Oct 14, 2014
JONESBORO — A Delta Health Disparities Conference designed to identify tools to combat poverty and address health issues in the Delta region will be held Wednesday, Nov. 12, on the third floor of the Carl R. Reng Student Union, 101 N. Caraway Road, on the Arkansas State University campus.
The conference, open to the public, features individual workshop sessions to address different health issues in the Delta and how to battle them. Chris Masingill, the federal co-chairman of the Delta Regional Authority (DRA), is the keynote speaker and will discuss how the regional authority helps to create jobs, build communities and improve lives for the 10 million people who live in the eight states and 252 counties of the Delta region.
A-State to Honor Nursing And Health Professions Alumni At Homecoming
JONESBORO — Seven outstanding graduates of Arkansas State University's College of Nursing and Health Professions (CNHP) will be honored as distinguished alumni during Homecoming activities, Saturday, Oct. 4.
The distinguished alumni include Sara Fenter, Jerry Fenter, Merrill Catt, Kevin Decker, Deanna Barymon, Joyce Files and Adam Watkins. The group will be recognized during a 2 p.m. ceremony in the Reynolds Center for Health Sciences, Room 222, 2501 Danner Avenue.
Welcome to New Faculty Members - August 25, 2014
Welcome to these new faculty members in the College of Nursing and Health Professions: Dr. Patricia Wilkerson, associate professor of social work; Dr. Christina Akbari, assistant professor of communication disorders; Hadyn Huckabee, assistant professor of health sciences; Dr. Junlin Zhang, assistant professor of physical therapy; Kacie Altom, temporary instructor in nursing; Joseph Carter, temporary instructor in medical imaging and radiation sciences; Karnilla Schingoethe-Lee, temporary instructor in social work; and Dr. Evelyn Taylor, temporary instructor in social work.
Ready for Anything - July 18, 2014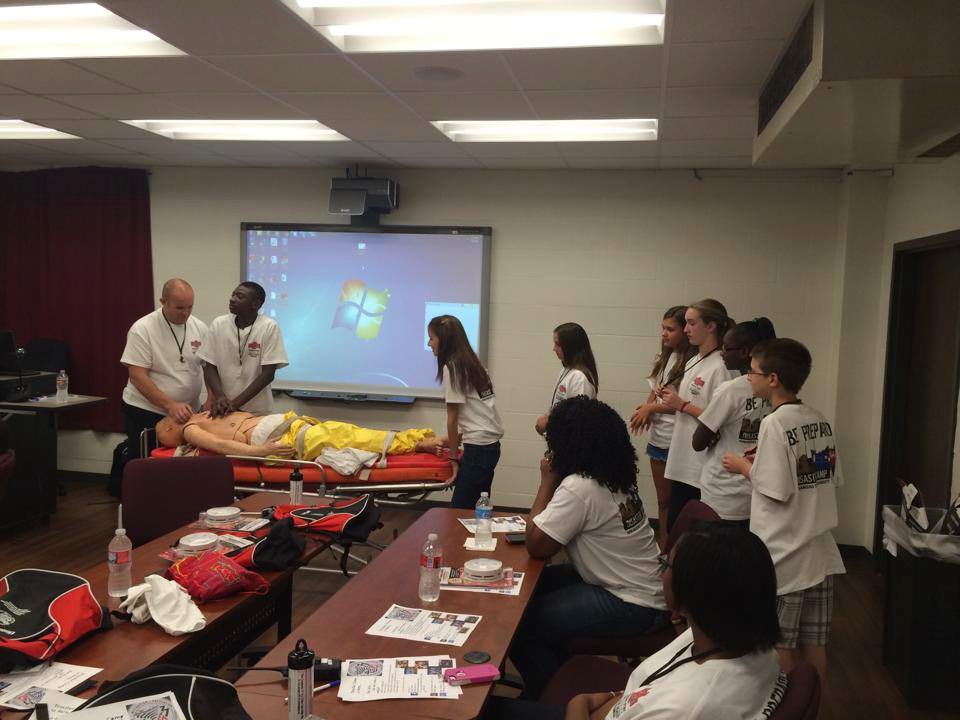 7th and 8th graders from across the region enjoyed a week of Disaster Camp. Campers learned a variety of skills and protocols to handle a variety of situations from extreme weather to CPR administration. The camp is run by Arkansas State's Regional Center for Disaster Preparedness education.
Accreditation Site Visits—Visits and Updates
CLS (Clinical Laboratory Sciences) -- Sept 19-20, 2013 -- Accreditation through October 2018.
MRI (Magnetic Resonance Imaging)—Accredited through December 2016
MSW (Masters in Social Work)—Aug 24, 2011—Accreditation through October 2015
Radiation Therapy—Sept 12 and 13, 2011---Accredited through September 2019
Physical Therapist Assistant—Sept 25-28, 2011---Accreditation through 2022
Dietetics—Oct 24 and 25, 2011—Granted Candidate Status
Nursing (all programs)—Feb 14-16, 2012—Accreditation through 2020
Disaster Preparedness & Emergency Management - June 18 & 19, 2012 - Pending Report from Foundation For Higher Education Accreditation
DPT (doctorate in physical therapy)—Sept 30-Oct 2, 2012—Pending Report
---
Relocation in our college:
*The department of Social Work - 3rd floor of the Smith Building. They are in suite 327.
*The Beck P.R.I.D.E. Center - Reynolds Center for Health Sciences, room 170.
*Nurse Anesthesia - Reynolds Center for Health Sciences, 3rd floor.
*Communication Disorders - Reynolds Center for Health Sciences, 2nd floor, Suite 211.
*The Speech and Hearing Clinic - Reynolds Center for Health Sciences, 1st floor, Suite 101.
*Medical Imaging & Radiation Sciences - Nursing & Health Professions, 4th floor, Suite 419
*Nutrition -E. Smith, 4th Floor, Suite 410
*Regional Cente for Disaster Preparedness and Emergency Management - E. Smith, 4th Floor, Suite 410
*Health Studies - E. Smith 4th Floor, Suite 410