29 Outstanding Students Receive 2016 'Who's Who' Award

4/22/2016
JONESBORO – Twenty-nine outstanding upper-level students at Arkansas State University have been named to the prestigious "Who's Who Among Students in American Universities and Colleges" for 2015‑16. The students were introduced during a campus ceremony recognizing student leaders.
Hunter M. Clampit, Harrisburg, AR (Nursing)
Brandon M. Haley, Marion, AR (Health Studies)
Angel T. Livingston, Dumas, AR (Nursing)
Marshall K. McDaniel, Jonesboro, AR (Health Studies)
Amber D. Ray, Little Rock, AR (Nursing)
2016 College of Nursing and Health Professions Winners for Create @StAte
Oral Presentations
The Influence of Perception (First Place)
­
– Emily Peters - "Student Perception of the Benefits of Academic Education Partnered
with Technical Training at Homeland Security's Center for Domestic Preparedness".
Faculty mentor Dr. Brent Cox.
Poster Presentations
Obesity & Diabetes, Graduate Poster (First Place­ (Tie)
– Regina Strop – "School-reported BMIs and Lifestyle Changes". Faculty mentor Dr. Debbie Shelton.
– Megan Burke – "Preventive Services in the Intellectually Disabled Population of Northeast Arkansas". Faculty mentor Dr. Mark Foster.
Physical Therapy, Graduate Poster (First Place­)
– Grafton Harrell, Todd Hobson – "The Use of 405nm and 464nm Blue Light to Inhibit Listeria Monocytogenes in Ready-To-Eat (RTE) Meat". Faculty mentor Dr. Stephen Guffey.
Nursing, Graduate Poster (First Place­)
– William Burns – "Examining the Use of Albuterol in Pediatric Patients Diagnosed with RSV-Induced Bronchiolitis." Faculty mentor Dr. Mark Foster
Beck PRIDE Center Receives $25,000 Grant From Walmart Foundation
January 29, 2016
JONESBORO, Ark. – The Beck PRIDE Center for America's Wounded Veterans at Arkansas State University has received a grant for $25,000 from the Walmart Foundation.
The grant will support capacity building for direct service or to facilitate the following: career testing, career counseling and advisement (career coach), résumé writing/interviewing skills, small business development, identification of specialization credentials that would improve marketability and employer recruitment/graduate placement.
"The Walmart Foundation has continued to be very financially supportive of our work with veterans," noted Dr. Susan Hanrahan, dean of the College of Nursing and Health Professions. "We are so fortunate Walmart has made 'veterans in the workforce' one of their priorities."
The goal is to increase the number of disabled student-veterans and place 100 percent of them into "best-fit" occupations using a logical and supportive educational continuum model.
Read the complete news release.
Hailey is Professor of the Month for December

Congratulations to Lori Hailey, A-State Professor of the Month. Hailey, assistant professor and clinical learning center coordinator in the College of Nursing and Health Professions, was recognized for her improved teaching results from putting more emphasis on a hands-on approach. Hailey was selected by the Learning Outcomes Advisory Committee and Office of Assessment. In a video, Hailey and one of her students discuss how their work in the labs impacts learning outcomes.
Six Nursing and Health Professions Alumni to be Honored at Homecoming
JONESBORO – Six outstanding graduates of Arkansas State University's College of Nursing and Health Professions (CNHP) will be honored as distinguished alumni during Homecoming activities, Saturday, Oct. 3.
The list of distinguished alumni includes Gary Taber, Kellie Cox, Jill Weeks, Brian Lewis, NaTasha Davis and Kathy Blackman. The group will be recognized during a 2 p.m. ceremony in the Donald W. Reynolds Center for Health Sciences, Room 222, 2501 Danner Ave.
Read the complete press release.
Arkansas State Selected Among Nation's Most Affordable Online Colleges
July 29, 2015
JONESBORO – Arkansas State University is ranked in the latest list of "The 100 Most Affordable Online Colleges in the U.S.," according to Great Value Colleges, a website whose mission is to help students get the best possible education for their money.
A-State, ranked 58th overall, is listed among the group of colleges and universities whose tuition is "less than $8,000 per year" for instate tuition and fees.
The site describes Arkansas State, "The four online bachelor's degrees available from Arkansas State are completion programs, designed to accommodate students that have completed the first half of their college education in some other manner. Students looking to do their entire degree online can find many associate degree programs online that can be transferred. The available programs are disaster preparedness/emergency management, general studies, interdisciplinary studies, and RN to BSN (Nursing)."
Good Serving on State Executive Board
6/16/2015
| | |
| --- | --- |
| | Dr. Joy Good, assistant professor of communication disorders, was recently elected to the executive board of the Arkansas Speech-Language and Hearing Association (ArkSHA) in the position of secretary. She will serve on the executive board in this capacity through 2016. ArkSHA serves as the voice for communication sciences and disorders professions (speech-language pathology and audiology) in Arkansas and the clients they serve. |
Beck PRIDE Center Publication Earns Gold Award
5/5/2015
JONESBORO – The Beck PRIDE (Personal Rehabilitation, Individual Development and Education) Center for America's Wounded Veterans at Arkansas State University has attracted more regional attention for its outreach initiatives.
The center's latest marketing brochure won the Gold Award in its category in the annual competition sponsored by the Council for Advancement and Support of Education (CASE), District IV.
The winning piece is the primary reference guide to the center's programs and services, and it features a development timeline and its benefactors, A-State alumni Buddy and Charlotte Beck of Fairfax Station, Virginia.
"The Beck PRIDE publication reflects the variety of services provided by the center and demonstrates how the program has grown and developed over time to meet the needs of our veterans," stated Lynda Nash, director of the center.
A-State's Publications and Creative Services (PCS) team designed the brochure, which was printed in the university's Printing Services Department. The PCS designers earned the gold in the "institutional relations programs, project or special event" category of the competition, which looks at major projects from universities in five states.
"This piece has been so beneficial to a number of our constituent groups — legislators, higher education personnel, donors, veterans groups and others. We are definitely taking 'pride' in this publication. We had a wonderful working team," Dr. Susan Hanrahan, dean of the College of Nursing and Health Professions, where the Beck PRIDE Center is based.
CASE is an international association of professionals who work for the advancement of educational institutions.
A full listing of A-State's winning awards is available in the online news release.
College of Nursing and Health Professions Cites Top Graduating Students during Convocation of Scholars

4/30/2015

JONESBORO -- The College of Nursing and Health Professions at Arkansas State University recognized its most outstanding graduating students during its annual Convocation of Scholars honors program, according to Dr. Susan Hanrahan, dean of the college.
Kimberly Clark of Beech Grove, a communication disorders major, was recognized as recipient of the Chancellor's Scholar award for having the highest grade point average (4.0) in the college. Hannah Hulett of Swifton, Kathryn Locke of Bartlett, Tennessee, and Haley Townsend of Conway, all communication disorders majors, received the 4.0 Award. When more than one person has a 4.0, the Chancellor's Scholar is the student who has completed the most credit hours.
Twenty-eight students were selected by faculty in the individual degree programs to receive the awards for outstanding achievement, leadership and service to their respective departments and degree programs, both in the classroom and in the clinical experience.
Military Times Ranks A-State Among Top Universities In "2015 Best For Vets Colleges" For Sixth Time
Military Times Ranks A-State Among Top Universities In "2015 Best For Vets Colleges" For Sixth Time JONESBORO — For the sixth straight year, Arkansas State University is listed among the Military Times "Best for Vets Colleges." The rankings factor in the most comprehensive school-by-school assessment of veteran and military students' success rates. A-State has appeared on the rankings since its inaugural year of 2010. According to Military Times, as with all Best for Vets rankings, Best for Vets Colleges 2015 is an editorially independent news project that evaluates the many factors that make an organization a good fit for service members, military veterans and their families. Services offered through Arkansas State's Beck PRIDE Center, based in the College of Nursing and Health Professions, also was a major factor contributing to the ranking.
Arkansas State Designated a 'Top School' in Military Advanced Education's 2015 Guide
2/12/2015
JONESBORO – Military Advanced Education (MAE) has awarded Arkansas State University the designation of a "Top School" in its 2015 Guide to Colleges & Universities, measuring best practices in military and veteran education.
The Guide presents results of a survey of military-supportive policies enacted at more than 600 institutions including private, public, for-profit, not-for-profit, four-year, and two-year colleges. It provides information about institutions that go out of their way to give back to our men and women in uniform.
This is Arkansas State's fifth consecutive year to be listed in the MAE guide. This year, institutions were evaluated on their military culture, financial aid, flexibility, on-campus support and online support services.
"Because of dedicated faculty and staff all across campus, military members and veterans can count on quality educational opportunities at Arkansas State," said Lynda Nash, director of the Beck PRIDE Center in the College of Nursing and Health Professions. "We appreciate this recognition by Military Advanced Education and we appreciate the excellent ongoing community support that makes this possible."
Read the complete news release.
Local veteran hopes new bill prevents veteran suicides
Posted: Feb 03, 2015 4:39 PM CSTUpdated: Feb 03, 2015 9:34 PM CST
JONESBORO, AR (KAIT) -
The Military Suicide Prevention Act, or Clay Hunt Act, passed in the Senate Tuesday and one local veteran hopes the bill prevents more veteran suicides.
The bill aims to prevent suicide amongst veterans by making more information readily available and requiring evaluations on suicide prevention programs. There are 22 military suicides committed a day on average, adding up to about 8,000 a year.
The Beck Pride Center in Jonesboro is a service that helps local veterans get used to everyday life.
Former Army Staff Sergeant Tim McQuay is one of the veterans that is a part of the Beck Pride Center.

McQuay spent 19 years in the Army and was deployed three times to Iraq. He returned to the states in 2010 and suffered from depression for the next three years.
Director of the Beck Pride Center Lynda Nash said most veterans that walk through their door suffer from some form of depression. She said both Post Traumatic Stress Disorder and Traumatic Brain Injury are closely linked to depression in veterans.
Nash and McQuay are hopeful that the new bill will provide veterans with the help that they need to prevent them from committing suicide.
McQuay said one of his personal goals is to help stop the 22 daily suicides.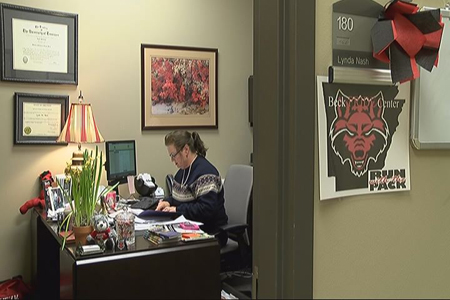 "There's 22 average suicides a day by veterans. That has got to stop," McQuay said. "That's my passion. I want to work in the VA and do what I can to reach out to these fellow veterans and prevent them from taking their own lives."
Nash said the center offers veterans a place to talk to others in their situation.
She said they realize that there are other people out there going through similar problems. The big problem for veterans arises a few years after they return, Nash said.
"A lot of these veterans, functioned pretty well or do alright when they first come back," Nash said. "They may get out of the service at that point and two years down the road, they are really struggling."
McQuay said he realized his goal in life after a Vietnam veteran opened up to him one day. The man told him that he had not told anyone that information in about 40 years. McQuay he knew then what he was meant to do.
"It was like a light that went off in my head," McQuay said. "It was like yeah this is what I was called to do. You know, I mean I helped soldiers for 19 years and I can't just turn that off once I put up the uniform."
Copyright 2015 KAIT. All rights reserved.
Beck PRIDE Center Receives Funding From Attorney General McDaniel
JONESBORO — Attorney General Dustin McDaniel has announced the Beck PRIDE Center for America's Wounded Veterans at Arkansas State University has received a distribution of settlement funds under Act 763 of 2013.
The Beck PRIDE Center received $15,000 that will be used to support the needs of the veterans in the program in the areas of personal rehabilitation, individual development or education. The Attorney General's office often gives settlement monies to non-profit organizations whose constituents may have been adversely affected.
"We always feel so fortunate when we have additional funding to support our veterans and their needs," said Dr. Susan Hanrahan, dean of the College of Nursing and Health Professions. "The Attorney General has been generous with Arkansas settlement funds and we are grateful that our Beck PRIDE Center for America's Wounded Veterans has been a designated recipient."
Two weeks ago, McDaniel presented a check for $100,000 to A-State's College of Engineering, saying, "The law allows for reallocation of resources gained in legal actions for the people of Arkansas, and these funds were the result of consumer practices fines in our settlement with a major pharmaceutical firm."
Read the complete news release.
31 Distinguished A-State Faculty Selected for Wall of Honor
12/5/2014
JONESBORO – The Arkansas State University Faculty Association will recognize 31 individuals who have been selected for the Distinguished Faculty Wall of Honor during the association's annual holiday event on Wednesday, Dec. 10.
All A-State faculty, family and friends of the honorees, and previously designated distinguished faculty are invited to the 4-5 p.m. ceremony and 5-6 p.m. reception at the Cooper Alumni Center, 2600 Alumni Blvd.
Recognition of distinguished faculty began during the university's Centennial Celebration in 2009-10 when the Faculty Association selected the "First 100 Distinguished Faculty." Every five years the association selects a number of retired faculty, through a well-defined faculty committee nomination process, who have made long-term significant contributions to Arkansas State.
Read the entire press release.
Read article on Dr. Elizabeth Stokes.
Governor Appoints Manning to State Group
Posted: Dec 2, 2014

Gov. Mike Beebe has appointed Veronica Manning, clinical coordinator in the Department of Medical Imaging and Radiation Sciences, to the Medical Ionizing Radiation Licensure Committee. The appointment represents A-State's continuing involvement with this regulatory group; her predecessor on the committee is Ray Winters, department chair. Previously she has been featured in a faculty spotlight video.
Arkansas State University Hosts Disaster Preparedness Conference
Posted: Nov 13, 2014 7:41 PM CST Updated: Nov 14, 2014 12:57 PM CST
JONESBORO, AR (KAIT) -School administrators from Region 8 schools gathered at Arkansas State University on Thursday for a disaster preparedness conference.

ASU Assistant Professor Brent Cox said the program is part of the Educational Renewal Zone initiative. The program helps provide training to school districts on disaster preparedness and response.

"No matter if it's from a tornado, to an active shooter, earthquakes, thunderstorms, accidents, whatever it may be we are talking to the safety teams and planning commissions of the schools on how to respond to and recover from disasters," said Cox.

Blytheville Superintendent Richard Atwill attended the conference. He said he wants his schools to have a unified command system with the Mississippi County Sheriff's Department to help keep all citizens safe during possible disasters.

Copyright 2014 KAIT. All rights reserved.
KAIT-Jonesboro, AR-News, weather, sports
Report: Large number of veterans under-employed
JONESBORO, AR (KAIT) -For the sixth straight year, Arkansas State is listed among the Military Times "Best for Vets College" in the 2015 rankings. The Beck PRIDE Center has been serving veterans since 2010.

According to a survey from the University of Phoenix, the unemployment rate for veterans is dropping but a large number of them are under-employed.

The survey shows that 72 percent of veterans say they took a job because they were unemployed even though it was beneath their skill set.

"We may not have all the answers but we can help them find the answers and refer them to where they need," said Lynda Nash, director of the Beck PRIDE Center at Arkansas State University.

The center is currently helping 219 veterans and has assisted more than 400 veterans since the opened their doors about four years ago. The Beck PRIDE Center focuses on personal rehabilitation, individual development and education. Nash said their primary focus is recent combat veterans.
"Helping them identify the resources to pay for school, accessing those resources or do they need adjustment," she said. "We help provide support for not just veterans but spouses, significant others and children of those veterans."
The Beck PRIDE Center offers veterans access to counseling, placement tests and career options. Finding a job just adds to the list of challenges veterans face once they return home.
"When they first come back, a lot of is hyper-vigilance, they're so aware of what kept them safe which was being completely aware of their surroundings," Nash said.
A Veterans Affairs counselor meets with veterans once a month on campus. The center also has a combat support group. Nash said they just completed a workshop for mental health providers and religious leaders in the local community.
Copyright 2014 KAIT. All rights reserved.
Accreditation Site Visits—Visits and Updates
CLS (Clinical Laboratory Sciences) -- Sept 19-20, 2013 -- Accreditation through October 2018.
MRI (Magnetic Resonance Imaging)—Accredited through December 2016
MSW (Masters in Social Work)—April 29, 2015—Site visit April 2015
Radiation Therapy—Sept 12 and 13, 2011---Accredited through September 2019
Physical Therapist Assistant—Sept 25-28, 2011---Accreditation through 2022
Dietetics—Oct 24 and 25, 2011—Granted Candidate Status
Nursing (all programs)—Feb 14-16, 2012—Accreditation through 2020
Disaster Preparedness & Emergency Management - June 18 & 19, 2012 - Pending Report from Foundation For Higher Education Accreditation
DPT (doctorate in physical therapy)—Sept 30-Oct 2, 2012—Pending Report
OTA (Occupational Therapy Associate) - May 5, 2015 - Granted Candidate Status
---
Relocation in our college:
*The department of Social Work - 3rd floor of the Smith Building. They are in suite 327.
*The Beck P.R.I.D.E. Center - Reynolds Center for Health Sciences, room 170.
*Nurse Anesthesia - Reynolds Center for Health Sciences, 3rd floor.
*Communication Disorders - Reynolds Center for Health Sciences, 2nd floor, Suite 211.
*The Speech and Hearing Clinic - Reynolds Center for Health Sciences, 1st floor, Suite 101.
*Medical Imaging & Radiation Sciences - Nursing & Health Professions, 4th floor, Suite 419
*Nutrition -E. Smith, 4th Floor, Suite 410
*Regional Cente for Disaster Preparedness and Emergency Management - E. Smith, 4th Floor, Suite 410
*Health Studies - E. Smith 4th Floor, Suite 410