DAV Charitable Service Trust Grant to Aid A-State's Beck PRIDE Center Veterans
JONESBORO — Arkansas State University's Beck PRIDE Center for America's Wounded Veterans has been awarded a grant for $60,000 by the DAV Charitable Service Trust. The grant will provide counseling, advocacy and educational programming for veterans at Arkansas State.
Dr. Susan Hanrahan, dean of the College of Nursing and Health Professions, was notified of the funding by the chairman of the Charitable Service Trust Richard E. Marbes.
"We are so appreciative of the support of the DAV Charitable Services Trust," Hanrahan said. "This gift will provide an opportunity to extend our work with the student veterans and their families especially in the areas of psychoeducational programming, tutoring and counseling. Beck PRIDE services to date have impacted over 500 student veterans and their families. The DAV is making such a difference in the lives of veterans nationwide."
Visit the Beck Pride Center web site.
A-State Social Work Department To Hold Delta Health Disparities Conference
Oct 14, 2014
JONESBORO — A Delta Health Disparities Conference designed to identify tools to combat poverty and address health issues in the Delta region will be held Wednesday, Nov. 12, on the third floor of the Carl R. Reng Student Union, 101 N. Caraway Road, on the Arkansas State University campus.
The conference, open to the public, features individual workshop sessions to address different health issues in the Delta and how to battle them. Chris Masingill, the federal co-chairman of the Delta Regional Authority (DRA), is the keynote speaker and will discuss how the regional authority helps to create jobs, build communities and improve lives for the 10 million people who live in the eight states and 252 counties of the Delta region.
A-State to Honor Nursing And Health Professions Alumni At Homecoming
JONESBORO — Seven outstanding graduates of Arkansas State University's College of Nursing and Health Professions (CNHP) will be honored as distinguished alumni during Homecoming activities, Saturday, Oct. 4.
The distinguished alumni include Sara Fenter, Jerry Fenter, Merrill Catt, Kevin Decker, Deanna Barymon, Joyce Files and Adam Watkins. The group will be recognized during a 2 p.m. ceremony in the Reynolds Center for Health Sciences, Room 222, 2501 Danner Avenue.
Welcome to New Faculty Members - August 25, 2014
Welcome to these new faculty members in the College of Nursing and Health Professions: Dr. Patricia Wilkerson, associate professor of social work; Dr. Christina Akbari, assistant professor of communication disorders; Hadyn Huckabee, assistant professor of health sciences; Dr. Junlin Zhang, assistant professor of physical therapy; Kacie Altom, temporary instructor in nursing; Joseph Carter, temporary instructor in medical imaging and radiation sciences; Karnilla Schingoethe-Lee, temporary instructor in social work; and Dr. Evelyn Taylor, temporary instructor in social work.
Ready for Anything - July 18, 2014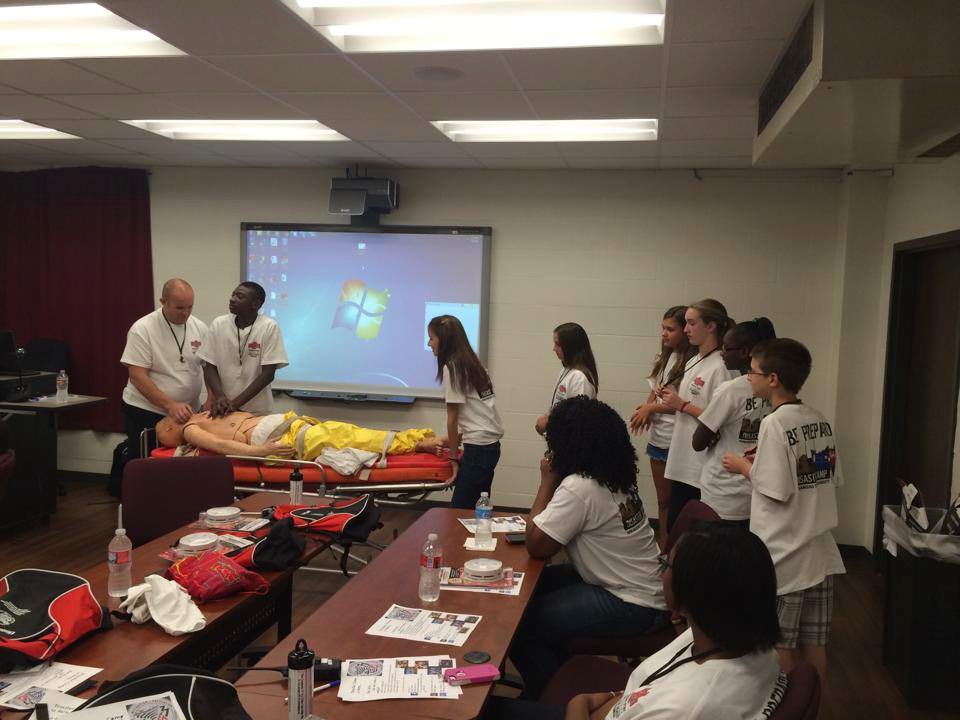 7th and 8th graders from across the region enjoyed a week of Disaster Camp. Campers learned a variety of skills and protocols to handle a variety of situations from extreme weather to CPR administration. The camp is run by Arkansas State's Regional Center for Disaster Preparedness education.

Faculty and Students Receive Middle East Studies Grants for Research


Five faculty members and eight students are recipients of the latest round of Middle East Studies Grants, with which they engage in various research projects. A university committee reviews applications to determine how the funds are awarded. Faculty recipients are Dr. William Allen, professor, Kimberly Vickrey, associate professor, and Nikki Arnell, assistant professor, all in the Department of Art; Dr. Gil Fowler, professor of journalism; and Dr. Irina Khramtsova, associate professor of psychology. The successful student applications included one awarded jointly with Khramtsova. Dr. Kathleen Carrick, assistant professor of social work, and Ms. Lynda Nash, director of the Beck PRIDE Center, accompanied two social work student applicants on their study of social services in Morocco. The total amount of all awards was $50,000.
Nursing Academy Selects Young as Fellow


The American Academy of Nursing has selected Dr. Cathy Young, assistant professor of nursing, for induction in its next class of fellows during the group's national conference in Washington, D.C. Selection is based on evidence of significant contributions to nursing and health care, through both policy and practice. Young, who joined the A-State faculty in 2011, completed her doctoral degree at the University of Tennessee.
Physical Therapy Faculty Members Produce 'Perfect' Student


Well, maybe not perfect in every way, but Duston Jones scored a perfect 800 on the National Physical Therapy exam, administered by the Federation of State Boards of Physical Therapy. The May graduate gets the credit for a great test score, but the faculty members in the Department of Physical Therapy deserve a share of the spotlight for preparing him so well. Watch Jones explain what motivated him to success in this A-State video.
Articles submitted by: Tom Moore
Marketing & Communications
Administration Building, Room 103

P.O. Box 2220 | State University, AR 72467
news@astate.edu | (870) 972-3820

A-State educates leaders, enhances intellectual growth, and enriches lives.
College of Nursing and Health Professions Cites Top
Graduating Students during Convocation of Scholars
5/6/2014
JONESBORO -- The College of Nursing and Health Professions at Arkansas State University recognized its most outstanding graduating students during its annual Convocation of Scholars honors program, according to Dr. Susan Hanrahan, dean of the college.
Audra Gambill of Jonesboro, a nursing major, was recognized as recipient of the Chancellor's Scholar award for having the highest grade point average (4.0) in the college. Morgan Caples of Jonesboro, a communication disorders major, and Adam Windle of Jonesboro, a medical imaging and radiation sciences major, received the 4.0 Award. When more than one person has a 4.0, the Chancellor's Scholar is the student who has completed the most credit hours.
Twenty-eight students were selected by faculty in the individual degree programs to receive the awards for outstanding achievement, leadership and service to their respective departments and degree programs, both in the classroom and in the clinical experience.
A-State Announces Distinguished Service Awards
For Release to the Media
April 1, 2014
JONESBORO, Ark. — One of seven outstanding students graduating from Arkansas State University in May 2014 will be the newest Wilson Award recipient. The winner will come from the Distinguished Service Award (DSA) winners and will be announced Wednesday, April 2, at Cooper Alumni Center Student Honors Awards ceremony.
The Distinguished Service Award winners are recognized as the institution's most outstanding graduates because of their leadership, scholarship, and citizenship. Faculty, staff, advisers to student organizations, and other members of the campus community submit nominations for these prestigious awards.
All of the nominees have provided countless hours of service to the community, their classmates, their departments and colleges, and to Arkansas State University. A committee comprised of students, faculty, staff, and past Wilson Award recipients makes the final selections.
Arkansas State Disaster Preparedness Program Group to Attend Conference in Israel
For Release to the Media
January 9, 2014
JONESBORO, Ark. — Arkansas State University's disaster preparedness education program is taking its skills to the other side of the world. Representatives of A-State's program are traveling to Tel Aviv, Israel. A-State will serve as a co-sponsor of the third annual International Preparedness and Response to Emergencies and Disasters (IPRED III) conference. Responders from at least 30 other countries are expected to attend and participate. The group departed Jan. 8 and the conference runs until Jan. 17. This marks the second international conference that A-State is co-sponsoring.
Read the complete press release.
Accreditation Site Visits—Visits and Updates
CLS (Clinical Laboratory Sciences) -- Sept 19-20, 2013 -- Accreditation through October 2018.
MRI (Magnetic Resonance Imaging)—Accredited through December 2016
MSW (Masters in Social Work)—Aug 24, 2011—Accreditation through October 2015
Radiation Therapy—Sept 12 and 13, 2011---Accredited through September 2019
Physical Therapist Assistant—Sept 25-28, 2011---Accreditation through 2022
Dietetics—Oct 24 and 25, 2011—Granted Candidate Status
Nursing (all programs)—Feb 14-16, 2012—Accreditation through 2020
Disaster Preparedness & Emergency Management - June 18 & 19, 2012 - Pending Report from Foundation For Higher Education Accreditation
DPT (doctorate in physical therapy)—Sept 30-Oct 2, 2012—Pending Report
---
Relocation in our college:
*The department of Social Work - 3rd floor of the Smith Building. They are in suite 327.
*The Beck P.R.I.D.E. Center - Reynolds Center for Health Sciences, room 170.
*Nurse Anesthesia - Reynolds Center for Health Sciences, 3rd floor.
*Communication Disorders - Reynolds Center for Health Sciences, 2nd floor, Suite 211.
*The Speech and Hearing Clinic - Reynolds Center for Health Sciences, 1st floor, Suite 101.
*Medical Imaging & Radiation Sciences - Nursing & Health Professions, 4th floor, Suite 419
*Nutrition -E. Smith, 4th Floor, Suite 410
*Regional Cente for Disaster Preparedness and Emergency Management - E. Smith, 4th Floor, Suite 410
*Health Studies - E. Smith 4th Floor, Suite 410