College of Nursing and Health Professions Cites Top Graduating Students during Convocation of Scholars
4/23/2013
JONESBORO -- The College of Nursing and Health Professions at Arkansas State University in Jonesboro recognized its most outstanding graduating students during its annual Convocation of Scholars honors program Monday evening, according to Dr. Susan Hanrahan, dean of the college.
Amanda Layer of Rector, a communication disorders major, was recognized as recipient of the Chancellor's Scholar award for having the highest grade point average (4.0) in the college. Addie Kortan of Blytheville, a nursing major, received the 4.0 Award. When more than one person has a 4.0, the Chancellor's Scholar is the student who has completed the most credit hours.
The students were selected by faculty in the individual degree programs to receive the awards for outstanding achievement, leadership and service to their respective departments and degree programs, both in the classroom and in the clinical experience.
ASU students, Army War College Share Stories
BY SHERRY F.PRUITT Sun Staff Writer sherry@jonesborosun.com
April 3, 2013 - JONESBORO -When mili­tary personnel returned to the United States after serv­ ing in the Vietnam War, they were unwelcome, discour­aged and shunned by many Americans.
Veteran Carl Mosby toldstudents from the Army War College on Monday at Arkansas State University that veterans don't want to see the same thing happen to current troops returning home from active duty.
Mosby, a retired Army ser­geant, and Loyd Davis andBilly Cribbs, both members of Chapter 26 of Disabled Veter­ans in Jonesboro, and Army Maj. Brian Mason spoke to representatives from the War College on Tuesday as part of the Eisenhower National Security Series.
Arkansas State and CARTI Form Partnership for Students to Receive College Credit
April 1, 2013 - Arkansas State University and CARTI are pleased to announce a partnership that will allow students enrolled in the CARTI Radiation Therapy program to receive college credit for articulation work.
CARTI is currently accredited by the Joint Review Committee for Education in Radiologic Technology and offers a certificate to its Radiation Therapy graduates. ASU in Jonesboro is accredited by the same body and offers the graduate a bachelor of science degree. This articulation will allow students to transfer certificate hours toward a bachelor's degree.
Arkansas State Welcomes US Army War College Eisenhower College Series Student Group for Second Straight Year
April 1, 2013 - Members of the U.S. Army War College (USAC) and the Eisenhower Series College Program will visit Arkansas State Tuesday and Wednesday, April 2-3, to speak to variety of classes and audiences. This is the second visit from the USAC after coming to ASU in March of 2012.
The visiting students are LTC Ricardo Player, USMC; LTC Charles C. Poche, USA: Col. Robert W. Turk, USA; and faculty advisor Col. Donald J. Peck, USAF. The Beck PRIDE Center for America's Wounded Veterans at ASU will host an event April 2 from 8-10 a.m. in the Grand Hall of the Fowler Center, 201 Olympic Drive, for the veterans in the community to come together with the students from the Army War College.
Dr. Angie and Fred Schmidt Nursing scholarship
This new scholarship is for $1000 split between the fall and spring semesters.
Read complete details about this scholarship.
Supporting Military Families in Transition is topic of conference planned at Arkansas State
JONESBORO, Ark. — The Department of Social Work and the Beck PRIDE Center for Wounded Veterans, both housed within the College of Nursing and Health Professions at Arkansas State, will host the annual Northeastern Arkansas Social Work Conference on Tuesday, March 5, from 8:30 a.m. until 5 p.m. at the Convocation Center, 217 Olympic Drive.
Top 10 News Stories for 2012
The College of Nursing and Health professions has announced the top 10 news stories for 2012. Read the list.
Military Times Ranks Arkansas State University
Among Top Schools in 'Best for Vets: Colleges' for 2013
JONESBORO –Quality programs and attention to special needs are among the characteristics that have resulted in Arkansas State University's extremely high ranking in the 2013 "Best for Vets: Colleges" survey by Military Times, a newsweekly published by a subsidiary of Gannett Co., Inc. for the military community.
ASU was ranked 31st in the country based on results from a survey of colleges and universities.
ASU's Office of Research and Technology Transfer Announces Distribution of $60,000 for Student Research
JONESBORO, Ark. — Arkansas State University's Office of Research and Technology Transfer (ORTT) is excited to announce the distribution of over $60,000 in awards to support undergraduate student research, a powerful mechanism for high-impact learning, student retention and faculty satisfaction. The Arkansas Department of Higher Education (ADHE) offers the annual Student Undergraduate Research Fellowship (SURF) competition to support faculty-mentored undergraduate research projects. All academic disciplines are eligible.
Successful students receive a stipend up to $1,250 for a full year and $625 for one semester to conduct research with a faculty mentor. ORTT provides 100 percent match for the student stipend, for totals of $2,500 (full year) and $1,250 (one semester). In addition, students may receive up to $750 in travel funds and the faculty mentor may receive up to $750 for travel and supplies.
College of Nursing and Health Professions recipients were Dr. Roy Aldridge and Cristy Phillips, both from the physical therapy department.


US Army War College Eisenhower Series Topics Announced
April 1-5 Visit
Col. Scott Lockwood, USAF -
Topic 1 - Defense Support of Civil Authorities
Topic 2 - The Air Sea Battle Concept
Lt. Col. Ricardo Player, USMC -
Topic 1 - USMC and the Rebalance to the Pacific
Topic 2 - USMC Diversity: Lessons Learned and Challenges
LTC Charles C. Poche, USA -
Topic 1 - Legal Aspects of Cyber War and the Cyber Domain
Topic 2 - Military Justice vs the Civilian Legal System\
LTC Charles S. Sentell, USA -
Topic 1 - Contributions of Army Reserve Soldiers to the Military
Topic 2 - Guantanamo Bay: Is There a better way
Col Robert W. Turk, USA
Topic 1 - Cyber-Attacks Becoming the Next Greatest Threat to the U.S.
Topic 2 - Wounded Warriors
---
2012 Who's Who Winners Announced
Winners for the College of Nursing and Health Professions are: Bobbi L. Benson of Trumann (communication disorders); Colea S. Blann of Little Rock (nursing); Charmaine L. Cook of Little Rock (social work); Kelsey S. Dow of Jonesboro (communication disorders); Danielle R. Goodwin of Batesville (nursing); Derika B. Jones of Osceola (nursing); Samantha M. Knight of Bono (nursing); Addie N. Kortan of Blytheville (nursing); Kayla E. Miller of Cabot (nursing); Sandra F. Walker of Jonesboro (social work); Destiny M. Warren of Forrest City (social work).
Read the complete press release.
---
Dr. Susan Hanrahan Wins National Award
For Release to the Media
Nov. 9, 2012
JONESBORO, Ark. – Dr. Susan Hanrahan, dean of the College of Nursing and Health Professions (CNHP) at Arkansas State University, recently received a special award at the national conference of the Association of Schools of Allied Health Professions (ASAHP) in Orlando, Fla.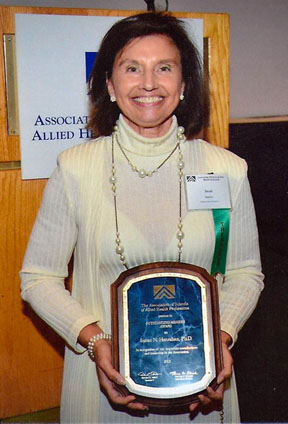 Dr. Hanrahan received a plaque naming her as the outstanding member of the ASAHP for 2012. She was selected in recognition for her contributions and leadership to the association.
The ASAHP, based in Washington, D.C., is dedicated to allied health education and practice and consists of 112 academic institutions and individual members.
In addition to being the dean of the CNHP, Dr. Hanrahan is a professor of Physical Therapy at ASU. She is a manuscript reviewer for the Journal of Allied Health and holds national leadership positions with the ASAHP and the Allied Health Research Institute that is based in St. Louis.
In Arkansas, she serves as past chair of the steering committee for the Regional Board Area Health Education Centers (AHECs), is a past chair of the Health Policy Board, Arkansas Center for Health Improvement, and serves on the governor's Roundtable for Health Care. She is the governor's representative on the Tobacco Settlement Commission and serves as chair and is also a member of the State HealthCare Workforce Planning Task Force.
Jonesboro Mayor Harold Perrin appointed her to the Comprehensive Planning Advisory Commission for the city. She also holds or has held positions on various boards in the Jonesboro community including the Center on Aging NE, Craighead County Community Foundation, St. Bernards Women's Health, Our Kids Count Coalition, YMCA, American Heart Association, Regional Chamber of Commerce, Delta Symphony Orchestra, Women's Discovery Center, Hispanic Community Services Inc., Residential Housing and Health Care Facilities, Flo and Phil Jones Hospice House steering committee and NEA Clinic Charitable Foundation.
---
2013 Clinical Instructor's Seminar Announced
The 16th annual Clinical Instructors' Seminar will be held at the Fowler Center on Friday, March 8, 2013, beginning with registration at 8:30 a.m. The speaker for the morning will be Jason Hendren out of Rogers, AR, medical malpractice defense lawyer. His clientele are healthcare providers and pharmaceutical and medical product companies. He will be the main speaker for the morning. The afternoon speakers for breakout sessions will be discipline specific.
---
New Degrees Approved
On Friday, October 26, 2012, the Arkansas Department of Higher Education Coordinating Board approved two new degrees in the College of Nursing and Health Professions at Arkansas State University - Jonesboro. The new degrees are the Bachelor of Science in Disaster Preparedness and Emergency Management and the Doctor of Nursing Practice.
---
Diabetes Self-Management Program Recognized by ADA
The College of Nursing and Health Professions Diabetes Self-Management Program has been recognized by the American Diabetes Association. The recognition identifies programs who meet the National Standards for Diabetes Self Management Education. For more information on the program visit the Diabetes Self-Management Program web page.
---
Accreditation Site Visits—Visits and Updates
MRI (Magnetic Resonance Imaging)—Aug 1 and 2, 2011---Exit report was positive—no deficiencies
MSW (Masters in Social Work)—Aug 24, 2011—Accreditation through October 2015
Radiation Therapy—Sept 12 and 13, 2011---Accredited through September 2019
Physical Therapist Assistant—Sept 25-28, 2011---Accreditation through 2022
Dietetics—Oct 24 and 25, 2011—Granted Candidate Status
Nursing (all programs)—Feb 14-16, 2012—Accreditation through 2020
Disaster Preparedness & Emergency Management - June 18 & 19, 2012 - Pending Report from Foundation For Higher Education Accreditation
DPT (doctorate in physical therapy)—Sept 30-Oct 2, 2012—Pending Report
---
Relocation in our college:
*The department of Social Work - 3rd floor of the Smith Building. They are in suite 327.
*The Beck P.R.I.D.E. Center - Reynolds Center for Health Sciences, room 170.
*Nurse Anesthesia - Reynolds Center for Health Sciences, 3rd floor.
*Communication Disorders - Reynolds Center for Health Sciences, 2nd floor, Suite 211.
*The Speech and Hearing Clinic - Reynolds Center for Health Siences, 1st floor, Suite 101.
*Medical Imaging & Radiation Sciences - Nursing & Health Professions, 4th floor, Suite 419
*Nutrition -International English Studies - N343
*Regional Cente for Disaster Preparedness and Emergency Management - Nursing and Health Professions, 3rd floor, Suite 303