Miscanthus Harvest December 2015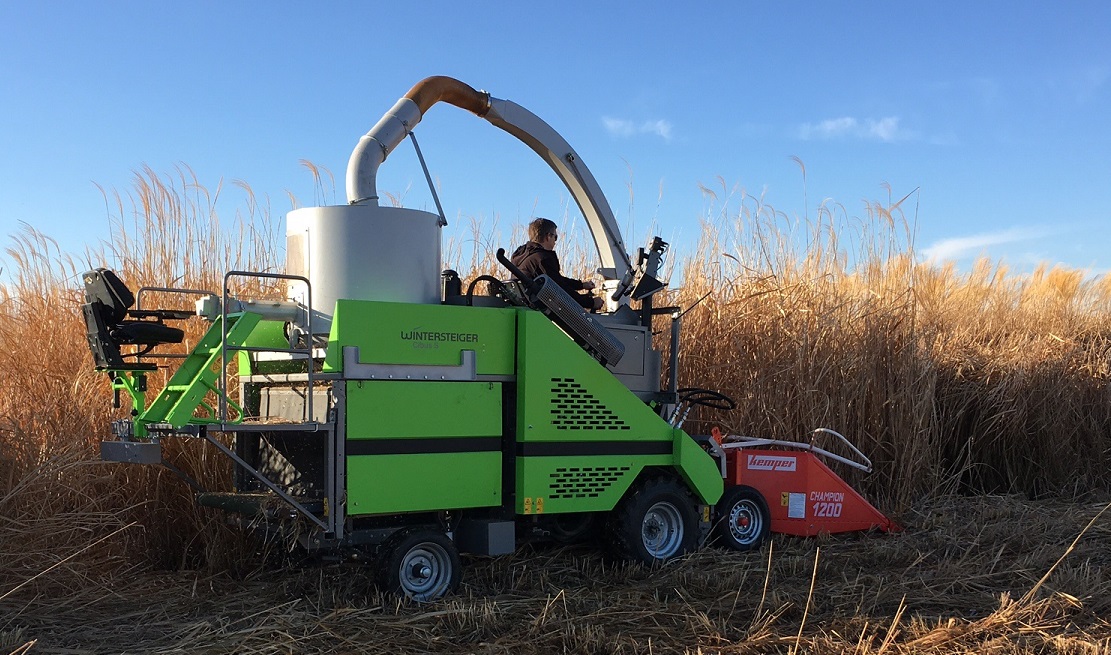 Dr. Steve Green harvesting Miscanthus at one of his research plots at the ASU Farm.
The harvester gathers the biomass material at the header, chops it into fine clippings, and then blows the material into the rear of the machine where a sample weight is taken. The sample from each plot is then emptied into the specially modified Bobcat bucket.
A lot of data is being collected from the miscanthus plots currently being harvested. This data includes the plant height, biomass weight, and moisture of each plot. Once analyzed, the miscanthus biomass is composted in piles over the winter (hence the use of a dump trailer) and later spread as an organic matter amendment on the fields.
---
Over the past 100 years, ASU has evolved from a regional school of agricultural instruction to a comprehensive university. The College of Agriculture and Technology has also evolved throughout the years. While education is still our primary mission, we also have extensive public outreach programming and research activities.
Graduates ready for career advancement

We prepare our graduates for entry and career advancement in the food, fiber and natural resources industry, which involves production (farming), agribusiness and value added processing, public service and rural leadership; and for entry and advancement in the manufacturing and industrial technology industries.
We offer both undergraduate and master's degrees within the college, and we participate in doctoral education through the interdisciplinary Environmental Sciences and Molecular Biosciences programs.
Want A Job? Study Food and Agriculture
According to an article on the Forbes magazine website,
"The U.S. Department of Agriculture forecasts that over the next five years the annual demand for college graduates in agriculture and food industries will be 57,900 jobs per year. Unfortunately, American agricultural colleges . . . will only be producing about 35,400 graduates per year."
ASU Regional Farmers' Market

The ASU Regional Farmers' Market is a non-profit entity for the purpose of developing and operating a locally owned and operated farmers' market in Jonesboro and the surrounding area.
For further information, contact Bob Young: 870-926-0250
Visit their website >>