AIRBORNE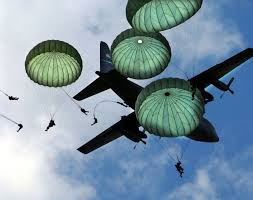 The Basic Airborne Course, conducted at Fort Benning, GA. is one of the most physically demanding, yet most rewarding courses in the United States Army. This course is available to selected Army ROTC cadets and is three weeks long. It is designed to instruct the student on how to don and adjust the main and reserve parachutes, and individual parachutist equipment. The student also learns how to control the parachute during descent, execute a parachute landing fall and control the parachute on landing. The student will make 5 qualifying jumps. The basic Airborne Course is designated for those who have the desire and possess the motivation and courage to earn the wings, and join the elite fraternity known as "paratroopers."
AIR ASSAULT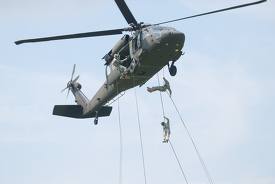 The U.S. Army Air Assault School is a 10-day course conducted at various locations throughout the Army. The school focuses on Combat Assault Operations involving U.S. Army rotary-wing aircraft and associated equipment. Cadets will learn tactical helo insertion, tactical helo extractions, rappelling from platforms, rappelling from helo, and control of small air assault units.
NORTHERN WARFARE ORIENTATION CORSE (NWOC)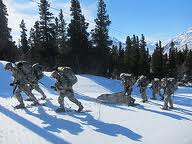 The NWOC is conducted at Fort Greely, Alaska, and familiarizes selected ROTC Cadets with summer military operations in northern areas. Cadets are taught the fundamentals of inland waterway operations, military mountaineering, basic knot tying, and rope management techniques. Training progresses to balance climbing where cadets develop confidence, skills, and abilities required to move over rock. Cadets hone their newly learned skills with further training as members of rope parties, where they use artificial climbing aids such as snap links, pitons, and ropes.
MOUNTAIN WARFARE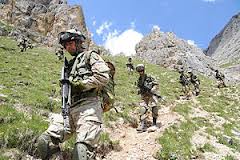 The Mountain Warfare School is a two week program conducted at Ethan Allen Firing Range, Jericho, Vermont. The course teaches cadets the skills needed to operate in a mountainous environment during the summer and fall. The MWS is both physically and mentally demanding and requires a concentrated effort on the part of the student to successfully complete the course.
CADET TROOP LEADER TRAINING (CTLT)\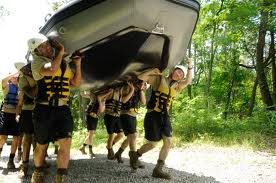 CTLT is a special training opportunity designed to give the Army cadet a realistic leadership experience while assigned to a US Army unit and performing those duties normally assigned to a newly commissioned second lieutenant. This three week learning experience comes immediately after completion of Warrior Forge. Cadets gain increased leadership experience, become familiar with the command, training, administrative, and logistical functions of a company level unit, and become exposed to the on and off-duty environment of a junior officer.
UNITED KINGDOM ROTC (UKROTC)
UKROTC is a three week program conducted at either Cambridge or London Universities in England. American cadets are integrated with British Cadets for a variety of military training. This is an exchange program with the British Cadets.
COMBAT DIVERS QUALIFICATION COURSE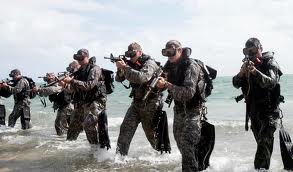 CDQC is a four week course held at Key West, Florida. Before a student can attend the course, he must first successfully pass a rigorous pre-scuba course and master a variety of task all of which are preformed underwater. Upon entering the Scuba Course, students are trained in waterborne operations to include day and night underwater navigation swims, deep dives, diving physics, marine hazards, tides and currents, closed and open circuit swims, and submarine lock in/lock out procedures. The training for this course is extremely time and physical intensive. This event is open to male cadets only.
ROBIN SAGE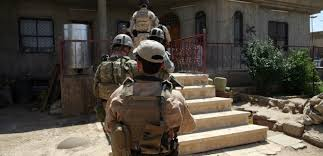 Robin Sage is an exercise that provides cadets with an interest in Infantry and/or Special Forces an opportunity to serve as squad members within "G" bands. There are 15 "G" bands consisting of three to four cadets, 15-20 regular Army personnel and one "G" chief. The "G" band conducts linkup operations with Special Forces Student Operational Detachment Alphas, receives specific training and conduct combat and sustainment operation. Over a three week period, this program provides the cadets with opportunities to learn and grow as potential leaders. Areas to which cadets are exposed: troop leading procedures, mission planning, small unit tactics, air operations, field craft, demolition, medical, and communications and weapons. The location for this exercise is Camp Mackall, NC.