The Alternative Spring Break (ASB) Program exposes students to complex social and cultural issues through community visits, experiential learning, direct service, group discussion, readings, and reflection activities. Our vision is to transform students into advocates of social change on issues affecting our communities.
2013 Alternative Spring Break

The 2013 ASB team will travel to Austin, Texas to assist with such programs as Habitat for Humanity and the Austin Area Animal Shelter Sunday, March 17 through Saturday, March 23. Applications are now available in the Leadership Center, and they are due by 4pm Wednesday, January 30. For more information, stop by the Leadership Center or email Katey.
Requirements to Apply
2.75 cumulative GPA
30 completed hours
Full time ASU student
Good Acadmic & Judicial Standing
2012 Alternative Spring Break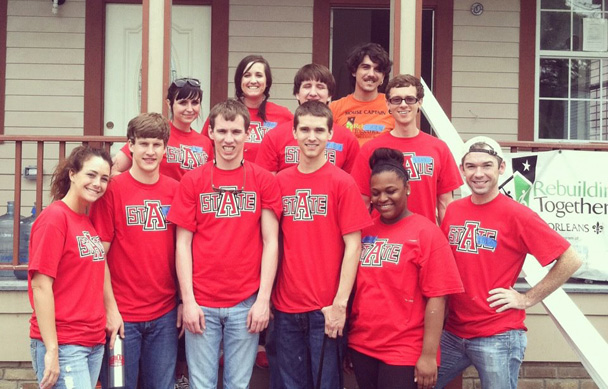 Our students traveled to New Orleans, LA on Spring Break 2012 to assist in the rebuilding of homes, still ravaged from Hurricane Katrina. Our non-profit partners included: Rebuilding Together New Orleans, Animal Rescue New Orleans, Hike for KaTREEna, & New Orleans Mission.