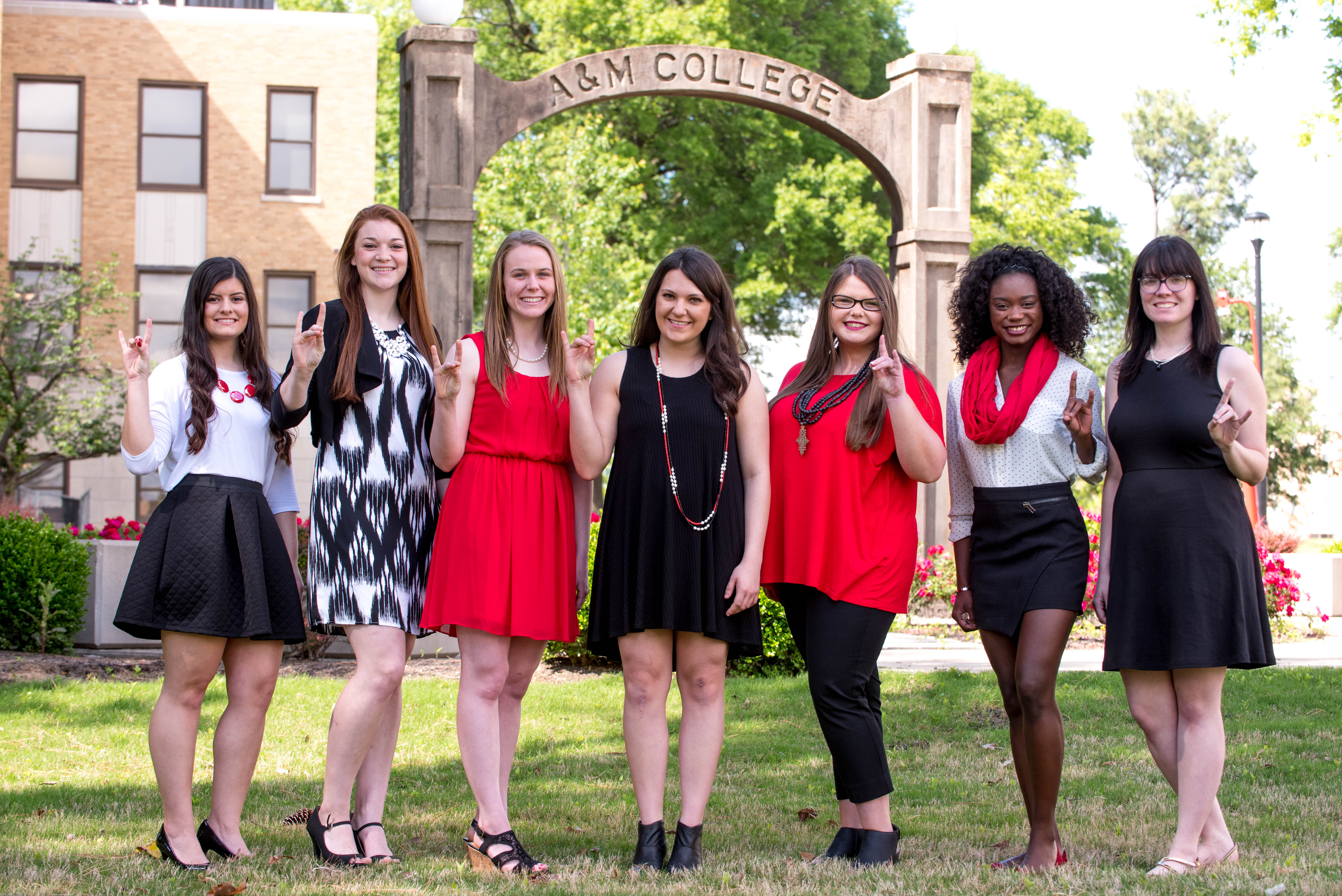 Making A Statement
Volunteer A-State provides the campus community a place to serve, learn, and make a statement by promoting and coordinating volunteer opportunities and building relationships within the community.
Local Non-Profit Partners
A-State Disability Services' Ghost Writer Program
Mission: "Ghostwriters" are wonderful students who take great notes in their classes and are willing to share a copy of those notes with a student with a disability.
American Red Cross - Blood Services
Mission: The American Red Cross prevents and alleviates human suffering in the face of emergencies by mobilizing the power of volunteers and the generosity of donors.
American Red Cross - Disaster Services
Mission: The American Red Cross prevents and alleviates human suffering in the face of emergencies by mobilizing the power of volunteers and the generosity of donors.
Arkansas Early Learning
Mission: Working with our communities to serve the needs of children and families throughout Arkansas.
CityYouth Ministries
Mission: Developing Christ followers while building strength, wisdom and character in young people.
Court Appointed Special Advocates (CASA) for Children
Mission: CASA, Court Appointed Special Advocates 2nd JD, speaks up for the best interest of abused and neglected children, helping to turn their world of hurt into one of hope. Covering Clay, Craighead, Greene, Mississippi and Poinsett counties in Arkansas.
Dare Dreamers
Mission: Our mission is to mentor female students, enhance their character, aid them in the pursuit of fulfilling their dreams, and also to help them achieve and realize their potential, so they can maximize the gifts that were placed inside of them.
Food Bank of Northeast Arkansas
Mission: The Food Bank of Northeast Arkansas provides hunger relief to people in need by raising awareness, securing resources, and distributing food through a network of non-profit agencies and programs.
Girl Scouts - Diamonds of Arkansas, Oklahoma and Texas
Mission: Girl Scouting builds girls of courage, confidence, and character, who make the world a better place.
Habitat for Humanity of Greater Jonesboro
Mission: Seeking to put God's love into action, Habitat for Humanity brings people together to build homes, communities and hope.
Hispanic Community Services, Inc. of Jonesboro
Mission: Hispanic Community Services, Inc. is a community-based nonprofit organization serving the Latino community and all residents of the surrounding neighborhoods. Our goal is to provide community leadership that improves quality of life and supports youth enrichment.
March of Dimes
Mission: We help moms have full-term pregnancies and research the problems that threaten the health of babies.
NEA Baptist Charitable Foundation
Mission: The Charitable Foundation has a mission to help change lives through the programs and services it supports in Northeast Arkansas. The Foundation, through the generous gifts of our community, touches every community member and every corner of Northeast Arkansas.
NEA Children's Advocacy Center (NEACAC)
Mission: The Northeast Arkansas Children's Advocacy Center provides a child appropriate, safe setting for children to tell their story of abuse.
North Jonesboro Neighborhood Initiative
Mission: To encourage two-way communications between neighbors, residents, stakeholders, and officials to participate in the decision making process to enhance safety, strengthen families, and transform neighborhoods through involvement and engagement.
Northeast Arkansas Humane Society
Mission: We are a non-profit animal shelter helping to place surrendered or abandoned pets into loving homes.
Paces, Inc.
Mission: To be the source of parenting information and support in Northeast Arkansas.
Pregnancy Resource Center
Mission: The Pregnancy Resource Center strives to offer hope, help, and healing to women facing unplanned pregnancies.
Special Olympics of Arkansas (SOAR)
Mission: The mission of Special Olympics Arkansas is to provide year-round sports training and athletic competition in a variety of Olympic-type sports for all children and adults with intellectual disabilities giving them continuing opportunities to develop physical fitness, demonstrate courage, experience joy and participate in a sharing of gifts, skills, and friendship with their families, other Special Olympics athletes, and the community.
St. Bernard's Healthcare
Mission: To provide Christ-like healing to the community through education, treatment and health services.
The Learning Center (TLC)
Mission: To Empower and Enhance the Lives of the Developmentally Disabled and Their Families by Providing Quality Services and Advocacy.
United Way of Northeast Arkansas
Mission: United Way of Northeast Arkansas is an organization dedicated to helping people. This is accomplished by volunteers and staff who assess community needs, raise funds, allocate resources, and encourage collaborative efforts to build a stronger and healthier community.