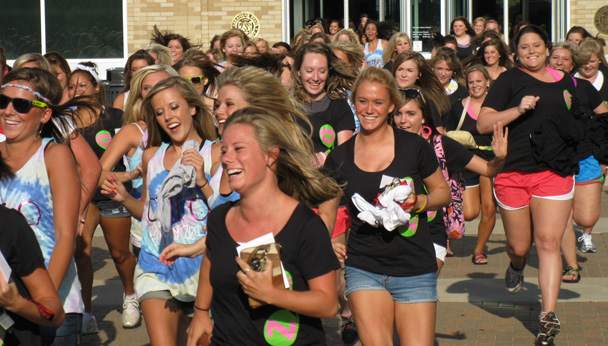 NPC Fall 2013 Recruitment Week
August 21-26, 2013
We are glad you are interested in participating in Fall 2013 Panhellenic Formal Recruitment! Recruitment offers you an opportunity to meet chapter members and other young women participating in the Formal Recruitment process, while learning what each sorority has to offer.
Throughout the process, Recruitment Counselors, (Gamma Chi's), will answer all questions that may arise while participating in recruitment. Gamma Chi's are upperclassmen sorority women who have temporarily disaffiliated from their sororities. They are trained in the recruitment process as well as counseling skills, and they are your mentor throughout this entire process.
Participating in the recruitment process does not require you to join a sorority. It does, however, enable you to explore and learn more about the ASU campus and our Greek community. This is a great way to meet new people and find out about many ways to get involved on the ASU campus. This process is intended to be a positive, fun, and enriching experience for everyone who participates.

Eligibility
In order to join a Panhellenic sorority, you must be a full-time student in good standing with Arkansas State University-Jonesboro at the time of recruitment. In order to be eligible for ASU sorority recruitment, you must complete the below checklist:
Register for recruitment online through ICS & complete each required section on the online application.
Attach a personal photo to the end of the online application, as directed. (This process is comparable to uploading a photo to Facebook).
Pay your required $65 application fee. (Fees cover the cost of 3 t-shirts, nametags, Recruitment Counselor training materials, usage of the online recruitment registration system, and additional miscellaneous items). At the very end of the online application process, you will be directed to the secure payment site where you may pay your $65 recruitment registration fee by credit card/debit card.
If you choose not to pay online, you will need to make your check payable to ASU National Panhellenic Conference and mail it to National Panhellenic Conference - Arkansas State University, P.O. Box 1980, State University, AR, 72467. CASH IS NOT ACCEPTED.
Want to know what to expect during Sorority Recruitment, receive helpful insider tips, meet other young women going through Recruitment, and get all of your questions answered??? To the right of your screen, simply click on the Sorority Preview Day link for information on how to attend Sorority Preview Day this summer!
Consider obtaining and arranging for Letters of Recommendation to be submitted by Friday, August 16th, 2013. Get more information on Letters of Recommendation.
Get excited for Recruitment!
Your application is not complete until all materials have been received. Application and $65 registration fee must be received by 4:00 PM on Wednesday, AUGUST 21, 2013.