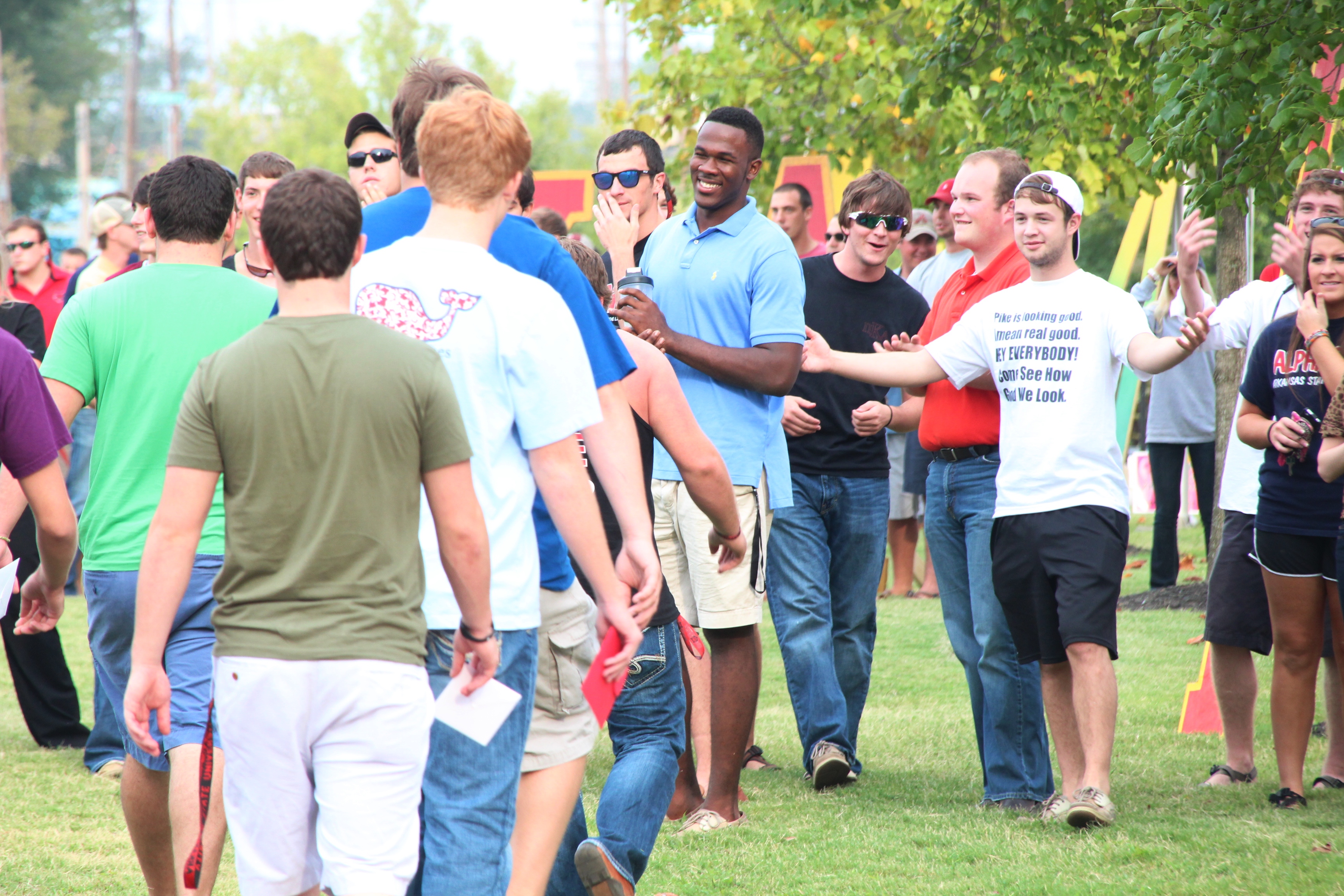 Interfraternity Council Fall 2019 Primary Recruitment Week
Fraternity Life Interest Session: TBA April 2019
Fall Primary Recruitment: TBA April 2019
View the Fall 2019 Fraternity Primary Recruitment Week schedule Here>>(Coming April 2019)
We are glad you are interested in joining an IFC Fraternity! IFC encourages year-round recruitment with an additional structured "recruitment week" each fall semester.
Eligibility
In order to join an Interfraternity Council fraternity, you must be a full-time male student in good conduct and academic standing with Arkansas State University-Jonesboro at the time of Fall Recruitment and have a minimum high school or college cumulative GPA of a 2.5. Open bids may be issued and accepted at any point during fall and spring semesters before University finals week. However, it is strongly recommended that men register to participate in the Fall Primary Recruitment week to gain a better understanding of each fraternity. See below for more information on Fall Primary Recruitment.
Fall Primary Recruitment Overview
Fall Recruitment offers you an opportunity to meet chapter members and other young men participating in the Fall Recruitment process, while learning what each fraternity has to offer. Throughout the process, Rho Chis and Interfraternity Council members will answer all questions that may arise while participating in recruitment. Rho Chis are upperclassmen fraternity men who have temporarily disaffiliated from their fraternities. They are trained in the recruitment process, and they will serve as your mentor throughout this entire process. Participating in the recruitment process does not require you to join a fraternity. It does, however, enable you to explore and learn more about the A-State campus and our Greek community. This is a great way to meet new people and find out about many ways to get involved on the A-State campus. This process is intended to be a positive, fun, and enriching experience for everyone who participates. Please note that bids are not guaranteed, so you are strongly encouraged to meet as many chapter members as you can throughout this event. We also encourage you to keep an open mind.
How to Register for Fall Primary Recruitment
In order to participate in Fall 2019 Interfraternity Council Recruitment, you must be a regularly enrolled, full-time Arkansas State University-Jonesboro student at the time of recruitment in August. A minimum cumulative high school or college GPA of a 2.5 is required in order to participate in Fall Primary Recruitment; however, some of our IFC fraternities have national/local requirements that are higher than a 2.5 cumulative. As a result, we recommend striving for at least a 2.7 cumulative GPA.
Use the checklist below to help complete your registration process:
Register for recruitment online through ICS & complete each required section on the online application.
Attach a personal photo, (a senior photo is acceptable and recommended for incoming freshmen. Upperclassmen are encouraged to use an appropriate headshot), to the end of the online application, as directed.
There is a $15 registration fee for Fall 2019 Recruitment. This fee includes logistical and material expenses associated with the recruitment week as well as an A-State Fraternity Life t-shirt.
Your application is not complete until all materials have been received. Application must be received by 11:59pm on Thursday, August 23rd, 2018.
Fraternity Life Interest Session
Are you wondering what fraternity life is all about? Are you considering going through fraternity recruitment? Would you like to hear honest experiences and perspectives from current A-State fraternity members? Have you heard the stereotypes commonly associated with fraternities and are curious if they are true? If so, make plans to attend the Fraternity Life Interest Session TBA in April 2019 in the Reng Student Union Auditorium. All attendees will receive a free A-State giveaway!
This session will focus on providing an insider look into fraternity life at A-State and the many benefits it can add to your life. There is no cost to attend and registration is not required.