Factbook

The ASU System Factbook is a publication produced by the Office of Institutional Research and Planning that outlines enrollment, faculty and staff data, financial reports, and other comprehensive information for the Arkansas State University campuses at Jonesboro, Beebe, Mountain Home, Newport and West Memphis.
The ASU System Factbook is produced annually and is intended to provide answers to questions that are frequently asked by the administration, faculty, staff, students, alumni and other university constituents.
Archives
2014-2015
2013-2014
2012-2013
2011-2012
2010-2011
2009-2010
2008-2009
2007-2008
2006-2007
2005-2006
2004-2005
2003-2004
2002-2003
2001-2002
2000-2001

Quickstat Brochure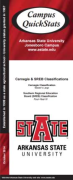 The Campus Quickstat Brochure is a two-page trifold document produced each fall by the Office of Institutional Research, Planning, and Assessment.
The brochure contains data highlights about Arkansas State University. Information available includes fall enrollment, degrees awarded, cost of attendance, employee, and financial statistics.
Archives
2014
2013
2012
2011
2010
2009
2008
2007
2006
2005
2004