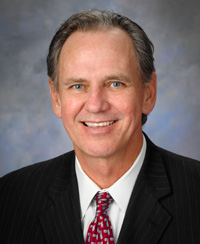 Dr. Tim Hudson took office as the second chancellor of Arkansas State University in Jonesboro on May 1, 2012. He was appointed by Dr. Charles L. Welch, president of the Arkansas State University System, following a national search process.
Most recently Dr. Hudson was vice chancellor of the Texas Tech University System, after serving as special assistant to the chancellor for International Programs and Initiatives at the University of Houston System. From 2004 until 2010 he was president of the University of Houston–Victoria, following a two-decade career as a professor of economic development, program director, founding dean of the College of International and Continuing Education, and provost at the University of Southern Mississippi. Earlier in his career he was an analyst for the Bureau of Intelligence and Research in the U.S. Department of State.
At Arkansas State University he leads the campus executive team as the institution strives for progressive excellence in academics, research, fiscal management and student life.
Hudson earned a Bachelor of Arts degree in history and Latin American studies and a Master of Arts in geography from the University of Southern Mississippi. His PhD in geography is from Clark University in Worcester, Mass. He has written numerous scholarly works for national and international publications; a recent co-authored book focuses on multinational corporation subsidiaries in China (Chandos, Cambridge).
During his tenure as president of the University of Houston–Victoria, the campus experienced tremendous growth and development including: doubling enrollment and the number of fulltime faculty; exceeding external fundraising goals for five consecutive years; founding a new school of nursing and health professions, which earned full national accreditation on its initial petition; achieving AACSB International accreditation; and ranking first in Texas on the student satisfaction portion of the 2010 National Survey of Student Engagement.
Hudson is the recipient of two Fulbright Fellowships (Germany and Mexico), and an ITT International Fellowship to study in Colombia, South America. He also has developed and led more than 30 programs for U.S. students to study abroad and was awarded an honorary doctorate by London Guildhall University for his contributions to global literacy.
Hudson is married to Dr. Deidra "Dee Dee" Ransburgh Hudson, who holds a Master of Science in speech pathology from the University of Tennessee and a PhD degree in educational leadership from the University of Southern Mississippi. The Hudsons and their children, Gianna Grace, 14, and twins Daisy and Nathaniel, 10, will live in the ASU chancellor's residence on Nettleton Avenue in Jonesboro.