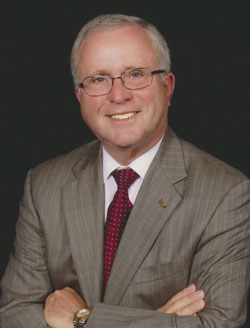 Doug Whitlock became the chancellor at Arkansas State University in September 2016 after serving as president and president emeritus of his alma mater, Eastern Kentucky University. Appointed by ASU System President Charles L. Welch to serve as A-State's interim chancellor during the national search period, he becomes the fifth individual to hold the title for the university.
Charged with guiding Arkansas State through the next academic year, Whitlock arrives in Jonesboro with a national reputation for building relationships and major program initiatives at Eastern Kentucky. A first-generation college graduate, he earned his first two degrees at Eastern and completed his doctorate at the University of Kentucky.
A product of Richmond, Whitlock attended elementary and high school in his hometown before enrolling at Eastern where he served as the editor of the campus newspaper. Earning his bachelor's in 1965 and master's in 1966, Whitlock left to serve as an officer in the U.S. Army where he reached the rank of captain.
Following his service, Whitlock began his career with Eastern in 1968 as the director of publications. He rose through the administrative ranks over the next three decades. He was director of public information from 1971-76, executive assistant to the president from 1976-98 and vice president for administrative affairs from 1998-2003.
He retired in 2003 from EKU, but was asked to return as the interim president at Eastern in 2007. The EKU board of regents asked him to consider taking the position full-time becoming the 12th president of Eastern. Upon his retirement in 2012, the regents bestowed upon him the title of president emeritus. The board also renamed its Student Success Building the Charles Douglas Whitlock Building
Whitlock initiated and oversaw capital, regional stewardship, student success and academic research projects that have defined EKU. Some of those projects include Kentucky's second-largest performing arts center and the New Science Building, both of which opened in 2011; the innovative Noel Studio for Academic Creativity; and the Center for Renewable and Alternative Fuel Technologies. He also guided the addition of the first three doctoral degree programs in EKU history.
During Whitlock's tenure, Eastern Kentucky garnered several national honors, including: designations by Forbes and U.S. News as being among America's best colleges; distinctions as a community-engaged university by The Carnegie Foundation for the Advancement of Teaching and Washington (DC) Monthly magazine; and recognition for two consecutive years as one of America's "Great Colleges to Work For," including 2010's designation as an Honor Roll institution, by the Chronicle of Higher Education. EKU was also recognized as a veterans-friendly campus by G.I. Jobs magazine and a national No. 1 "Best for Vets" ranking two times in a three-year period from Military Times EDGE magazine.
Whitlock and his wife, Joanne, will relocate to Jonesboro and live in the chancellor's residence during the upcoming academic year. The Whitlocks have two grown children, Robert and Janet.