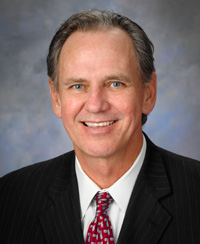 Appointed on May 1, 2012, by the ASU Board of Trustees, Dr. Tim Hudson is the second chancellor in Arkansas State history. Since his appointment, Arkansas State has started projects to transform the Jonesboro campus into a destination university.
His vision for the creation of public-private partnerships to enhance Arkansas State led to plans to establish the first American-style university campus operated by a U.S. college in Mexico, and an agreement to join with New York Institute of Technology to locate a College of Osteopathic Medicine in Jonesboro. Preparing the next generation of leaders with a commitment toward a global mindset is a high priority for Hudson, resulting in a significant growth in study-abroad opportunities for A-State students.
Programs to improve residences through living-learning communities and the opening of Sorority Row generated an all-time record for Arkansas State's on-campus student population in 2013-14. For the past two years, A-State has welcomed the most academically prepared freshman class (i.e., highest ACT scores and high school GPAs). Under his administration, A-State achieved a goal of Southern Regional Education Board salary parity for professors at all levels, and record enrollment.
Hudson joined A-State from Texas Tech University System, where he was a vice chancellor. From 2004 until 2010, he was president of the University of Houston-Victoria following a two-decade tenure as a professor of economic development, program director, founding dean of the College of International and Continuing Education, and provost at the University of Southern Mississippi. Prior to working in academia, he served as an analyst for the Bureau of Intelligence and Research in the U.S. Department of State.
He earned his Bachelor of Arts degree in history and Latin American studies, Master of Arts in geography from Southern Miss and Ph.D. from Clark University of Worcester, Mass. He has written numerous scholarly works for national and international publications, including a recent co-authored book focusing on multinational corporation subsidiaries in China (Chandos, Cambridge).
Hudson was the recipient of two Fulbright Fellowships (Germany and Mexico) and an ITT International Fellowship to study in Colombia. He has developed and led more than 30 programs for U.S. students to study abroad and was awarded an honorary doctorate by London Guildhall University for his contributions to global literacy.
He is married to Dr. Deidra "DeeDee" Ransburgh Hudson, who is the head of A-State's Study Abroad Program; she holds a Master of Science degree in speech pathology from the University of Tennessee and a Ph.D. in educational leadership from Southern Miss. The Hudsons have three children, Gianna Grace and twins Daisy and Nathaniel.