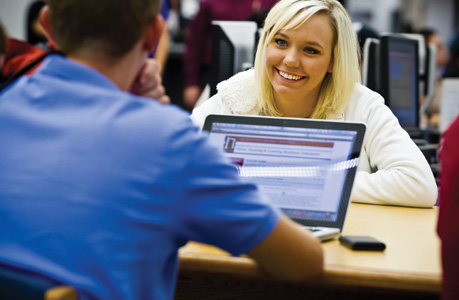 We are excited that you have chosen Arkansas State University to assist in meeting your work force needs. The staff at Career Services are dedicated to your success in meeting your recruiting needs.
There are many ways to interact and actively recruit Arkansas State students and we are happy to help you find the right fit for your business. Along with our recruitment activities you may also plan to attend one of events held annually at Arkansas State.
Fall and Spring Career Fairs
Career Fairs are held each October and March and provides opportunity for you to connect with students, faculty and staff from a variety of academic backgrounds.
The Spring 2015 Career Fairs will be held March 16-18th from 9am-1pm in Centennial Hall in the Reng Student Union on the A-State Campus. Employers may register for the fairs at www.hireastate.com/employer. The schedule is as follows:
Monday, March 16th- Education, Nursing and Health Professions
Tuesday, March 17th- Engineering, Science and Mathematics, Agriculture and Technology, Humanities and Social Sciences and Fine Arts
Wednesday, March 18th- Business and Media and Communication
Questions? E-mail careers@astate.edu.
Graduate School Expositions
Each Fall Career Services hosts a Graduate School Fair for graduate programs across the state and nation to share information with our students regarding graduate school options.