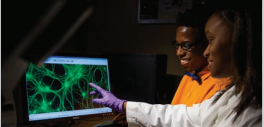 The Bridge Program prepares undergraduates for doctoral degree through performing research and scholarly activities in STEM fields. The purpose of the Bridge Program is two-fold: (1) To inspire undergraduate students to perform research and progress into graduate studies by providing opportunities in the summer for research and professional development; (2) To ensure success in academic, research, and professional development of graduate students (masters and Ph.D.) by providing financial support, wrap-around mentoring, and a caring community, ensuring that students from groups underrepresented in STEM will have the skills and experiences necessary to become successful scientists, innovators and role models.
Students will be matched with a faculty mentor who will guide their research endeavors. Mentors will be aligned according to the students' area of research interest as well as future career choice. Students will also be partnered with a peer/buddy mentor. Under the mentorship of a faculty member in a research-rich environment, students will be able to receive hands on training in the lab, learn how to conduct research, analyze results/data, and present the results in research symposia or conferences. In addition to help with GRE preparation, through regular professional development training Bridge students will learn the soft skills necessary to launch a successful career as a scientist.
In the spring of 2014, the Bridge Program was recognized for outstanding contributions in innovative practices from graduate admission to the completion of program by the Council of Historically Black Graduate Schools (CHBGS) and Educational Testing Services (ETS) and was awarded the CHBGS/ETS Award for Excellence and Innovation in Graduate Education.