Welcome Week Gets Underway, Opening Fall Semester
08/18/2017
JONESBORO – Welcome, A-State students!
Come out and celebrate the start of another year at Arkansas State with Welcome Week activities conducted by various student organizations. Events are scheduled from Saturday, Aug. 19, through Saturday, Aug. 26, while fall semester classes begin Monday, Aug. 21. Come out and let 'em hear ya howl.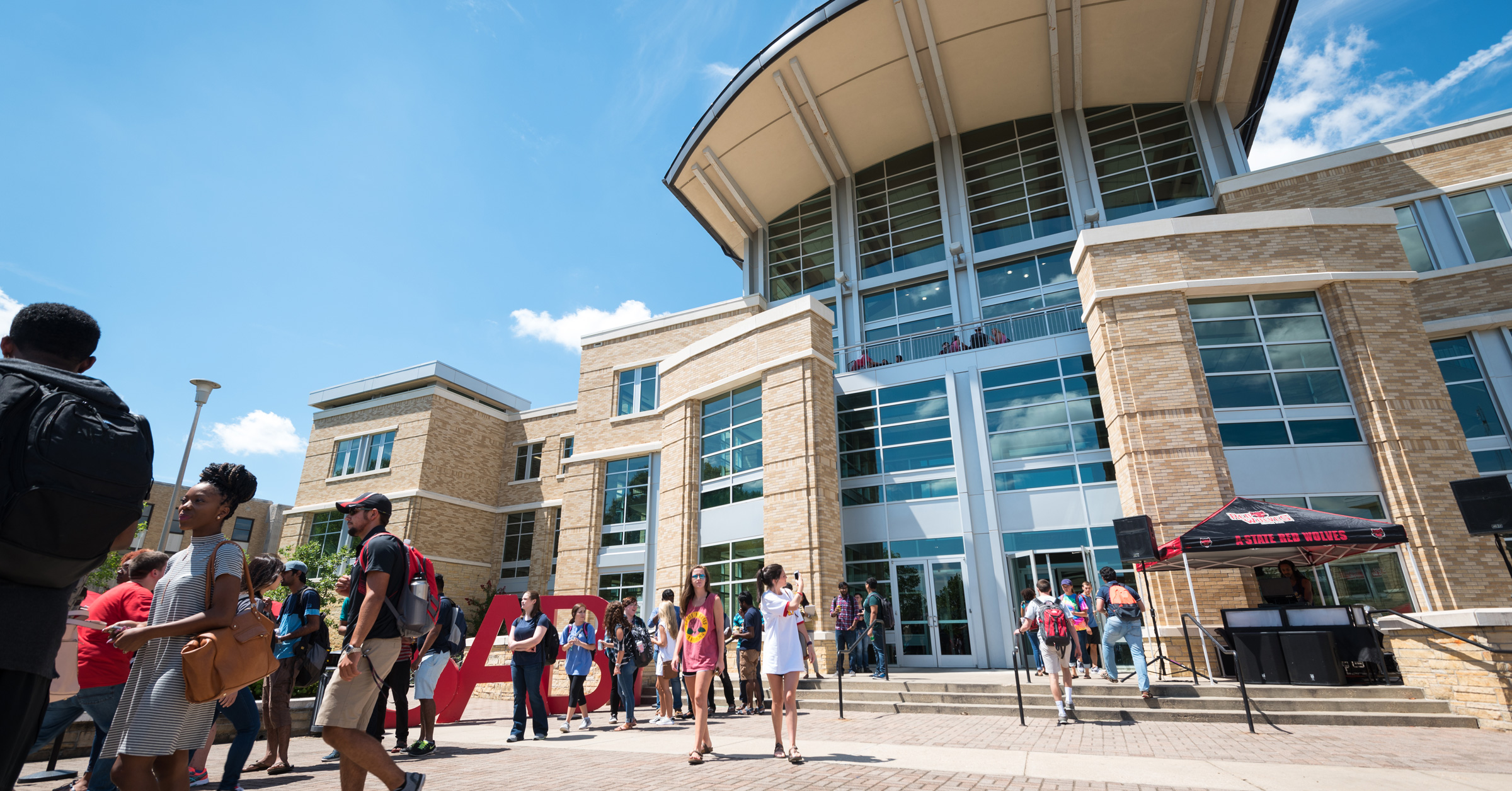 Saturday, Aug. 19
Move-In Day
Residence halls open for move-in day starting at 9 a.m. A welcome tent will be located on the lawn from 10-11 a.m., with staff from various departments available to greet parents and families of those moving in and to answer questions.
NPC Bid Day Celebration
Greek Life's National Panhellenic Council sororities will culminate its week of formal recruitment with the Bid Day celebration at 11 a.m. on the Heritage Plaza lawn of the Student Union.
Party in the Pines
Party in the Pines starts at 5 p.m. next to Centennial Bank Stadium. All students are invited to celebrate with food, music and fun, followed by a movie on the football field.
Sunday, Aug. 20
First-Year Convocation
First-Year Convocation for all entering students will begin at 1:30 p.m. in the Convocation Center.
Multicultural Mingle
The Multicultural Mingle starts at 4 p.m. in Centennial Hall of the Reng Student Union. Students will foster inclusion with each other and with the diverse members of the faculty and staff.
Monday, Aug. 21
Get Your Solar Viewers
Classes begin, and the Student Activities Board officially kicks off Welcome Week from 10:30 a.m.-1:30 p.m. on the Heritage Plaza lawn on the east side of the Reng Student Union. SAB members also will hand out protective viewing glasses in preparation for the historic solar eclipse that peaks in the afternoon; caution is strongly encouraged and students are advised to use certified ISO 12312-2 solar viewers (or equivalent) when observing the eclipse.
Ice Cream Social
The Multicultural Center will host a "welcome back" ice cream social from 11 a.m. until 2 p.m. at its headquarters, Suite 3003 in the Reng Student Union.
Eclipse Viewing Party
Arkansas Biosciences Institute will host a solar eclipse viewing party starting at 12:30 p.m. at ABI, 504 University Loop West. (Everyone will be cautioned to use proper eye protection).
Concert on the Lawn
The Student Activities Board is hosting Backroad Anthem in its Concert on the Lawn, from 6-7:30 p.m. at Heritage Plaza.
Tuesday, Aug. 22
Guided Painting Classes
SAB will host a series of Pinot's Palette guided painting classes from 10 a.m. to 2 p.m. at Heritage Plaza. This is free to all A-State students, and freshmen will be given VIP treatment. The painting will be a Red Wolf head.
Non-Trad Welcome Lunch
Non-traditional students are invited to a free welcome lunch from 11 a.m. to 1 p.m. in the Non-Traditional Students Lounge on the second floor of the Student Union.
Rec Fest
Rec Fest is put on by Campus Recreation in front of the Red W.O.L.F Center, 3-6 p.m. Rec Fest will feature fun activities to orient students to the many different campus recreation programs they can participate in throughout the year.
NPHC Meet the Greeks
A-State Greek Life's National Pan-Hellenic Council (NPHC) fraternities and sororities are hosting events during Welcome Week to engage students and help them to learn more about being a member of an NPHC organization, including Meet the Greeks at 6 p.m. between Kays and University Halls.
Wednesday, August 23
Community and Organization Fair
From 10:30 a.m. until 1:30 p.m., the Community and Organization Fair will be at Heritage Plaza. Community vendors and student organizations will set up on the lawn and surrounding area to promote their organizations and businesses.
NPHC Back to School Hump Day and Talent Show
NPHC sponsors Back to School Hump Day from 11 a.m. until 2 p.m. at Unity Park and the Freshmen Talent Show at 6 p.m. in the Fowler Center.
Thursday, August 24
DiversiTEA
At DiversiTEA, from 11 a.m. to 2 p.m., students will mingle and play board games from around the world. The first several students in attendance will receive a voucher for a free Starbucks coffee or tea. This event will be in the SunBelt Lounge, behind Starbucks, in the Student Union.
Why Not NPHC Forum
The "Why not NPHC?" forum starts at 6 p.m. in the Student Union Auditorium
Midnight Dance Party
The Midnight Dance Party, starting at 11:45 p.m., will feature DJ King Vick, glow sticks and Baggo at Heritage Plaza. SAB presents the party to help everyone unwind from the first week of classes.
Friday, August 25
Campus Cleanup
The Student Activities Board and Volunteer A-State are teaming up to provide a campus cleanup effort, 2-5 p.m. Students may volunteer for as much or as little time as they prefer. SAB and Volunteer A-State students will have a booth set up on the first floor of the Student Union where volunteers may pick up trash bags and gloves. A social media contest will pit participants in competition for weirdest piece of trash, biggest piece of trash and more.
Flag Football Tournament
NFL Greek Flag Football Tournament starts at 5 p.m. at the intramural fields.
BYOBanana
It's National Banana Split Day, so students need to "bring your own banana (byob)" and celebrate with ice cream, laser tag and entertainment in the heart of campus, 8 p.m. to midnight.
Saturday, August 26
Pool Party
A pool party is set for 12-4 p.m. at Wolf Creek Apartments, and an NPHC party starts at 10 p.m.
To follow A-State's Welcome Week, go to follow @ArkansasState on Facebook, Instagram and Twitter.