Voters Will Use Yellow Entrance at First National Bank Arena
10/29/2020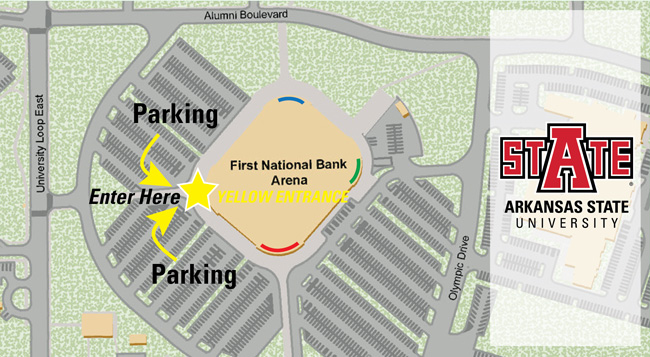 JONESBORO – Tuesday is Election Day in the State of Arkansas, and Arkansas State University's First National Bank Arena once again is a voting station for Craighead County. Unlike previous years, voting will take place on the concourse level of FNB Arena. Voters will enter and exit through the yellow entrance on the west side of the building, closest to University Loop East.
The change is part of Arkansas State's COVID-19 protocol, and provides the Craighead County Election Commission with room for physical distancing of voting stations and those waiting in line to vote. All persons voting at the arena must enter through the yellow entrance, and parking for voting will be outside of the yellow entrance.
Per the Arkansas Department of Health guidelines, "Persons voting, assisting voters, serving as poll watchers, or actively performing election administration duties" are exempt from the statewide face covering mandate. The ADH continues, "however, face coverings are strongly encouraged."
To promote safety, physical distancing in lines leading to the voting area will be marked and voters are expected to comply with the directions of county officials to maintain spacing.
All other areas outside of the yellow entrance and the designated voting station area remain subject to the university and State of Arkansas mandates related to face masks.
As Arkansas State is conducting classes under its COVID-19 protocol in the Hames Room, only faculty and students should use the red entrance or be in the walkways or hallways of the ground level.
# # #