Track's Nelvis Wins National 60-Meter Hurdles Title
03/15/2014
ALBUQUERQUE, N.M. – Arkansas State University's Sharika Nelvis has achieved All-America Indoor Track recognition multiple times, but never claimed a national indoor champion title until now as the senior captured first-place honors in the 60-meter hurdles this Saturday (March 15) at the 2014 NCAA Division I Women's Indoor Track and Field Championships in Albuquerque, N.M.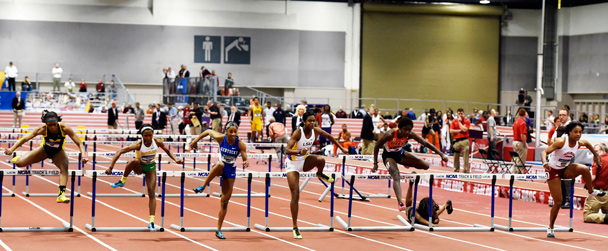 Nelvis, who earned first-team Indoor All-America recognition as a result of placing third in the 60-meter hurdles preliminaries, advanced to the national finals and made the most of her opportunity by posting the event's fastest time of 7.93 to beat out Baylor's Tiffani McReynolds on the Albuquerque Convention Center track. A two-time (2012-13) United States Track and Field/Cross Country Coaches Association (USTFCCCA) All-America Second-Team performer, Nelvis qualified for the indoor 60-meter hurdles a third year in a row. This season, Nelvis was named the Sun Belt Conference (SBC) Most Outstanding Women's Indoor Track for a third time after winning all four events she was a participant in – 60-meter dash, 60-meter hurdles, 200-meter dash, and the long jump. Nelvis, who hails from Memphis, Tenn., is a four-time (2011-14) All-Sun Belt Conference First-Team selection.
I'm so proud of Sharika and all the hard work she has put in," said A-State head coach Jim Patchell. "Being a national champion is a rare thing and it takes a special athlete and person to achieve that level of excellence. She set that goal after outdoor season last year and put in some long days and hard work - it all paid off tonight."
Richard Chavez made his debut at indoor nationals a memorable one in the men's shot put as the senior registered a throw of 63-10.50/19.47m to finish in sixth place and attain first-team All-America accolades. Ryan Crouser of Texas won the event by recording a 69-07.00/21.21m distance. The Clovis, N.M. native took first place in the shot put at the 2014 Sun Belt Conference Indoor Track Championships following a 60-00.07/18.29m toss to attain all-league first-team laurels.
Richie did an outstanding job to achieve first team All America recognition," said Patchell. "He has come through some injuries over the past year and has persevered. He earned his first chance to perform on the national stage and really came through with some great throws. As a coach, I couldn't be prouder."
A-State sent three athletes to the national meet this season and all earned first-team All-America plaudits.
Freshman Roelf Pienaar turned in a third-place showing in Friday's (March 14) men's long jump finals with a 25-07.09/7.80m performance.
The Red Wolves will open their outdoor season at the Ole Miss Invitational March 21-22 in Oxford, Miss.
Photo credit:Randy Miyazaki (@TnFphoto)