Students Were 'Up 'til Dawn' to Break Record for St. Jude
03/12/2018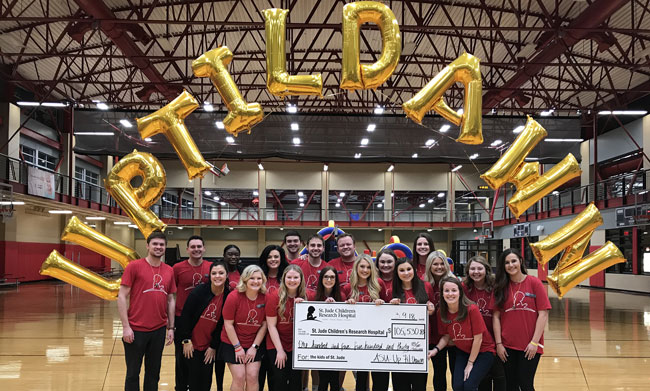 Members of the "Up 'til Dawn" student executive board proudly display a large check, representing the organization's 2018 fundraising results for St. Jude Children's Research Hospital. So far, the chapter has raised more than $105,530 this year, putting the group on track for another top 10 national ranking.
JONESBORO – Arkansas State University students participating in the "Up 'til Dawn" fundraising weekend surpassed their 2018 goal of $90,000 and have raised a school record $105,530.83 for St. Jude Children's Research Hospital in Memphis.
This achievement will likely put A-State in the "top 10" of Up 'til Dawn fundraising institutions in the country for the third consecutive year. A-State broke into the top tier at 10th in 2016, and was ninth last year. The final standings for 2018 will not be determined until mid-April.
This was A-State's fifth year to host Up 'til Dawn, and the results continue to grow dramatically.
"There is no better feeling in the world than working alongside my peers to benefit St. Jude Children's Research Hospital," said Hannah Aldridge. "Proceeds pay for treatment, travel, food and housing, so all the family has to worry about is their child's battle. None of this would have been possible without the support of our sponsors, participants, and executive board. I will always cherish my time at A-State and forever be grateful that I was introduced to St. Jude Up 'til Dawn."
After the Up 'til Dawn weekend of activities, the UTD participants will continue collecting donations from students, faculty and staff, with receipts through April 15 counting towards this year's fundraising tally.
The record-setting total is up more than $30,000, or 40.4 percent, over last year. Katey Provence, coordinator of student services in the A-State Leadership Center, said there were more than 150 students who gathered Friday evening and stayed "up 'til dawn" early Saturday morning at the Red WOLF Center.
With a generous $5,000 donation, this year's event was presented by Richardson Orthopedic & Spine Surgery.
St. Jude posts the national rankings at www.stjude.org/utd. Prior to this weekend's achievements, A-State stood at seventh place in the national competition.
# # #