Student-Athletes Honored at 5th Annual A-State Awards
05/02/2017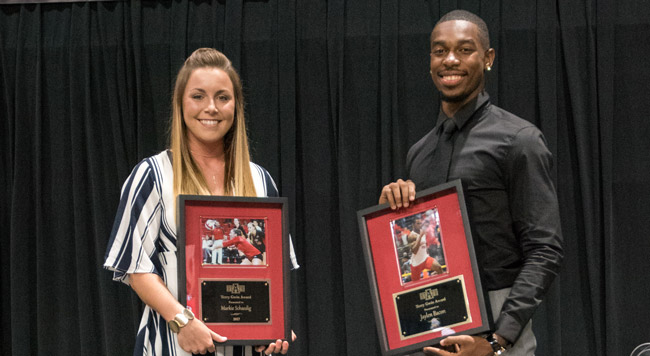 2017 Terry Gwin Award winners Markie Schaedig and Jaylen Bacon

JONESBORO – Celebrating the Red Wolves' academic success, athletic achievements and commitment to community service, the Arkansas State Athletics Department honored its student-athletes, presented senior rings and announced its major award winners for the 2016-17 year at the 5th Annual "The stAte Awards" Monday night at the Convocation Center.
Senior All-American and Sun Belt Conference Volleyball Defensive Player of the Year Markie Schaedig and junior track and field star Jaylen Bacon, a First Team All-America and Sun Belt Conference selection, were named the recipients of the Terry Gwin Award. The award is named after former football player Terry Gwin and based on leadership, citizenship, scholarship and athletic performance.
The Scott and Kay Dawson Award went to a pair of All-Sun Belt Conference performers in senior volleyball player Mallory Warrington and senior football player Cody Brown. The criteria for the award includes, but is not limited to, excellence in service, attitude, integrity, loyalty, character and leadership.
The Dr. Tim and Terri Langford Award, the highest academic honor within A-State Athletics and presented for excelling academically while demonstrating a commitment to academic integrity, Arkansas State University and the community, was issued to sophomore All-Sun Belt golfer Beth Ann Compton.
A-State student-athletes nominated for Sun Belt Conference awards were honored at the ceremony as well. Brittany Fowler of the women's basketball team is nominated for the SBC Postgraduate Scholarship Award, and senior soccer player Alexis Philippe is A-State's institutional representative for the SBC Leadership Team.
The H.T. "Pug" Winters Degree Completion Award went to Warrington, while the Billie Gene Davidson Degree Completion Award was presented to Katon Hill of the football team. The Red Wolves' 2016-17 female Freshman of the Year winner was Kenzie Fields (volleyball) and the male Freshman of the Year was Zan Luka Stirn (men's golf).
Junior football player and defensive end Ja'Von Rolland-Jones and junior bowler Jordan Richard were also recognized on stage as the Sun Belt Conference Defensive Player of the Year and the NCAA Player of the Year, respectively.
The event began with music and a social function when student-athletes visited with those in attendance and posed for photos. They also enjoyed a buffet dinner before the program began with introductory remarks by A-State radio play-by-play announcer Matt Stolz, who served as master of ceremonies. Following a brief welcome and recognition of distinguished guests in attendance, including members of the Arkansas State University administration and Board of Trustees, Stolz discussed many of the Red Wolves' accomplishments before introducing Director of Athletics Terry Mohajir.
Mohajir told the Red Wolves to make the most of their time and opportunities as a student-athlete, and he thanked them for being positive role models and ambassadors for Arkansas State University. Academically, A-State had a school-record 216 student-athletes on its most recent Athletics Director's Honor Roll and achieved an all-time high 3.094 all-department GPA during the fall semester.
The 2016-17 year has seen seven student-athletes named All-American and 39 tabbed all-conference. Twenty-four players from 12 sports have won a weekly conference award a combined 43 times, and seven student-athletes from four sports have received at least one of the Sun Belt Conference's major individual awards for competitive performance.
A-State head men's golf coach Mike Hagen and Fowler both also addressed the crowd, while Michaela Supple of the soccer team and Blaise Taylor of the football team were recognized on stage for earning prestigious honors from Arkansas State University.
Redshirt freshman quarterback Logan Bonner presented Arkansas State University Director of First Year Studies Paula Bradberry with a "Student-Athlete Service Award," and the evening continued with a Team GPA Award issued to the football, men's cross country and volleyball teams. An Athletics Director's Honor Roll recognition ensued, as well as a recognition of the A-State spirit squads showing the athletic department's appreciation for their dedicated involvement with A-State Athletics.
Not only were the student-athletes presented their All-Sun Belt Conference trophies for this year, there was an NCAA Championship recognition for the women's bowling team and individual track and field participants Bacon and Erin Farmer. The football team and volleyball teams were also awarded rings for their Sun Belt Conference championship and Sun Belt West Division title, respectively.
The evening concluded when Mohajir recognized the seniors sport-by-sport for their commitment and contributions to Arkansas State University and Red Wolves Athletics throughout their career by presenting them with their senior rings and Sun Belt Conference graduation medals.
-- courtesy A-State Sports Information Dept.