Softball Wins NCSA World Series National Championship
05/21/2017
COLUMBUS, Ga. — Victory is sweet as Arkansas State University found out after winning the National Club Softball Association (NCSA) World Series Sunday morning at the South Commons Softball Complex in Columbus. The Red Wolves defeated two-time defending champion James Madison, 4-0, to take the crown.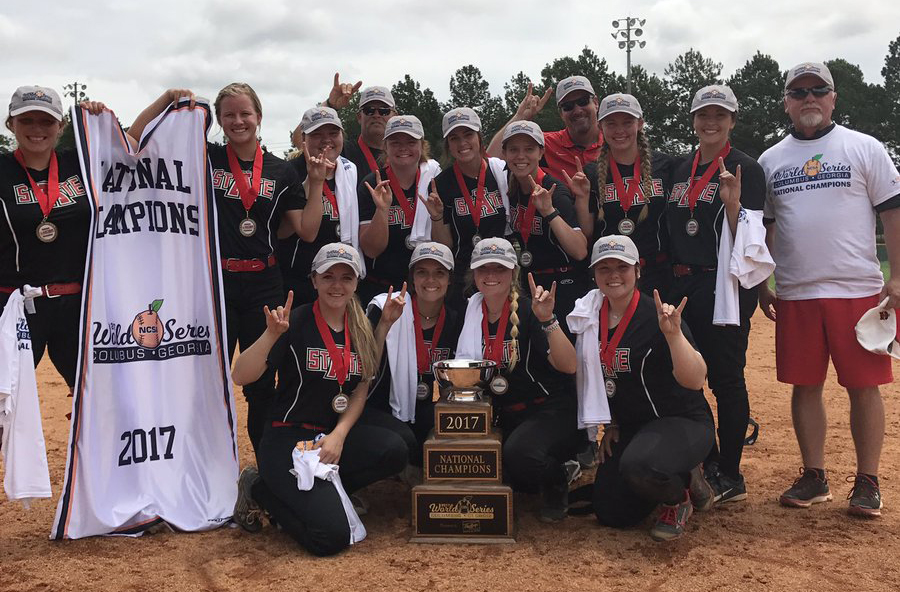 2017 National Club Softball Association World Series Champions
"It just goes to show you to keep working hard and never give up on your goals," said head coach Chris Powers, whose team has played in five consecutive NCSA national tournaments. "Winning a national championship is always good for any program. It just proves that this program is headed in the right direction."
The Red Wolves did not know what team they were playing in the title game until just before the start. Grand Canyon defeated Virginia Tech, 4-3, late Saturday evening and had to face JMU early Sunday morning for a play-in contest. After winning that game, the Dukes met A-State for the tournament finale.
The road to the championship, punctuated by rain and lightning delays, began Saturday when Arkansas State defeated four teams to advance, including Clemson (11-1), Florida State (7-1), Grand Valley State (3-1) and a nail biter finale with James Madison. With the Dukes at bat and two outs, A-State pitcher Shea Cothren got the final out to give Arkansas State the narrow 5-4 win and the trip to the final.
Cothren, of Paragould, who was selected as an all-America pick in 2016 and chosen as the NCSA National Pitcher of the Week twice during the season, was named the tournament's most valuable player. In the final game, she struck out seven, allowed only four hits and three runs.
"Good pitching and defense wins championships and that's what we had all weekend," noted Powers.
Arkansas State came into the tournament seeded fourth and undefeated in league play (12-0) and began pool play Friday on a strong note to defeat Sacred Heart, 8-4, then fell to Florida State, 5-1, and 3-0 to JMU. Following pool play, all teams were reseeded with Arkansas State filling the eighth slot.
"This team rallied around each other after pool play and played their hearts out. I'm proud of our team, coaching staff and all of our fans that support us," Powers noted. "I feel we earned a lot of respect this weekend."
This is the sixth national championship for Arkansas State: Association of College Unions International Clay Targets (2014), USA Rugby College 7s national championship (2013 and 2012), International Public Debate Association Team Debate national championship (2013), Moot Court National Championship (2009) and NCAA National College Division football national championship (1970).