Softball Wins Mid-America Regional Playoffs; Advances to NCSA World Series
04/22/2018
OVERLAND PARK, Kan. – Arkansas State University's softball team defeated Iowa State, 7-1, here Sunday afternoon to claim the Mid-America Championship and qualify for the National Club Softball Association World Series. A-State, the defending World Series national champion, has qualified for its sixth straight championship bid and will head to Columbus, Ga., Friday-Sunday, May 18-20, to defend its title.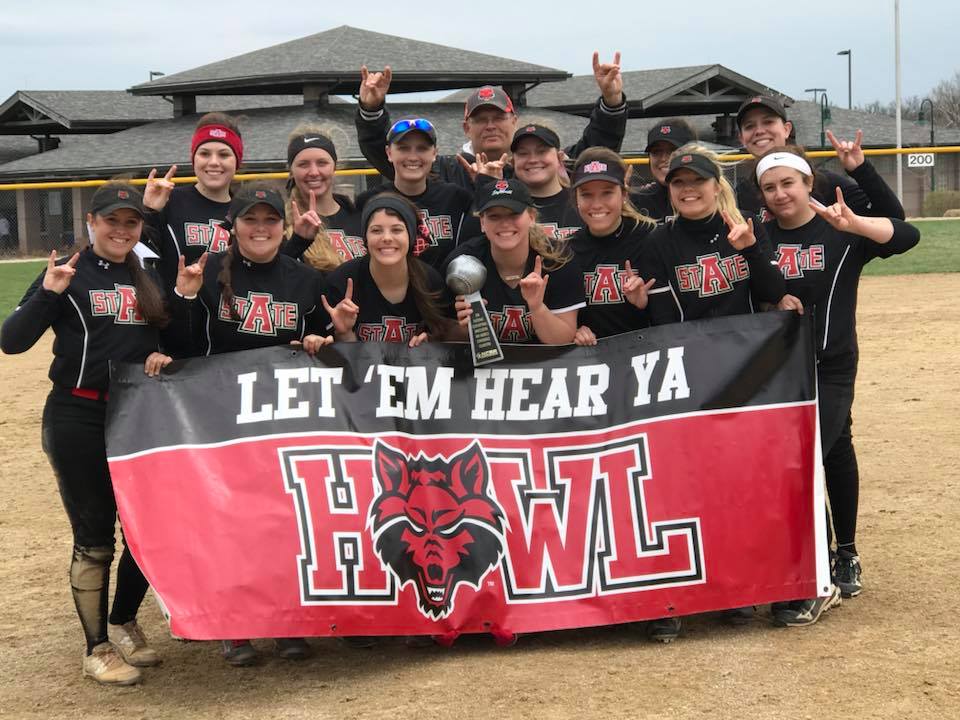 Arkansas State University, 2018 Mid-America Regional Champion. (Front row from left) Ashley Scott, Kiana Cole, McKenzie Roberts, Chloe Vaught, Breanna Shaffer, Keely Curtis, Jackie Woods. (Second row) Rebecca Treat, Rachel Hinson, Lydia Mitchell, Savanna Crane, Lauren Sharp, Bailey Bradley. (Back) Coach Keith Hinson. — Photo courtesy of National Club Softball Association.

"We clinched the Mid-America Conference championship for the fifth consecutive year, and now we're headed to Columbus, Ga., to defend the 2017 national championship," said head coach Keith Hinson. "The success of this weekend was due to the combination of excellent defense, pitching and power hitting by this team."
A combination of solid team hitting and strong pitching by freshman McKenzie Roberts enabled the victory for A-State. After senior Chloe Vaught drove in the first run to end the bottom of the first inning, Iowa State came back to tie the game. The score remained locked until the bottom of the fifth when sophomore Kiana Cole drove in two more runs with a line drive to centerfield to give A-State the 3-1 lead.
"Iowa State attempted a rally in the sixth and loaded the bases with one out," continued Hinson. "But a spectacular double play put an end to that. Rachel Hinson fielded a hard grounder at third and threw it to Chloe Vaught at home, who then rifled the ball to Rebecca Treat at first. We kept the bats hot and added four more insurance runs."
Roberts pitched all seven innings and held the Cyclones to one run on seven hits.
The Red Wolves knocked of Colorado Mesa, 10-5, in Saturday's first-round regional playoff game before edging out the U.S. Air Force Academy, 6-5, in the second game. They had to wait until Sunday morning to find out the championship opponent.
Roberts set the pace against Colorado Mesa, leading the team in batting by going three-for-three at the plate and was also the winning pitcher throwing five and 1/3 innings. Keely Curtis and Lydia Mitchell each batted .750. In relief, Jackie Woods came in to close out the game.
"We fell behind in the fist inning, but came back to take the lead with a six-run inning and never looked back," said Hinson.
Against Air Force, Woods took the mound, throwing all seven innings, giving up four earned runs. Cole led her tem in hitting and added several strong plays on defense. Ashley Scott hit a double with the bases loaded to break a tie. Then Savanna Crane hit a two-run homer to help secure the win.
"We had Air Force down 6-1 going into the sixth inning," added Hinson. "That is when they made a run and scored four. In the top of the seventh, we were up 6-5 and Keely made two outstanding plays in centerfield to keep Air Force off the scoreboard. After the game, I heard Keely say, 'when I was chasing that fly ball, all I was thinking about was we got to cross that Chattahoochee River and get to the World Series!'"