Softball Team to Open World Series Pool Play with Rutgers
05/10/2018
JONESBORO – Arkansas State University's softball team will begin its defense of a national championship by playing Rutgers University in the first pool game of the National Club Softball Association World Series, Friday through Sunday, May 18-20, at the South Commons Softball Complex in Columbus, Ga.
The top-seeded Red Wolves will play the Scarlet Knights Friday at 10 a.m., followed by a game with Central Michigan at 1 p.m. and close out the day against San Diego State University at 4 p.m. The tournament includes four pools with A-State playing in Pool A.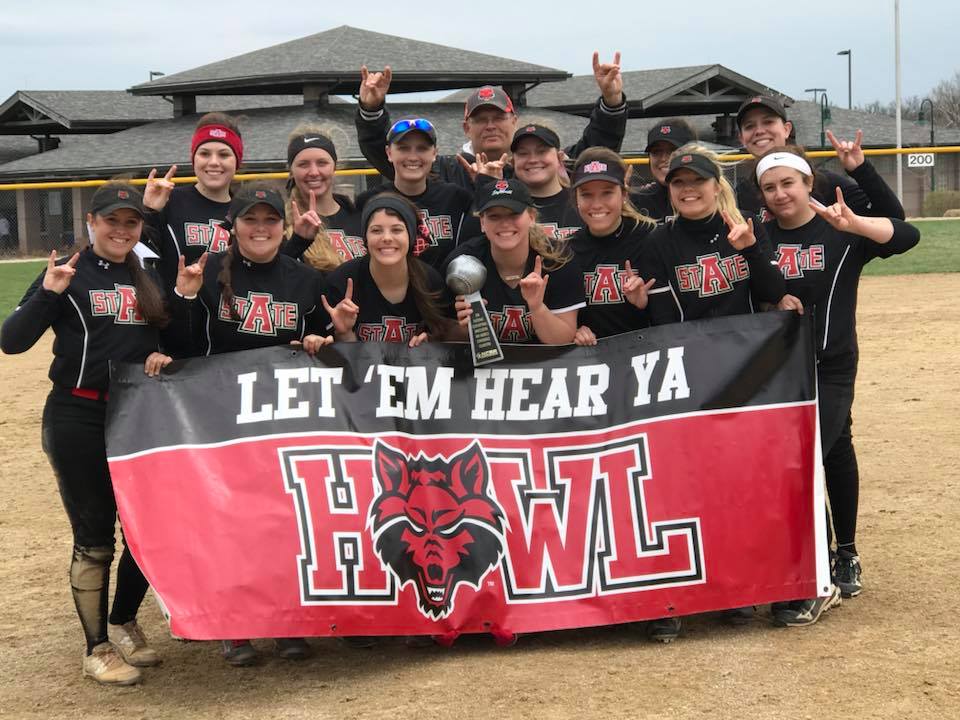 Arkansas State University 2018 Softball Team (Front row from left) Ashley Scott, Kiana Cole, McKenzie Roberts, Chloe Vaught, Breanna Shaffer, Keely Curtis, Jackie Woods. (Second row) Rebecca Treat, Rachel Hinson, Lydia Mitchell, Savanna Crane, Lauren Sharp, Bailey Bradley. (Back) Coach Keith Hinson. — Photo courtesy of National Club Softball Association.


It is the sixth consecutive trip to the national tournament. A-State won the World Series in 2017 after defeating four teams, including two-time defending champ James Madison, to reach the finals.
"We are only returning three starters from the 2017 national championship team including one senior, Chloe Vaught, and only a total of four players with World Series experience," said head coach Keith Hinson. "So we are headed to Georgia with a young team. We will have a target on our backs."
After the conclusion of pool play, teams will be re-seeded and the double-elimination portion of the tournament begins Saturday, May 19, and continues until a national champion is declared on Sunday, May 20.
"There has already been social media posts from teams that we beat last year," continued Hinson. "To say the least, they were not encouraging us to do our best. The one thing I am proud of with this team is they understand we have to talk with our gloves and our bats and stay away from social media confrontation. This young team is battle tested. They showed me that at the regionals.
"I'm sure there will be a few butterflies, but that's fine. We will get that all worked out on Friday. We are the No. 1 seed going into the World Series. That is pretty impressive for a young team to accomplish this feat."
Arkansas State advanced to the NCSA World Series after winning the Mid-America regional playoffs in April. The team also won its conference championship for the fifth straight year, finishing with a 15-0 record, and brings a perfect 18-0 overall mark to the tournament.
Returning All-American Rachel Hinson of Vilonia leads all batters with a .677 average in 31 at-bats. She owns 28 RBIs and has three home runs. McKenzie Roberts of North Little Rock leads the pitching crew with an earned run average of 6.70 in 23 innings.
In addition to A-State, other teams participating include Central Michigan University, Clemson University, University of Delaware, Florida State University, Grand Valley State University, University of Illinois, Iowa State University, James Madison University, University of Michigan, U.S. Naval Academy, Niagara University, Northeastern University, Rutgers University, San Diego State University and University of California-Davis.
A weekend tournament pass is $14 and daily admission is $5 for adults, $4 for students and $3 for youth tickets. Follow the action live on the NCSA Facebook page at Facebook.com/groups/NCSAClubSoftball/ or live gamecast on Pointstreak.com. For additional tournament information, go to the NCSA website at ClubSoftball.org.
"We will leave May 17 in morning early from campus," concluded Hinson. "We will get to Columbus and go through a light practice, get a good night sleep. Then start our pursuit of our second national championship."