Rugby Drops Close Quarterfinal Match to Lindenwood
04/20/2019
ANNAPOLIS, Md. – Arkansas State University's pursuit for a national championship came to a heartbreaking halt when the Red Wolves rugby team was edged out, 22-18, by Lindenwood University in the quarterfinal game of the D1ARugby.com National Championship at the U.S. Naval Academy, Saturday afternoon.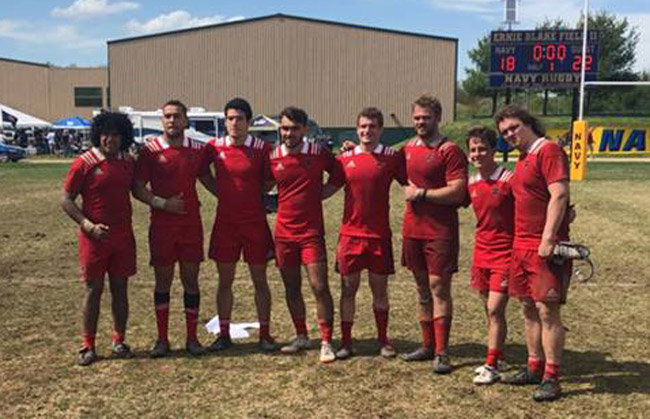 These senior players played their final collegiate match Saturday afternoon.
"I'm very proud of our program," said Head Coach Blake White. "We've had plenty of ups and downs this season, and the men should keep their chins held very high. Our guys played very well today. We gave ourselves a shot and that's all you can do in big matches like this. A couple of calls or bounces of the ball, and we would be on the winning end of this match."
A-State got on the board first with a penalty kick by Dylan Boast seven minutes into the match to give his team a 3-0 lead. Boast has been a mainstay throughout the season with his strong kicking ability. But, the Lindenwood Lions came back eight minutes later with the try and conversion to take a 7-3 lead.
Jake Ray, a junior from Concord, Calif., completed the first-half scoring with his try. Boast was accurate on the conversion to send Arkansas State in ahead at the half, 10-7.
Boast provided the Red Wolves a little cushion when he converted on a penalty kick three minutes into the second half to extend the lead to 13-7.
A-State sustained tough pressure defense, but Lindenwood managed to squeeze through for the score with 20 minutes left in the game. LU's conversion attempt was off, but the Lions held a one-point 14-13 edge. With 10 minutes left, Lindenwood managed another successful try in the corner, but the conversion kick failed. LU led, 19-13.
With five minutes remaining in the game, freshman Dale Hartman of Johannesburg, South Africa, scored the try, allowing Arkansas State to pull within one, 19-18.
Lindenwood managed a penalty kick as the clock ticked away, leaving the final score at 22-18.
Arkansas State had advanced to the quarterfinals after defeating Army, 31-24, in the opening round. The Red Wolves are ranked sixth in the D1ARugby.com final poll.
"Most of all I'm thankful to our seniors," stated White. "There has been plenty of adversity in our program these last four to five years, and these guys stuck it out for each other and led by example all year. Their leadership gives us a great platform to build from and look back to as a great example for years to come. I'd like to also thank the support of all our fans, parents, and school administration."