ROTC Recognizes Hall of Heroes Inductees at Campus Ceremony
10/20/2015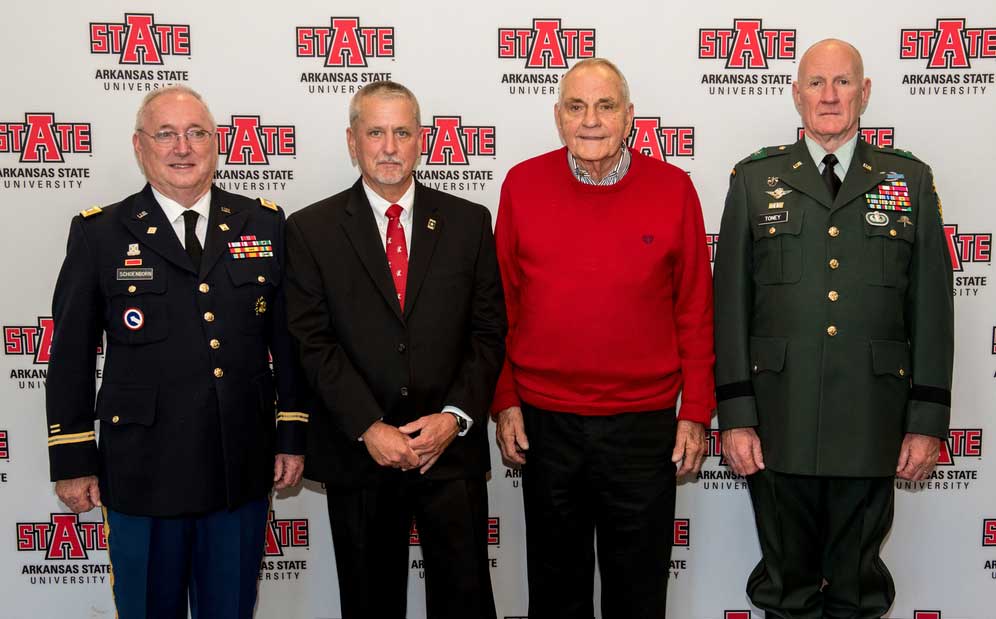 (from left) Bob Schoenborn, Vance Sales Jr., Dave Doyle and Frank Toney
JONESBORO – Arkansas State University ROTC inducted three new members into the Military Science Department's Hall of Heroes and recognized a previously inducted member during a campus ceremony today (Tuesday, Oct. 20).
Inductees and their families were introduced at halftime of the A-State football game with Louisiana-Lafayette.
New inductees are retired Col. Vance Sales Jr., retired Lt. Col. Bob Schoenborn and retired Lt. Col. Laddie Logan, who was honored posthumously.
Retired Brig. Gen. Frank Toney was recognized for his induction into the Hall of Heroes in 1997. All four men are A-State alumni.
In addition, several cadets received scholarship awards and 10 cadets took their commissioning oath. Lt. Col. Michael Fellure, professor of military science, presented the awards.
Frank Toney had an athletic scholarship and was a Distinguished Military Graduate in 1972. He holds two master's degrees, one in management and the other in public administration. Toney has a combined distinguished career of more than 40 years of service in the U.S. Army and executive level support of the U.S. Department of Defense and U.S. Department of State international programs. He has held command at every level from company grade through general officer, including combat commands during Desert Storm and Operation Support Hope in Africa. After his retirement from the military, he served in Iraq as a senior adviser to all Iraqi counter terrorism forces. At the request of King Abdullah II of Jordan, Toney served as general direct to the king's Special Operations Training Center.
Millard Vance Sales Jr., a native of Jonesboro, is a 1981 Distinguished Military Graduate with a Bachelor of Science in management and technology. He attended Rotary Winged Aviators Course and earned his Army Aviator Wings in 1982, and served in the U. S. Army for 28 years. His command positions included a one-year tour of duty in Sarajevo, Bosnia at NATO headquarters. Sales retired in 2009 after serving as the director of aviation, Headquarters Department of the Army G8. He is a graduate of the Army Command and Staff College and the Air War College, and recipient of the Distinguished Service Medal.
Robert (Bob) Schoenborn, a St. Louis native, was a Distinguished Military Graduate with a Bachelor of Arts degree in 1967. He served in the Army for 22 years as a finance officer in various capacities, including the Office of the Comptroller at the Pentagon. He also served with the 1st Logistical Command as Deputy Comptroller Cam Ranh support command in Viet Nam. Schoenborn is committed to veterans' interests through local organizations, including service as Northeast director of the Military Officers of America Association and member of the Craighead County Veterans Memorial Foundation and Beck PRIDE Center board at A-State. Schoenborn also is in the Arkansas Military Hall of Fame.
Laddie Logan, a native of Walnut Ridge, received his Bachelor of Science in Agriculture in 1957. Logan completed Airborne and Ranger Schools and served two tours in Vietnam, one as the senior Ranger advisor to the 5th Ranger group and South Vietnamese Ranger Command. He received the Legion of Merit, Meritorious Service Medal and Purple Heart. After retiring from the Army, he earned a Master of Business Administration degree from A-State in 1979 and a Ph.D. in marketing from the University of Memphis, then he taught in the A-State College of Business from 1979 until retiring in 2000. He died in 2013. Dave Doyle, also an A-State and ROTC alumnus, will accept the award on behalf of Col. Logan.
# # #