Rigney Family to Perform at Bluegrass Monday Nov. 24
11/14/2014
JONESBORO, Ark. — The Rigneys, a family bluegrass band, will perform a concert Monday, Nov. 24, at 7 p.m., at the Collins Theatre, 120 West Emerson Street, in downtown Paragould, Ark. The concert is part of the Bluegrass Monday concert series presented by KASU 91.9 FM, the 100,000-watt public broadcasting service at Arkansas State University.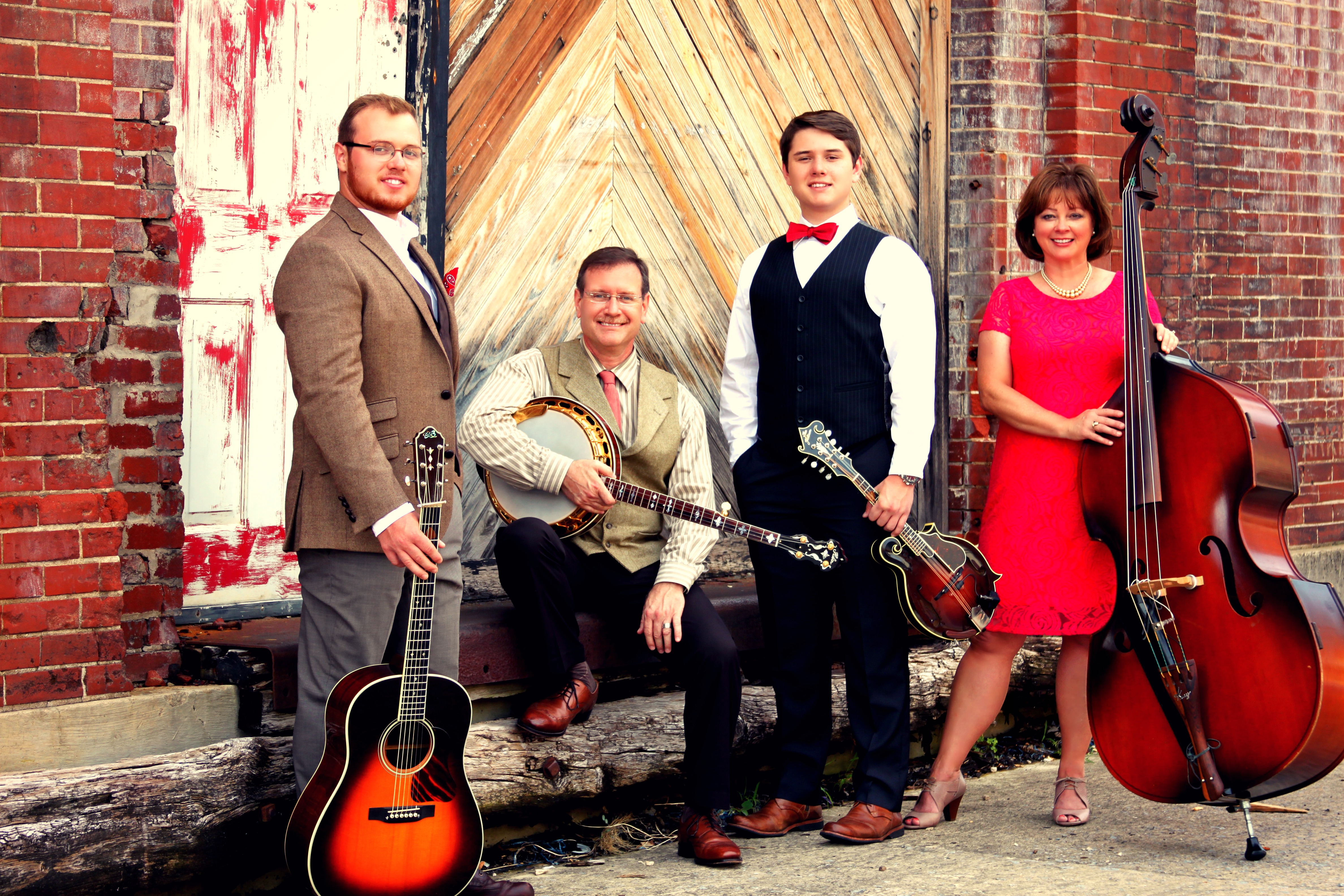 Left to right: Andrew Rigney, Mark Rigney, Grant Rigney, Melissa Rigney
The Rigneys are a mom and dad with their two young adult sons. They live in Normandy, Tenn., and perform about 70 shows each year. The two sons have each won dozens of awards for their musical skills at many bluegrass competitions. The family has been performing at bluegrass festivals and events for almost a decade and have produced six CDs, the latest of which was released on the Dark Shadow recording label.
Father of the family, Mark Rigney, has family roots in Paragould. His mother and grandparents lived in the city, and he still has family and friends in Northeast Arkansas. As a teenager, he developed a love for playing the banjo, but sold his instrument in order to purchase an engagement ring for his now-wife Melissa. Years later, she gave him another banjo as a Christmas present, rekindling his love of bluegrass music.
In the family band, Mark plays banjo and sings both lead and harmony vocals. Melissa Rigney plays upright bass. Their sons, Andrew and Grant, have been playing music since they were young children.
Andrew Rigney plays guitar and sings. He is also a songwriter, contributing his own original songs to the group's repertoire. He is a three-time winner of the flat-picking guitar championship at the Tennessee State Fiddle Championships and has also twice won second place honors at the Doc Watson Guitar Competition. Andrew was also featured in the October 2014 issue of Flatpicking Guitar Magazine, and he serves as president of the Youth Council of the International Bluegrass Music Association.
Grant Rigney plays mandolin and fiddle and contributes harmony vocals to the group. He is a four-time winner of the national championship Youth Entertainer of the Year award given at the Smithville Fiddler's Jamboree. He also won the Alabama State Junior Fiddle Championship and was chosen by the International Bluegrass Music Association to be a part of the 2013 Bluegrass Youth All-Star Band.
More information about the family, including videos of past performances, is at www.therigneysonline.com.
In addition to the concert, Terry's Café, 201 South Pruett Street in Paragould, opens on Bluegrass Monday nights to welcome bluegrass music fans. The café serves a catfish buffet meal beginning at 4:30 p.m. on the evenings of Bluegrass Monday concerts. Concessions will also be available at the Collins Theatre.
Bluegrass Monday concerts are held on the fourth Monday night of each month with the exception of December. These concerts are presented with support from Bibb Chiropractic, the Posey Peddler, Holiday Inn Express and Suites of Paragould, the Northeast Arkansas Bluegrass Association and KASU.
KASU will literally "pass the hat" to collect money to pay the musicians. The suggested donation is $5 per person.
For more information, contact KASU program director Marty Scarbrough at mscarbro@astate.edu or (870) 972-2367. Bluegrass Monday is also on Facebook (search "Bluegrass Monday").