Red Wolf rugby scores big wins over Texas A&M
02/02/2013
COLLEGE STATION, Texas — Arkansas State's rugby team showed no signs of a layoff as the Red Wolves opened the 2013 spring schedule with a 70-7 victory over Texas A&M in a Division 1-A preseason match Saturday afternoon.
That match, featuring the "A" squad, was followed by another victory with a huge margin, a 96-0 win by ASU's "B" team over A&M's "B" team. The two matches marked the first competition of the new year since ASU won the national college 7s championship in December.
"I know this may sound a little strange because of the big score, but we really did not play that well in the first match," said first-year head coach Alex Houser. "We were impatient and turned the ball over a lot."
Freshman fullback Sean Linfield got the scoring underway off a penalty. He was followed with tries from teammates Kirk Pretorius, Paxton Van Baber and Gavin Brown, all newcomers. Another freshman, Nick Thompson added a try to put ASU up, 27-0.
Senior All-American Dean Gericke gave the Red Wolves some cushion with a try that put ASU up, 32-0 at the halfway point. Brown, a freshman wing who is a high school All-America selection, scored again in the second half to help ASU pull away, 53-0.
ASU's other scores came from Dylan Carrion, Gericke and Shaun Potgieter. Texas A&M's only score came on an interception.
Houser was more pleased with the play of the "B" team in the second match.
"We played a lot better," continued Houser. "The guys played with more discipline and more patience. We played really good rugby."
The Red Wolves return home to play an intrasquad game, weather permitting, Saturday, Feb. 9, at 1 p.m. at ASU's Rugby Stadium.
"We are looking forward to a challenging spring schedule as we try to build from the momentum the program has gained from our recent success in finishing second in the nation in 15s last spring and winning the national championship this fall in sevens," Houser said.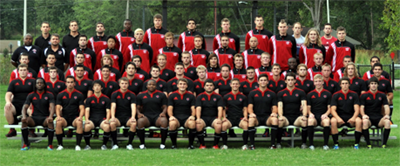 ASU Rugby Team