Red Wolf Boulevard adopted by the Jonesboro City Council
11/20/2013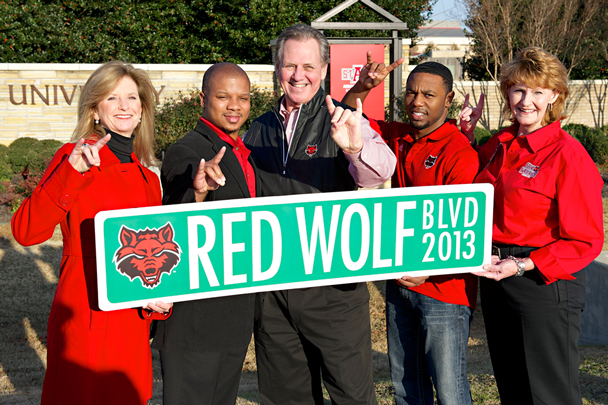 Isaacson, Banks, Hudson, Anderson and Smith


JONESBORO – Red Wolf Boulevard was adopted by the Jonesboro City Council Tuesday evening, renaming Stadium Boulevard from the interchange with U.S. 63 bypass and Johnson Ave. to honor Arkansas State University.
Representatives of the campus groups that passed resolutions endorsing the change met to mark the first morning of the new road name on Wednesday.
"We appreciate the support of all the groups on campus, the students, faculty, staff, alumni and everyone associated with Arkansas State," Hudson said. "We appreciate the City Council. They have done something that will have a long-standing legacy here."
Joining Hudson were Faculty Senate President Julie Isaacson, Staff Senate Vice-President Talvickeo Banks, Student Government Association President D'Andre Anderson, and A-State Alumni Association Executive Director Beth Smith.
"Students' role in the process was utilized heavily and this gives our students ownership of this legacy," Anderson said.
Anderson and Smith spoke at last evening's Jonesboro City Council meeting to convey the support of A-State for the proposed change. The A-State Faculty Senate, Staff Senate, SGA and Alumni Association each passed resolutions of support for the renaming during the time leading up to Tuesday evening's vote. The Jonesboro Regional Chamber of Commerce also expressed its support in a resolution to the council.
City officials begin the process this week to create new signage with installation expected to begin as soon as possible.
# # #