Pryor, Boozman, Crawford Announce Army Decision to Keep Arkansas State University ROTC Program Open
11/06/2013
JONESBORO, Ark. — Arkansas U.S. Senators Mark Pryor and John Boozman and First District Congressman Rick Crawford today announced that the U.S. Army has withdrawn its proposal to eliminate Arkansas State University's 77-year-old Reserve Officers' Training Corps (ROTC) program.
The Army will keep A-State's program open for an additional year while it re-evaluates its program criteria. The university expects to receive an official memorandum within the next two weeks that will outline expectations of the program.
"We are very grateful to Sen. Pryor, Sen. Boozman and Congressman Crawford for working with the university and fighting so hard to save our historic R.O.T.C. program," said Chancellor Tim Hudson, who informed ROTC students of the decision late this afternoon. "It took a team effort to show the Army why the Red Wolf Battalion deserves the chance to grow its mission at Arkansas State.
"A-State will continue to work with Lt. Col. Lee Clark and his staff to provide scholarship and military service opportunities to our students," Hudson added. "We also celebrate this decision with all of our alumni — including the likes of Gov. Mike Beebe — who received R.O.T.C. commissions here and served our country with honor."
ASU System President Charles L. Welch, who received the official notification call from the Army, said that once A-State receives the official memorandum, every effort will be made to ensure that the program meets criteria and expectations. The Army official said the closing would be delayed to "ensure fairness" and to consider "the best interests of the Army and the impacted universities."
"I'm confident we will see a renewed energy with our program so we may continue to serve students for many years to come," Welch said.
The Department of the Army informed A-State on Oct. 2 without warning that it would close the program and 12 others across the country in spring 2015. University officials and members of the congressional delegation met in Washington, D.C. on Oct. 9 and conducted a conference call to seek a reversal of the decision.
"Thanks to numerous phone calls, community support, and an administration hold, we were able to keep A-State ROTC's doors open for another year. Now, we have the opportunity to prove our case and show the Army why this program is invaluable to our state and nation," Pryor said. "This was definitely a team effort, and I want to thank Senator Boozman and Congressman Crawford for working with me to help maintain this critical program."
"The decision to continue the Arkansas State ROTC program offers an opportunity to demonstrate its value and meet the criteria established by the Army," Boozman said. "I am confident that once we understand the evaluation methodology, Arkansas State will be able to excel and surpass the Army's requirements. I appreciate Secretary [John] McHugh's swift attention to this issue as the delegation works to protect this vital program."
"I am extremely pleased to receive word from the Secretary of the Army that he has delayed the Army's decision to shutter Arkansas State's historic and successful ROTC program," Crawford said. "This initial action was conducted without proper input from local leaders, lacking opportunity for congressional oversight, and most importantly without a clear rationale explaining the program's announced closure. Arkansas has spoken loud and clear that this program is an important part of our community, and I am proud to have worked with our two Arkansas Senators to reach this result. As an Army veteran and A-State alumni, I thank the Secretary for making the right decision and look forward to working with him in the future to preserve this valuable program for generations of A-State students."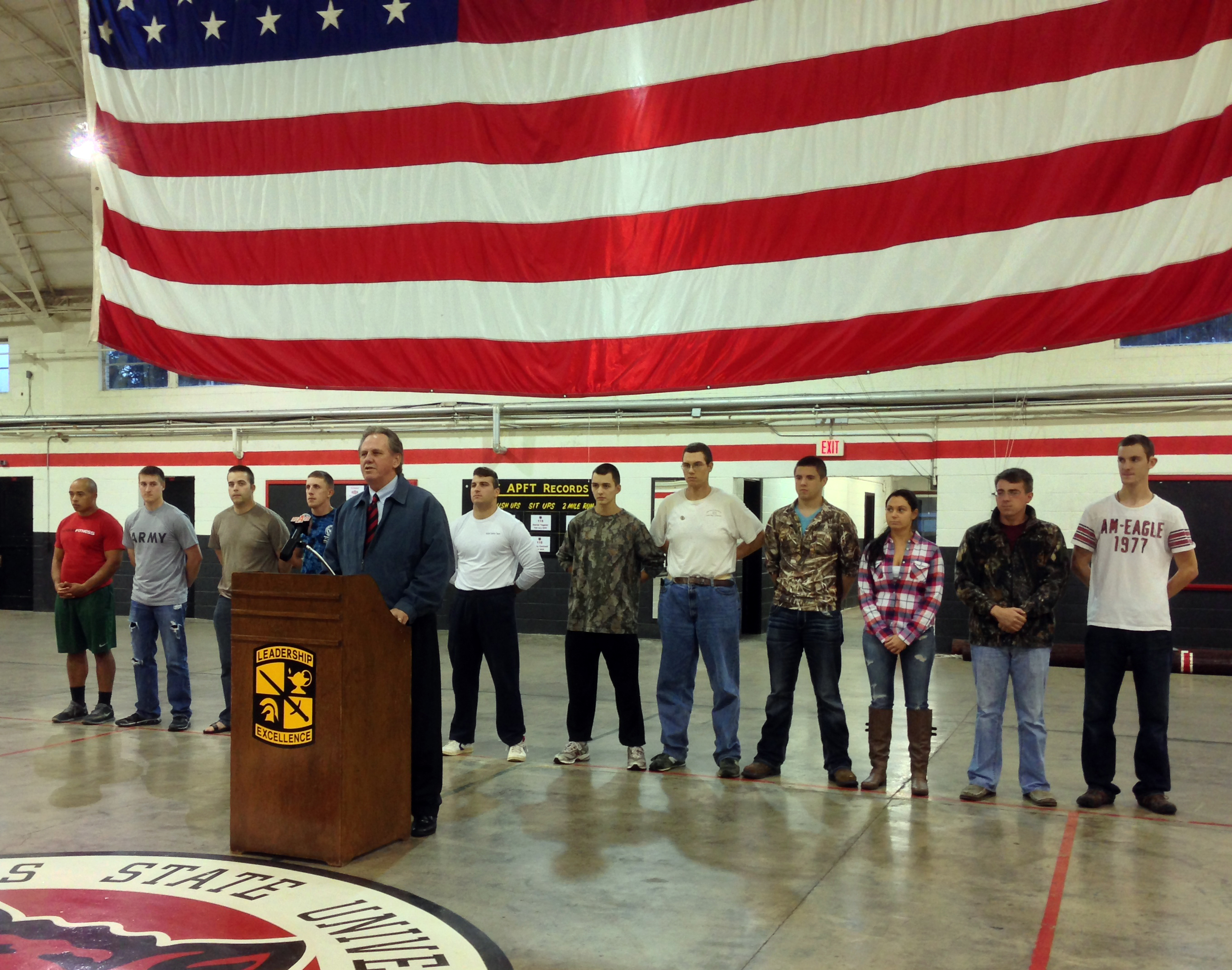 Arkansas State University Chancellor Dr. Tim Hudson announces that the U.S. Army has withdrawn its proposal to eliminate Arkansas State's ROTC program. Behind Dr. Hudson are several cadets.