Price and Sara Gardner Scholarship Endowed at A-State
10/30/2017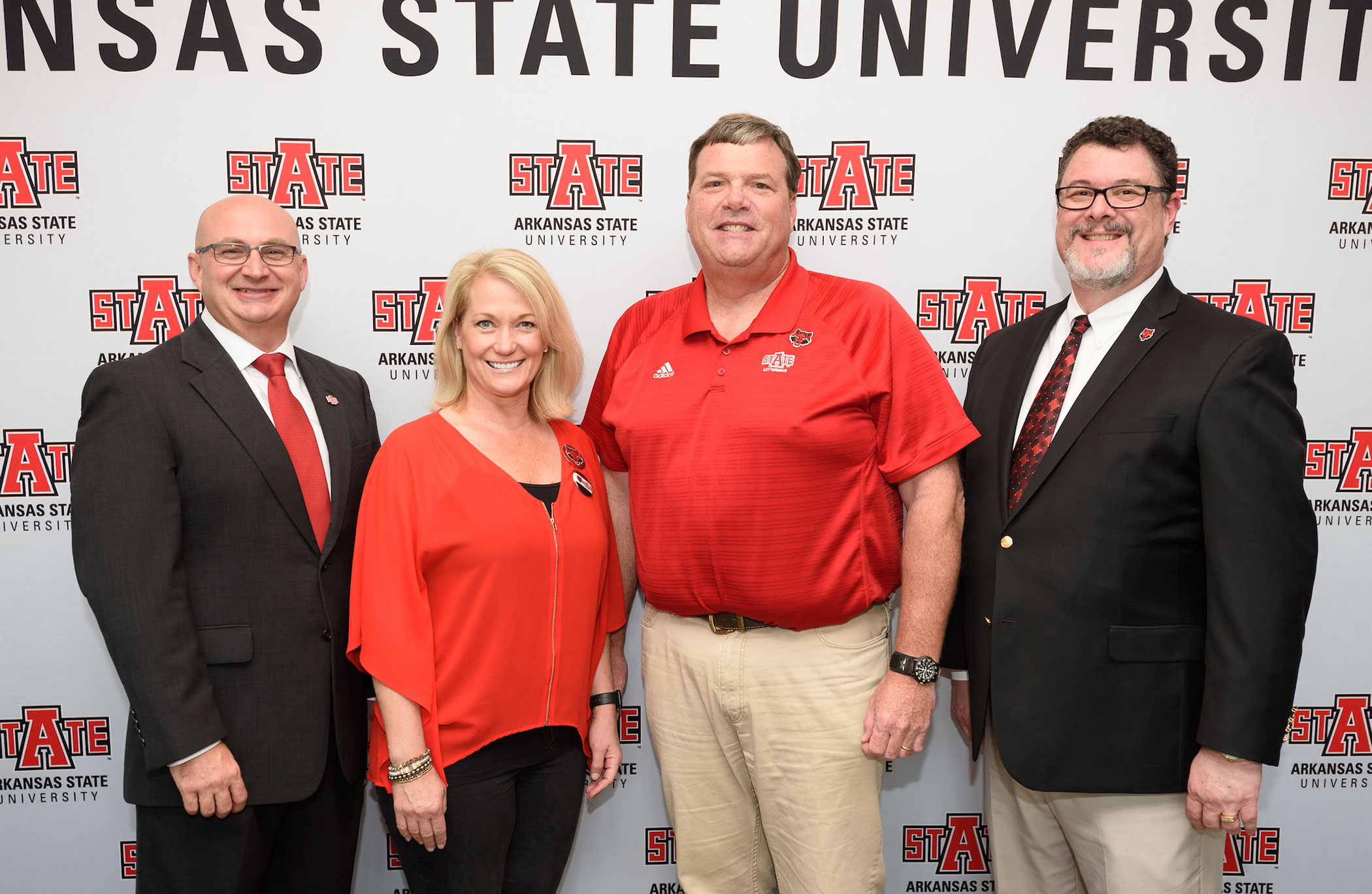 Present for the announcement of the Price and Sara Gardner Pre-law Scholarship were Dr. Will McLean, chair of the Department of Political Science, Sara Gardner, Price Gardner and Dr. Carl Cates, dean of the College of Liberal Arts and Communication.
JONESBORO – Arkansas State University announced today the establishment of the Price and Sara Gardner Pre-law Scholarship, created to help pre-law students at Arkansas State finance and fulfill education priorities.
The scholarship was instituted following a gift of $25,000 by the Gardners to the Arkansas State University Foundation, Inc., and is the first scholarship established for pre-law students at A-State.
"Price and Sara Gardner serve our university in so many ways, and we are very appreciative of the continuing support of our students," said Dr. Chuck Welch, president of the ASU System. "The undergraduate education Price received at A-State prepared him to become one of the most successful attorneys in the state of Arkansas. Through this endowment, Price and Sara are now providing other students the same opportunity to excel in the study of law."
Price Gardner earned his bachelor degree in accounting in 1984 at Arkansas State, is a partner in the state's largest law firm, Friday Eldredge & Clark LLP in Little Rock, and serves as vice chairman of the firm's Management Committee. He is a member of the ASU System Board of Trustees. As a student at A-State, he was a four-year letterman on the football team, earning All-Southland Conference honors twice and All-Southland Conference Academic Team honors three times. Sara Gardner is a graduate of the University of Arkansas and works as donor relations coordinator for Catholic High School in Little Rock. The Gardners are 1924 Sustaining Life Members of the A-State Alumni Association.
"Sara and I are excited about the opportunity to follow the lead of John Phelps and Tommy Womack in helping our students pursue a career in law," Gardner said. "A-State provided me with a foundation for a career I truly enjoy, and we wanted to do something that hopefully will have a meaningful impact on both current and future students. Thank you to Jason Penry and his team for presenting this scholarship as a possibility, and we hope this leads to additional pre-law scholarship opportunities for our students."
Qualifications for receiving the scholarship, which is awarded annually, include being a full-time, upper-level pre-law student who demonstrates a financial need. The chair of the A-State Department of Political Science, in consultation with the coordinators of Arkansas State's John V. Phelps and Tom D. Womack Pre-Law Center, will award the scholarship beginning in the fall 2018 semester.
"We are deeply grateful to the Gardners for their contribution to our students' success," said Dr. Carl Cates, dean of the College of Liberal Arts and Communication. "I appreciate their discernment in choosing to support pre-law, an area that is underfunded in scholarship support. I look forward to learning of the future successes of our students that will benefit from the scholarship."
# # #