Piano Students will Perform in Department of Music's Steinway Student Gala, Feb. 12
01/30/2013
JONESBORO -- Arkansas State University will showcase piano students in the Music Department during the inaugural Steinway Student Gala Recital, which is being held to inspire guests to be part of the university's great legacy of arts patronage and the All-Steinway Piano Campaign.
The program will be Tuesday, Feb. 12, at 7:30 p.m. in Riceland Hall of Fowler Center. The recital is free and open to the public.
Steinways represent the longstanding commitment to excellence that the craftspeople, musicians, and patrons have aspired to throughout the history of music. The program will serve to demonstrate the importance of having Steinway pianos as an integral part of the music program in the College of Fine Arts at Arkansas State.
Featured piano soloists will be William Kazyak of Manila, performing "Prelude in C Major ('The Harp')," by Sergei Prokofiev; Zixiao "Sean" Ye of Fujian, China, performing "Prelude from English Suite in A Minor" by Johann Sebastian Bach; Bijia Wang of Shenzhen, China, performing two movements from "Waldszenen (Forest Scenes)" by Robert Schumann; Ruoman Jiang of Fujian, China, performing "Une barque sur l'ocean (A Boat on the Ocean)" from Miroirs by Maurice Ravel; Yuta Nishimura of Kanagawa, Japan, performing "L'isle joyeuse (Island of Joy)" by Claude Debussy; and Barrett Kelley of Walnut Ridge, performing "Concert Etude: Waldesrauschen (Forest Murmurs) by Franz Liszt. In addition, there will be several pieces for piano ensembles, with four to six players at three pianos.
These will include Mozart's "Rondo alla Turca (Turkish Rondo)" from Sonata in A, K. 331, arranged by John Brimhall and performed by Demetri Bruner of Salem, Jared Green of Jonesboro, Yao Hu of Nanching, China, Ruoman Jiang of Fujian, China, Rujie Wang of Guiyang, China, and Zixiao Ye of Fujian, China.
Also, "Theme from First Movement of Concerto No. 2 in C Minor" by Sergei Rachmaninoff, arranged by John Brimhall, will be performed by Aaron Decker of Jonesboro, Blake Craft of Corning, C.J. Fortune of Cherokee Village, William Kazyak of Manila, and Tim Moore and Leah Noyes, both of Dexter, Mo. Franz Liszt's "Hungarian Rhapsody No. 2," arranged by John Brimhall, will be played by Barrett Kelley of Walnut Ridge, Yuta Nishimura of Kanagawa, Japan, Yan Xuan Tan of Penang, Malaysia, and Bijia Wang of Shenzhen, China.
Becoming an All-Steinway School in the College of Fine Arts entails having at least 90 percent of the piano inventory be a Steinway product (Steinway, Boston or Essex piano). According to the faculty, this would drastically change the future of the Music Department at ASU, helping to recruit top notch musicians, students and faculty to the university.
The majority of the department's pianos were purchased in the 1960s and have become worn out and completely uninspiring to play. Eighteen of these instruments were traded in this year when the college received 20 pianos on loan from Steinway. These 20 fine instruments will be returning to Steinway this June, and so far, only two of them, which arrived Friday, represent permanent replacements. One was placed in the fine arts musical classroom, and the other in a student practice room.
The plan for total permanent replacement of the university's fleet involves the purchase of 42 pianos.
Steinways are never replaced; they are simply rebuilt and restored. So, the department will maintain these same Steinway pianos into the next century. All-Steinway Schools provide the best possible equipment for the study of music for students, faculty and the community. With more than 100 institutions designated as All-Steinway Schools, it is evident that this is a program that works, according to the faculty.
ASU has allocated just over $300,000 to the 'All-Steinway' Initiative to date. Recently, a few donors have stepped up and made generous gifts.
For more information about making a gift to the ASU All-Steinway Initiative, please contact Dr. Lauren Schack Clark at lsclark@state.edu or (870) 680-8029.
For more information about the concert, individuals may contact the Music Office at (870) 972-2094.
# # #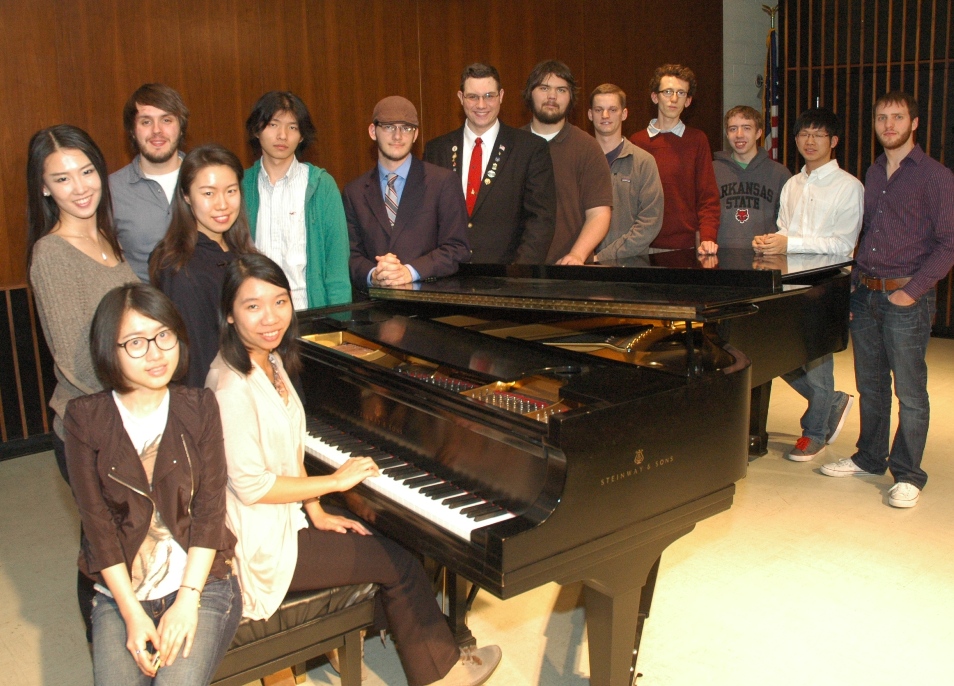 Piano students at Arkansas State University surround a Steinway grand piano in the Recital Hall of the Fine Arts Center. The students will perform at the inaugural Steinway Student Gala Recital on Feb. 12. They are (seated) Rujie Wang and Yan Xuan Tan; (second row) Ruoman Jiang and Bijia Wang; (back) C. J. Fortune, Uta Nishimura, Blake Craft, William Kazyak, Tim Moore, Barrett Kelley, Demetri Bruner, Jared Green, Zixiao Ye and Aaron Decker.