National Club Softball Association Selects Five Red Wolf Players to All-America Team
07/01/2014
JONESBORO — Five Arkansas State University players have been selected as members of the National Club Softball Association (NCSA) All-America team.
Three players—shortstop Mackenzie Powers, outfielder Katelyn Brown; and pitcher Shea Cothren—are on the first team, while catcher Erika Whitaker was chosen to the second team. Pitcher Nicole Edwards is a member of the third team.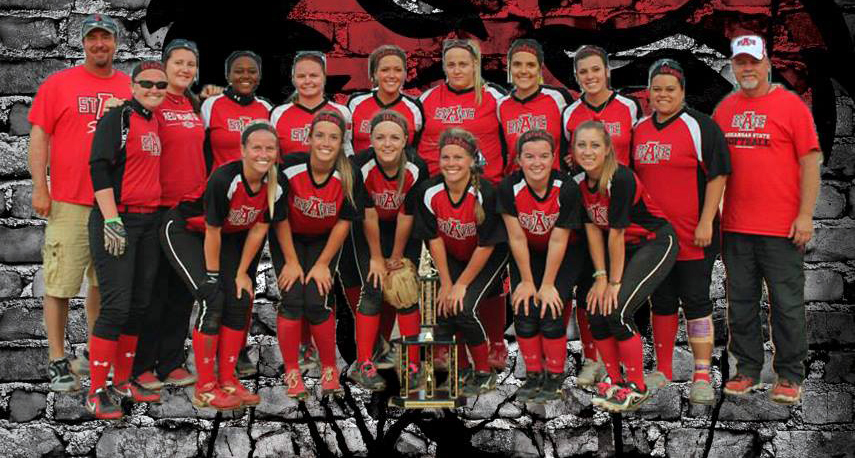 2014 Arkansas State University Softball Team
"Softball is a team sport and I'm proud of each and every player on the team for the year we had," said Head Coach Chris Powers. "Those five girls that were selected had exceptional seasons and were very deserving of the award."
For the second straight year, the Red Wolf softball team participated in the annual National Club Softball Association World Series, a 16-team double elimination tournament in Columbus, Ga. Arkansas State earned a spot in the tournament by winning both the 2014 Mid-South America conference and regional titles. Powers' team finished with an overall record of 38-11.
Coach Powers has been successful at every level from 6-under to 18-under and now at the collegiate level. He has led the Arkansas State Red Wolves to a runner-up conference finish, a conference championship and a second World Series berth.
Brown led the team in runs with seven. The junior from Armorel turned in six singles, two doubles and batted in three runners. Cothren, a 5-8 right-hander from Paragould, pitched 27 innings with 12 strikeouts. She finished the season with an earned run average of 1.81 and also excelled as a hitter on the team with 18 at-bats with five singles, a double and a triple.
Powers, a junior from Paragould, had three runs, five singles, a double and four RBI's in the tournament. Her best game performance during the season was at the Eastern Illinois University Slugfest Tournament where Powers was 15 for 30 with five doubles, one home run, 11 runs batted in, 12 runs and one stolen base. She also drove in the game-winning run.
The 5-3 Whitaker from Thayer, Mo., had 22 appearances at the plate with 18 at-bats. She knocked in four runs, and added eight singles, and two doubles and triples apiece. The junior also recorded 10 RBI's. Edwards, a NCSA Pitcher of the Week, finished the season with an earned run average of 5.00 and had an 11-win record as the Red Wolves pitcher. However, at the plate, she had four runs, four singles and one double. The West Memphis native is a junior.
Seeded second in the tournament, Arkansas State ranked 10th nationally, defeated Sacred Heart (7-3), Kentucky (13-1) and fell 10-2 to Georgia. Teams were reseeded for elimination play the next day. In the second round, A-State knocked off Penn State (7-2) and Eastern Illinois (8-2) before losing to Illinois (4-3) and the Air Force Academy (6-4).