Museum Awarded $39,983 Exhibit Planning Grant by NEH
04/05/2016
JONESBORO – Arkansas State University Museum announced today it has received a grant from the National Endowment for the Humanities (NEH) in the amount of $39,983 (planning grant category).
The grant will enable ASU Museum to refine the content, develop conceptual design plans, and project costs for a permanent exhibit on the 1950s music genre known as "rockabilly." As a part of this project, the Museum will also explore formats for a music trail in Northeast Arkansas that articulates with the exhibit and connects with contingent tourist districts in the region.
"This project is part of ASU Museum's comprehensive rockabilly initiative that started with 'Rockabilly Boogiefest' concerts in 2013 and 2014," said Dr. Marti L. Allen, director of the Museum and project principal investigator. "Once we have conceptual design plans in hand, we'll be in a strong position to seek major funding to produce the exhibition itself."
Tentatively titled "Rockabilly! Musical Lens on the 1950s," the exhibit in planning will examine the proletarian beginnings of rockabilly, how it reflects socio-economic conditions in post-World War II America, and its role as a harbinger of societal transition from the 1950s to the 1960s.
Allen expressed appreciation for letters from U.S. Senator Tom Cotton and U.S. Representative Rick Crawford supporting the grant proposal and for endorsements from neighboring tourist associations and other collaborators in the region.
The exhibition will provide interpretive information for many rockabilly points of interest in Northeast Arkansas through a digital app designed to facilitate tourists who are looking for "routes to roots music" in the region.
"An extraordinary number of home-grown musicians in the Northeast Arkansas-Memphis region affiliated with the rockabilly genre," said Allen. "For us, rockabilly is more than just a style of music — it reflects the story of our region during a momentous period in history—the 1950s."
NEH supports research, education, preservation, and public programs in the humanities by funding top-rated competitive, peer-reviewed proposals examined by panels of independent, external reviewers. Any views, findings, conclusions, or recommendations expressed in this project do not necessarily represent those of the National Endowment for the Humanities.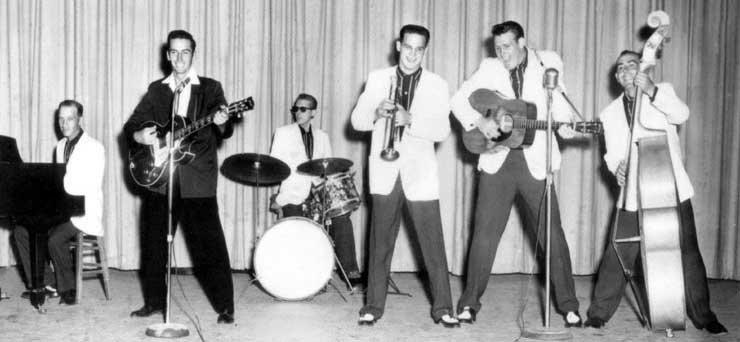 Sonny Burgess and the Pacers; circa 1957. (Left to right): Kern Kennedy, piano; Sonny Burgess, electric guitar and lead vocalist; Russ Smith, drums; Jack Nance, trumpet; Joe Lewis, acoustic guitar; and Johnny Ray Hubbard, double bass. Courtesy of Sonny Burgess and Encyclopedia of Arkansas.