Mindbender Mansion Exhibit Comes to Museum
09/14/2015
JONESBORO – Everyone is invited to come to Arkansas State University Museum and enter the wonderfully perplexing and quirky world of Mindbender Mansion, a funhouse of puzzles and brainteasers that will tickle the fancy of puzzle lovers and put a fun-filled spin on the concept of teamwork.
In Mindbender Mansion, adults and children alike will enjoy the mental workout as they tackle one conundrum after another, both on their own and in groups — and sometimes against the clock. In one area of the exhibit visitors will race to spell correct words by hopping on light-up letter squares, while in another they will race to complete an activity as it moves down a conveyor belt.
Along the way guests gather clues that ultimately deliver the master solution to Mindbender Mansion — a secret password that leads contestants to the Mindbender Society Wall of Fame.
This fun and unconventional new exhibit is guaranteed to test the brain power and problem-solving skills of even the most experienced puzzlers.
Mindbender Mansion is made possible by the Arkansas Discovery Network, which is funded by the Donald W. Reynolds Foundation, and by a grant from the Institute of Museum and Library Services. The exhibit was developed by the Oregon Museum of Science and Industry.
The exhibit will open to the public from Friday, Sept. 18, through February 2016. Admission is free.
The museum (GPS address, 320 University Loop Circle) opens at 9 a.m. and is open until 5 p.m. Monday and Wednesday-Saturday; on Tuesday, it is open until 7 p.m. It is closed Sundays and university holidays. Admission is free.
For more information, one may contact Jill Kary, curator of education, jkary@astate.edu or (870) 972‑2074.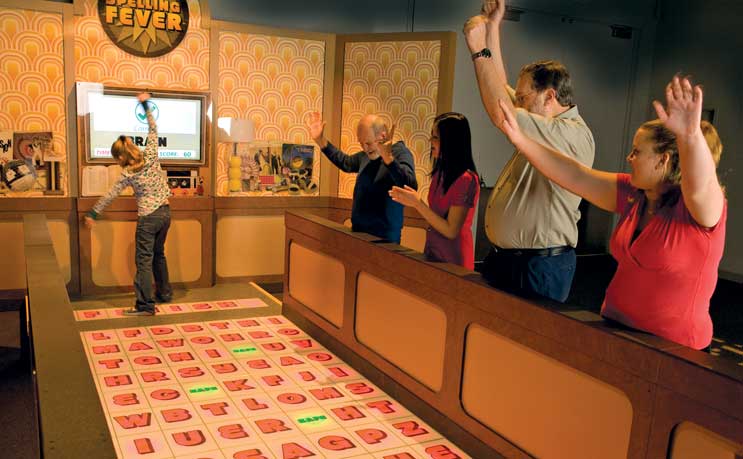 Guests enjoy Mindbender Mansion