Martin Luther King Jr. Day Celebration Parade Involves Hundreds
01/21/2013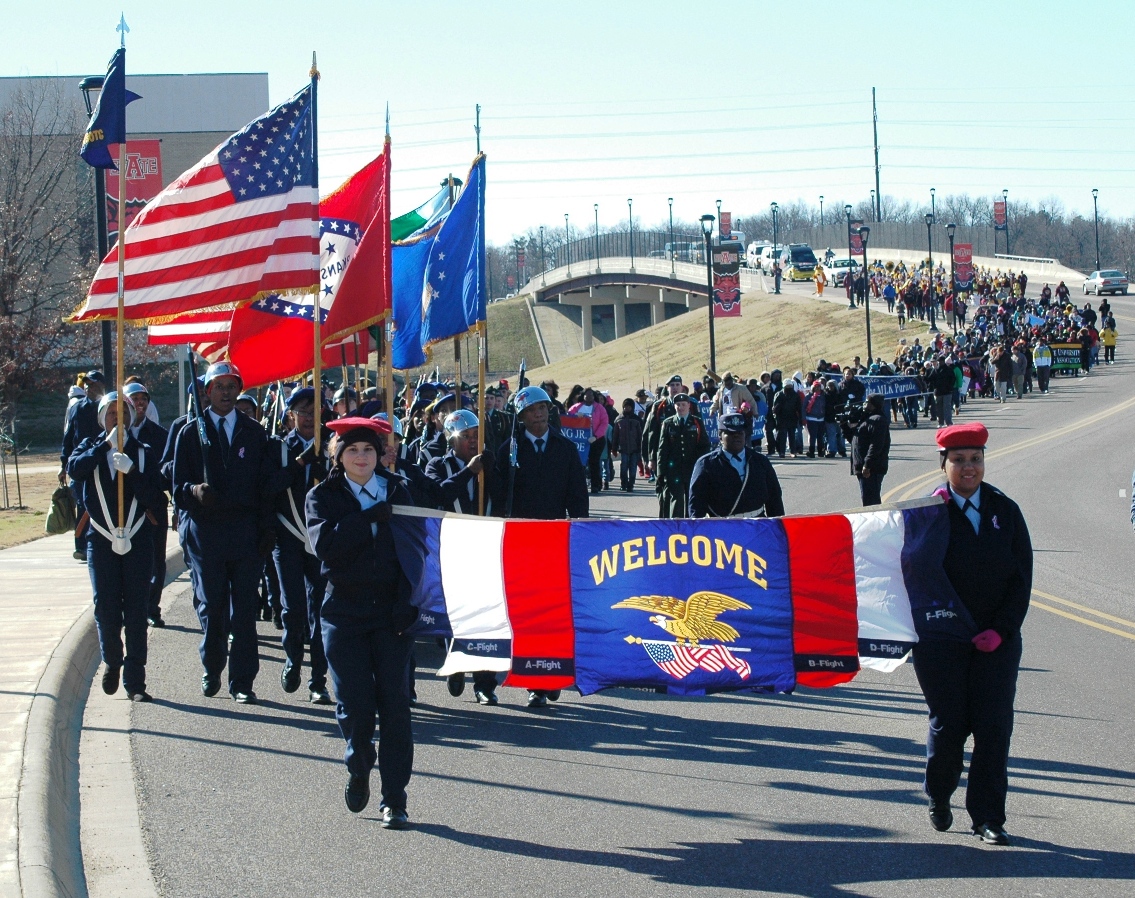 The Osceola Junior ROTC Color Guard and hundreds of other individuals and groups participate in the Community Martin Luther King Jr. Day Parade today.

JONESBORO -- The Community Martin Luther King Jr. Day Parade moved through the streets of Jonesboro and Arkansas State University today, with hundreds of people participating. Many represented particular organizations, while others walked out of personal interest and commitment to the ideals of the national holiday's namesake.
The parade began at 10:30 a.m. at First Baptist Church on Kitchen St. and continued to the Carl R. Reng Student Union at ASU. The Northeast Arkansas MLK Celebration follows at noon at Centennial Hall, with Dr. Reginald Porter, Sr., senior pastor of Metropolitan Baptist Church in Memphis, as featured speaker.
The celebration is led community-wide by the Northeast Arkansas MLK Commission.
The Dr. Martin Luther King, Jr. Celebration highlights and commemorates his legacy and achievement as one of the greatest men in history. "The Dream Still Lives," the 2013 MLK Celebration theme, signifies the impact and progress that has been made since Dr. King delivered his famous "I Have a Dream" speech 50 years ago on the steps of the Lincoln Memorial.
Other activities scheduled during the weeklong celebration are as follows:
-- An Evening of Dance with internationally known "Dallas Black Dance Theatre" will be Wednesday, Jan. 23, at 7 p.m., also at Centennial Hall. The dance ensemble will perform modern, jazz, ethnic, and spiritual works.
-- The MLK Candlelight Vigil, where student organizations will recite the "I Have a Dream Speech," will be Thursday, Jan. 24, at 4:30 p.m. at the Heritage Plaza of the Union.
-- The celebration concludes with students participating in the MLK Service Project on Saturday, Jan. 26. Volunteers will work with non-profit organizations to assist with beautification projects (painting or cleaning). Those interested in volunteering should e-mail astatemc@astate.edu.
All events, which are free and open to the public, celebrate the life of Dr. King and the dream about which he spoke.
For more information about the 2013 MLK Celebration, contact Niya Blair, director of the ASU Multicultural Center, at (870) 680-4052.
# # #