Maniacal 4 Trombone Quartet to perform for Lecture-Concert Series, Feb. 6
01/29/2013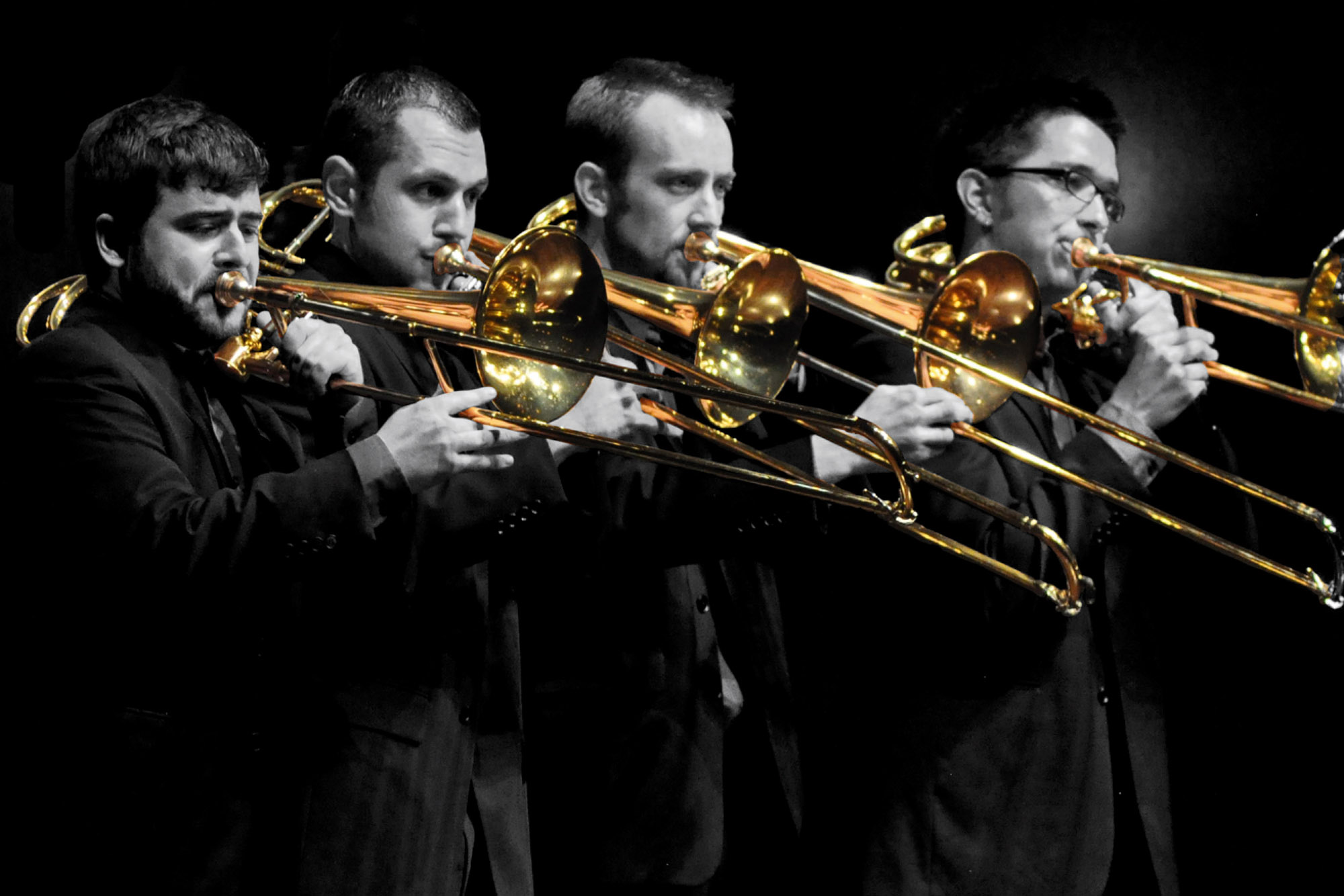 Maniacal 4
JONESBORO -- The Arkansas State University Lecture-Concert Series has added a special event that was not part of the original lineup for the year, according to Dr. Tim Crist, chair of the Lecture-Concert Committee.
A performance by Maniacal 4, a popular four-trombone ensemble, is scheduled for Wednesday, Feb. 6, in Riceland Hall of Fowler Center, 201 Olympic Dr., at 7:30 pm. Admission is free.
"The Maniacal 4 is a fantastic trombone ensemble that we are fortunate to hear live in Jonesboro. They have a varied classical repertoire and play high energy versions of pop music with piano, guitar, bass and drums," according to Dr. Neale Bartee, professor of music.
Helping support the event is the ASU Music Department, the College of Fine Arts, Amro Music of Memphis, the ASU Brass Society, and ASU trombone students Adam Waddell, Chris Smith, Dalton Henson and Roy Massey.
"Their performance will be exciting and their master class will have a tremendous impact on our current students. The fact that they were heard on 'CBS This Morning' this past week indicates the beginning of a national influence," Bartee added. "We are lucky to get them at ASU at this stage in their career."
Members of the group are Matt Jefferson, bass, and Nick Laufer, Carl Lundgren, and Alex Dubrov, tenors. According to their website, http://www.maniacal4.com/live/, the Maniacal 4 is an internationally acclaimed group of "four great musicians telling one unified, inspiring musical story after another." Hailed as "a force to be reckoned with," they have played concerts on three continents, entertaining audiences with a wide range of styles and time periods. Well versed in classical, jazz, Latin and rock music, M4 is also at home playing with a rhythm section or other media.
M4 performs its concerts almost exclusively from memory, projecting a "clear, unified, uplifting and committed musical vision on par with great chamber ensembles." With all four members early in their musical careers, "M4 has the goods to become one of the finest trombone quartets performing today." Maniacal 4 is sponsored by Buffet Group USA and performs exclusively on Antoine Courtois Paris trombones.
For more information about the concert or trombone studies at ASU, contact Dr. Neale Bartee, (870) 680-8028 or nbartee@astate.edu.
# # #