Lakeport Plantation Opens 2016 Lakeport Legacies Schedule
03/18/2016
LAKE VILLAGE, Ark. — Lakeport Plantation, an Arkansas State University Heritage Site, announced its 2016 schedule for Lakeport Legacies, a monthly talk focusing on history in the Delta. Throughout the season, speakers will discuss a wide range of Delta topics, including the geology of the Mississippi Alluvial Valley, the life of Chicot County's reconstruction political boss, and modern architecture in the Arkansas Delta.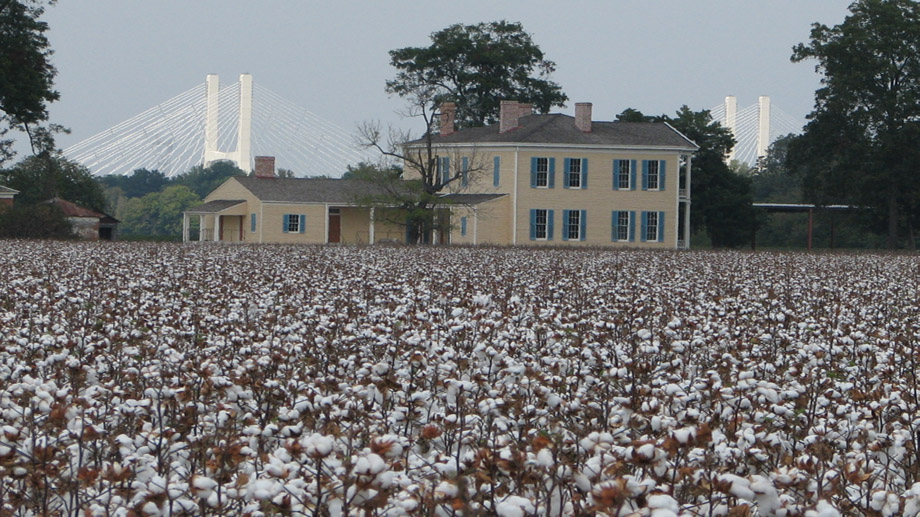 Lakeport Plantation
Lakeport Legacies meets on the last Thursday of the spring and summer months at 5:30 p.m. in the dining room of the Lakeport Plantation house with refreshments and conversation. The program begins at 6 p.m. All events are free and open to the public. To RSVP, contact Dr. Blake Wintory at (870) 265-6031 or email bwintory@astate.edu. The Lakeport Plantation is located at 601 Hwy 142, Lake Village, Ark.
The first talk is Thursday, March 24, and features forest researcher Dr. Brian Lockhart, who will discuss "The Meanderings of the Mississippi, Arkansas and Ohio rivers in the Mississippi Alluvial Valley" (MAV) over the past 6,000 years. These meanderings have affected human settlement and trade, as well as the species composition of bottomland hardwood forests.
The natural winding of these rivers has shaped the landscape and influenced human civilization and forest resource management of the MAV for millennia. Maps titled, Ancient Courses, Mississippi River Meander Belt, created in 1944 for the Army Corps of Engineers by Harold Fisk, illustrate the ancient paths.
Lockhart, who has degrees from the University of Arkansas at Monticello, Yale University and Mississippi State University, will also discuss how humans have recently affected the flow of rivers in the MAV and how scientists study and manage bottomland hardwood forests.
The remaining Lakeport Legacies schedule includes:
April 28 — "The Life and Wives of James Worthington Mason," with Dr. Blake Wintory, assistant director of Lakeport Plantation.
May 26 — "The Adventures of the Bastianelli and Pianalto Sisters—History from the Tontitown Museum," with Dr. Rebecca Howard, University of Arkansas.
June 23 — "Revising the Mississippi Capitol," with Jennifer Baughn and Brenda Davis of the Mississippi Department of Archives and History.
August 25 — "The Other Lycurgus Johnson: U.S. Colored Troops and Civil War Pension Files in Chicot County," with Dr. Blake Wintory.
For more information about the schedule, visit http://lakeport.astate.edu.
The Lakeport Plantation house, built in 1859, is one of Arkansas's premier historic structures and still retains many of its original finishes and architectural details. Open to the public since 2007, Lakeport researches and interprets the people and cultures that shaped plantation life in the Mississippi River Delta, focusing on the Antebellum, Civil War and Reconstruction periods.
Arkansas Heritage Sites at Arkansas State University develops and operates historic properties of regional and national significance in the Arkansas Delta. A-State's Heritage Sites include the Hemingway-Pfeiffer Museum and Educational Center, Southern Tenant Farmers Museum, Lakeport Plantation, the Historic Dyess Colony: Boyhood Home of Johnny Cash, and the Arkansas State University Museum.