KASU To Launch "Coffee House Concerts At 311" June 19
06/11/2014
JONESBORO — KASU, the Arkansas State University public radio service, launches a new concert series beginning Thursday, June 19, in downtown Jonesboro. The concert series is in conjunction with The Arts At 311 and three other community-minded sponsors.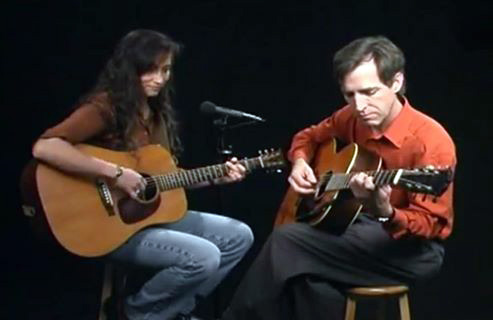 Wil Maring (left) and Robert Bowlin
Between now and December, KASU will present five exclusive concerts at 311 S. Church Street featuring some of the most talented musicians in Arkansas and the region. Tickets are $10 each and are available to 50 audience members who will enjoy music in downtown Jonesboro's most intimate performance setting, the Arts at 311.
"The relaxed coffeehouse atmosphere of these performances will bring something different to the vibrant mix of live music in downtown Jonesboro," station manager Mike Doyle said. "We'll offer music ranging from blues and jazz to folk and Americana, performed by singer-songwriters and small combos with uncommon musical taste and regional, even national, acclaim."
The first concert will feature the acoustic Americana duo of singer-songwriter Wil Maring and virtuoso guitarist Robert Bowlin on June 19 at 7 p.m. Maring and Bowlin, based in Cobden, Ill., combine talents to create beautiful and fresh original acoustic music influenced by folk, country and contemporary bluegrass.
"We are happy to bring these acclaimed acoustic music artists to Jonesboro for KASU's first coffee house concert at 311," KASU program director Marty Scarbrough said. "With Arkansas and Missouri roots, they are ideal examples of the great regional talent we want to spotlight on the KASU program 'Arkansas Roots' and in our local concerts. This will be a great night for the ticket holders."
A native of Missouri, Maring has become a highly-acclaimed songwriter as a winner of the prestigious Chris Austin Songwriting Contest at Merlefest and as a Kerrville New Folk finalist. She honed her songwriting skills playing professionally for 10 years in Europe with her group Shady Mix, a group that performed at several KASU Bluegrass Monday events.
Bowlin, who grew up in Pocahontas, Ark., won second place in the National Flat Picking Guitar contest in 1978 and first place in the National Finger Picking Guitar Contest in 1979. His professional career has included tours with artists such as Maura O'Connell, Kathy Mattea, Tom T. Hall, the Osborne Brothers, Bill Monroe, Ray Price, Bobby Bare, Faron Young and Ricky Van Shelton. Bowlin was a session guitarist and fiddler in Nashville for countless recordings and has played onstage with artists such as BB King, Ricky Skaggs, Tony Rice, Peter Rowan, and Vassar Clements. He has performed his original music on the stage of the Ryman Auditorium in Nashville.
KASU "Coffeehouse Concerts at 311" are underwritten by The Arts At 311, Dr. Richard Stevenson, Gregg-Langford-Bookout Funeral Home and Dr. Yeoman's Dermatology Office.
Ticket buyers can email The Arts At 311 at taa311@idcconsult.com to reserve tickets. They will need to pay for their tickets by 4:30 p.m. on June 19, the day of the concert. The box office is open from 1 p.m. until 4:30 p.m. Monday - Thursday and is located at The Arts At 311 (311 S. Church St., Suite D) in Jonesboro.
The Arts At 311 is a non-profit performance and exhibition meeting place that supports and promotes talented individuals of Jonesboro and Northeast Arkansas.
For more information contact Mike Doyle at 870-972-3486 or email mdoyle@astaste.edu.