KASU Bluesday Tuesday To Feature Snap Crow Legs
07/30/2014
JONESBORO — Snap Crow Legs, a Jonesboro band that plays an interesting mix of blues-influenced musical styles, will perform at the next KASU Bluesday Tuesday Concert at Newport Country Club, 703 Walker Drive, Aug. 12, at 7 p.m.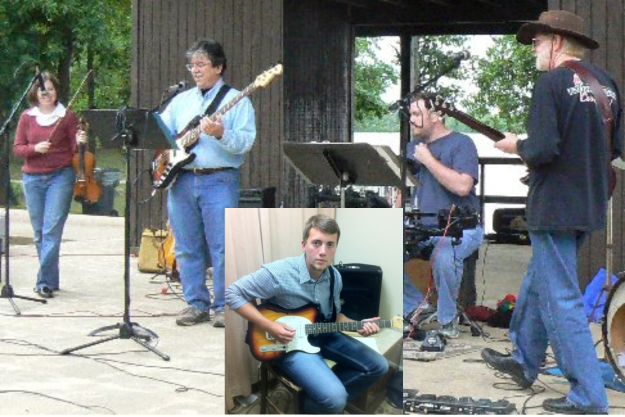 Snap Crow Legs — (from left) Tanja McKay, Rich Grippo, (seated) Shane Eason,
Nate Gastineau, Gregory Phillips.
Snap Crow Legs was formed in 2005 by several faculty and students at Arkansas State University. All members are scientists who believe that the practices of music and science reinforce each other. The band started performing covers of rock standards, but their repertoire expanded to include more regional music of interest – blues, Southern rock, and Americana. They have also posted a few original songs on reverbnation.com.
While members have come and gone over the years, the core group of Dr. Rich Grippo (bass guitar, harmony vocals), Dr. Tanja McKay (violin) and Dr. Greg Phillips (guitar, vocals) has continued. McKay will not be joining Snap Crow Legs for Bluesday Tuesday because of a conflict.
Grippo and McKay are faculty members in the Department of Biological Sciences, and Phillips is a faculty member of the College in Agriculture and Technology. The current lineup includes Shane Eason (lead guitar, vocals), who joined the band while an undergraduate student in agricultural business and is currently pursuing a master of agricultural economics degree at the University of Tennessee-Martin. A guest drummer for Bluesday Tuesday will be announced.
McKay also performs locally with the band Sky City. Grippo has performed with a number of praise bands in Jonesboro and sits in with a blue grass band in Nashville. Phillips also performs with the band Hobbit Nirvana, most recently in Savannah, Ga.
Bluesday Tuesday concerts have been presented as a community service by KASU, the Arkansas State University public radio station, on the second Tuesday of each month at Newport Country Club since April 2010. ASU-Newport, C and C Distributors and Harris Ford of Newport underwrite the music performances. KASU passes the hat for tips.
This will be the last Bluesday Tuesday concert presented by the station. General manager Mike Doyle said, "We've had almost a seven-year run in Newport, going back to 2007 when concerts were presented at the Brick Room restaurant in downtown Newport until it closed. We appreciate our sponsors and Newport Country Club for making these concerts possible, and the faithful listeners and dancers who have attended and supported these free musical events."