KASU Bluesday Tuesday concert to feature "Salty Dogs" band to play in Newport March 12
02/25/2013
JONESBORO, Ark. — KASU Radio, the Arkansas State University public broadcasting station, is bringing The Salty Dogs of Little Rock to Newport for their first appearance at the monthly Bluesday Tuesday concert at Newport Country Club March 12 from 7 to 9 p.m.
The Salty Dogs have shared the stage with Willie Nelson, Hank Williams Jr., Kelly Willis, Old Crow Medicine Show, Tennessee 3, The Gourds, Kinky Friedman, and Junior Brown.
The band's front man, Brad Williams, said The Salty Dogs formed "on a lark" to enter a contest — The Arkansas Times Musicians Showcase — in Little Rock in 2003. As a result of winning, they were named "Best Band in Arkansas" by the Arkansas Times.

The Oxford American's reviewer called them "an original country band in a world gone indie-rock" noting that the Salty Dogs have avoided making creative compromises with Nashville and have managed to "own their own sound while staying deeply rooted in traditional honky-tonk."
Rock and Roll legend D.J. Fontana (Elvis Presley's drummer) played on the band's 2007 album "Autoharpoon" from Big Bender Records. The Salty Dogs released a 2010 album, "Brand New Reason", on Little Rock's Max label. Their music has been featured on the TLC cable network show "Trading Spaces."
Lead singer, guitarist and songwriter Williams has penned tracks with clever titles and themes like "Rock and Roll Will Never Stay," "Another Day in a Small Town" and "Old Folks Home." His nasal vocal style, well suited to "classic" country music, has been compared to that of Dwight Yoakum. Williams grew up in Marked Tree.
Bart Angel, the band's percussionist, sings backing vocals. Brent Labeau on the upright bass helps give the band a vintage acoustic ambience, supported by Nick Devlin's work on lead guitar and lap-steel guitar.
KASU station manager Mike Doyle said, "We've been trying to lure The Salty Dogs up to one of our concerts for several years. Our Bluesday Tuesday audience will love hearing and dancing to this creative and talented honky tonk band which will bring another dimension to Bluesday Tuesday."
Newport Country Club is located at 703 Walker Drive, just east of Newport High School. Admission is free to the Bluesday Tuesday concerts, which are supported by Harris Ford, ASU-Newport and C and C Distributors. KASU passes the hat so that audience members may tip the band.

For additional information, contact: Michael Doyle at 870-972-3486.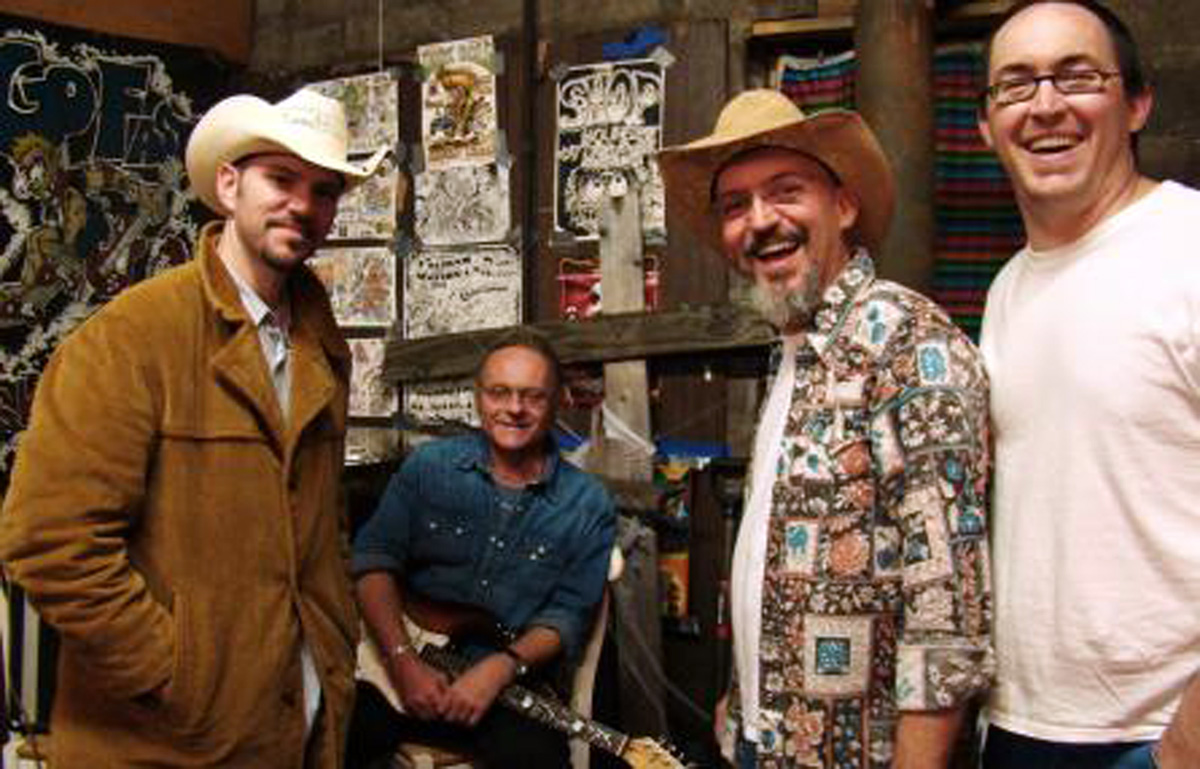 The Salty Dogs: Brad Williams, Nick Devlin, Bart Angel, Brent LaBeau.