KASU Bluegrass Monday to Feature High Fidelity
06/20/2016
JONESBORO — High Fidelity will perform a concert of bluegrass music Monday, June 27, at 7 p.m. at the Collins Theatre, 120 West Emerson Street, in downtown Paragould. The performance is part of the Bluegrass Monday concert series presented by KASU 91.9 FM. KASU will literally "pass the hat" to collect money to pay the group. The suggested donation is $5 per person.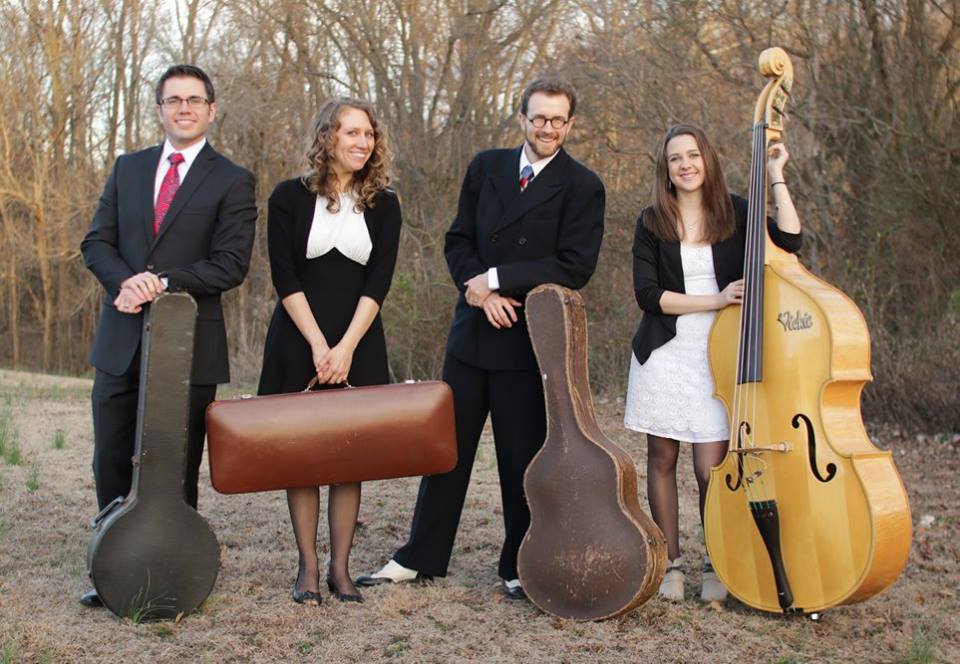 Left to right, Kurt Stephenson, Corrina Rose Logston, Jeremy Stephens, Vickie Vaughn.
Formed in 2014, High Fidelity is a group of young musicians who have a passion for bluegrass music from the 1950s and 1960s. The band is heavily influenced by artists from that era such as the Stanley Brothers, Jim and Jesse, the Louvin Brothers, Don Reno and Red Smiley.
Shortly after their formation, High Fidelity won the 2014 International Band Championship at the 40th annual Society for the Preservation of Bluegrass Music in America awards. Since then, the band has performed at select venues across the country, receiving acclaim from bluegrass music fans that love their traditional style and sound. High Fidelity released their debut CD earlier this year.
Kurt Stephenson plays banjo and sings harmony in the band. He is a graduate of Arkansas State University, and he is the 2010 winner of the National Bluegrass Banjo Championship held in Winfield, Kan. A native of West Tennessee, Stephenson has performed in the band Stone County Connection, which has played at past Bluegrass Monday concerts. He has released his own solo CDs.
Jeremy Stephens is the guitarist and lead vocalist for High Fidelity. He has been performing bluegrass music in a variety of bands for almost 20 years, and he is best known as the guitarist and vocalist in the long-running gospel group The Chuck Wagon Gang. In addition to playing guitar, he is also an in-demand banjo player having worked with Phillip Steinmetz and the Sunny Tennesseans as well as Kody Norris and the Watauga Mountain Boys.
Corrina Rose Logston plays fiddle and sings harmony in the group. She has performed in numerous acclaimed and high profile bluegrass groups including Jesse McReynolds and the Virginia Boys, David Peterson and 1946, and Chris Henry and the Hardcore Grass. She is also an outstanding songwriter, and she has produced two solo CDs featuring her own compositions.
Vickie Vaughn plays bass for the band. In addition to playing with High Fidelity, she leads her own bluegrass group, and she has performed in the bands of country superstar Patty Loveless and bluegrass vocalist Valerie Smith.

The doors to the theatre will open at 6 p.m. on the night of the concert, and seating will be first-come, first-served.
In addition to the concert, Terry's Café, 201 South Pruett Street in Paragould, opens on Bluegrass Monday nights to welcome bluegrass music fans. The café serves a catfish buffet meal beginning at 4:30 p.m. on the evenings of Bluegrass Monday concerts. Concessions are also available at the Collins Theatre.
Bluegrass Monday concerts are held on the fourth Monday night of each month. These concerts are presented with support from Bibb Chiropractic, the Posey Peddler, Holiday Inn Express and Suites of Paragould, the Northeast Arkansas Bluegrass Association and KASU.
KASU, 91.9 FM, is the 100,000-watt public broadcasting service of Arkansas State University in Jonesboro. For more information, contact KASU Program Director Marty Scarbrough at mscarbro@astate.edu or 870-972-2367. Bluegrass Monday is also on Facebook (search "Bluegrass Monday").