Jazz Bands to Present Valentines Swing Selections
02/12/2015
JONESBORO – Arkansas State University's jazz studies program will offer a romantic evening of America's music, jazz, on Tuesday, Feb. 17, at 7:30 p.m. in Riceland Hall of Fowler Center, 201 Olympic Dr. Admission is free.
The concert will feature the A-State Jazz Orchestra and the Jazz Lab Band playing familiar hits from the big band era, as well as the creative works of today's composers.
Dr. Kenneth Carroll is director of jazz studies, and Clinton Curtis is graduate assistant.
The Jazz Lab Band will open with "Max" by Jeff Hamilton then perform "I've Never Been in Love Before" by A-State's own Tom O'Connor; "Carnival" by Russ Freeman; and the Count Basie standard "Wind Machine."
The award winning Jazz Orchestra will follow with Duke Ellington's "It Don't Mean A Thing . . " arranged by Don Bowyer, dean of the College of Fine Arts; "On Purple Porpoise Parkway" by Tom Kubis; "Ray Charles on the River" by Michael Medrick; "The Bop Abides" by Tom O'Connor; and "Ride the Night Beast" by Ladd McIntosh.
For more details about this or any other A-State music presentation, one may contact the Music Department at (870) 972-2094.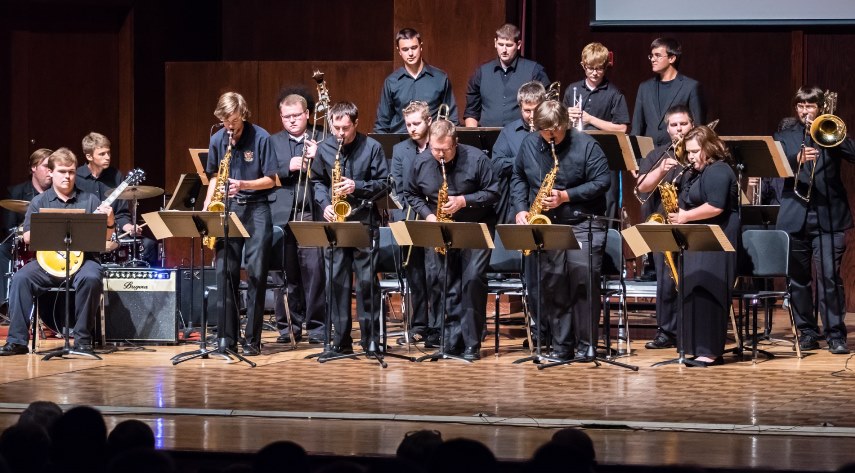 Jazz Orchestra in Concert