Honors College Hits New Records for Enrollment
09/11/2014
JONESBORO, Ark. – When Arkansas State University welcomed its first-year students to campus in August, it was the third consecutive year that the freshman class set the mark as the most academically prepared in the over 100 years of the state's second largest institution of higher education.
At the same time, A-State set new records for growth and academic preparation for its Honors College.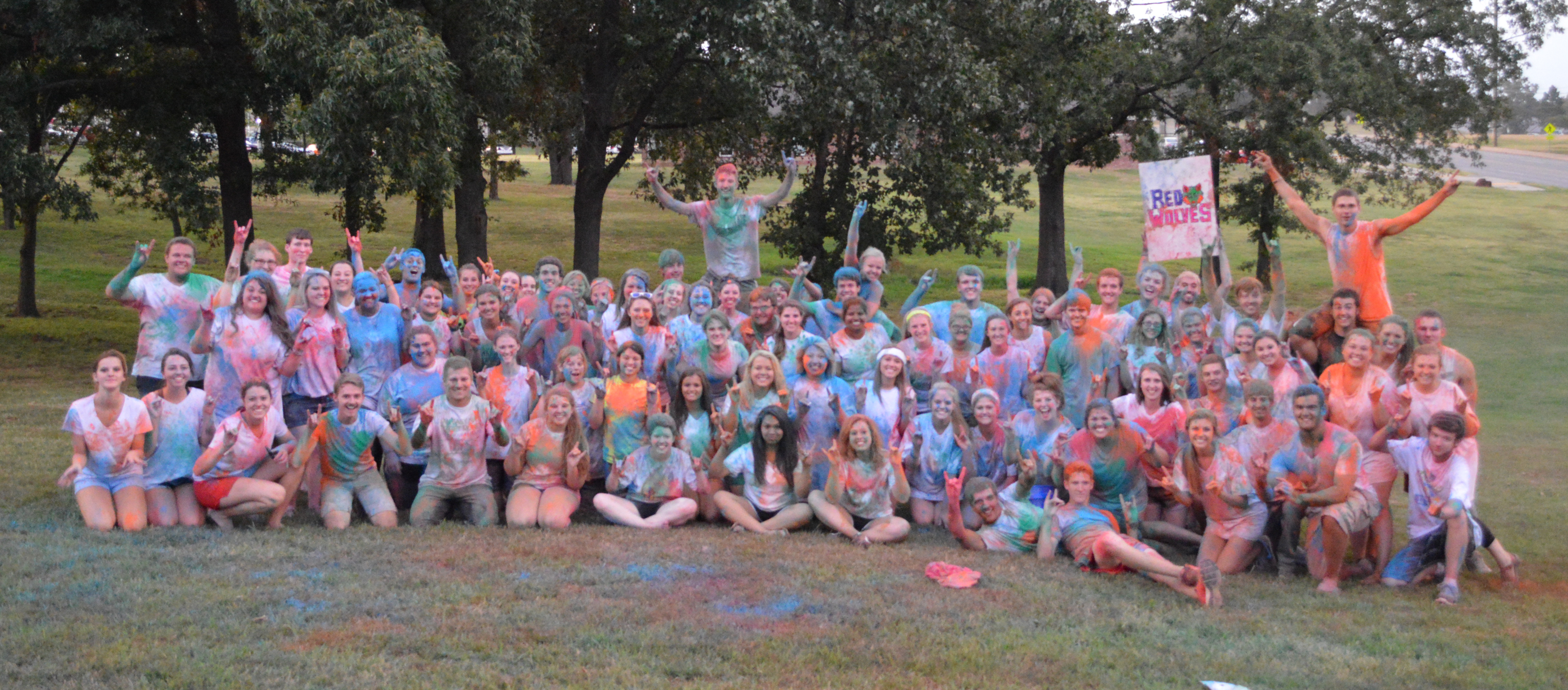 Among the activities for A-State Honors College students this fall was a "Color War". A large percentage of the 320 new Honors College student took part.

While an honors program has been a part of Arkansas State since the early 1980s, the Honors College received its designation in 2004 from the university and began its current mission. It sponsors advanced courses for students seeking to create specialized degree programs and to challenge highly-motivated students. Both incoming and current Arkansas State students can seek admission into the Honors College.
In the five years since 2009, the Honors College has grown 82 percent to the current 998 students, thanks in part to back-to-back record numbers of freshmen choosing A-State. The 2014 newcomer class is a 22 percent increase over the previous high mark of 2013. The average ACT of this year's class is almost 29 and an impressive 3.9 high school GPA.
The director of the Honors College, Rebecca Oliver, is a major part of the growth. Oliver and her staff work to recruit highly qualified students with several higher education options to make Arkansas State their choice.
"We are thrilled to welcome 320 new freshmen into the Honors family," she said. "And Honors is just that—a family. The family keeps growing and getting better each year. Our motto in the Honors College is Live. Learn. Belong. In everything that we do to support our students at A-State we keep this in mind."
Oliver credits two important changes at Arkansas State with the Honors College growth: the adoption of a more rigorous admission standard and the opening of the first Honors Living-Learning Community. Of the two, the on-campus living area is the most significant.
"The HLLC is a key component in building a culture and a sense of belonging among Honors students," she said. "We now have four residence halls and they are completely full with students who enjoy the camaraderie among a diverse group of like-minded, motivated students. Honors is a way of life at A-State."
While the Honors College has its own student organization, residence areas and academic support, the students participate in majors across the university and are involved in leadership in numerous organizations.
"They are everywhere on-campus," Oliver said. "In every major and discipline, every student organization, student-athletes, Greek life, student government, you name it—Honors students are involved. "
The growth in Honors students at A-State impacts individual colleges as these high-achieving students select their individual areas of study. As the home of several pre-professional degree programs, the College of Science and Mathematics has seen its numbers rise alongside Honors.
"This fall is our largest entering class, and the growth of Honors played a major role," Dean of the College of Science and Mathematics John Pratte said. "We have more students than ever involved in research, and many of them are members of the Honors College."
Pratte estimates a third of his majors are from Honors, and the growth is both quantity and quality.
"These students are better prepared for their post-graduate careers, and we see increased GRE, MCAT and PCAT scores," Pratte said. "They're getting job offers from top firms like Boeing and Microsoft, or they are pursing postgraduate studies at institutions like Dartmouth, Vanderbilt and Georgetown."
The higher scores of the entering students for Honors and their experience at A-State are driving more interest for the program.
"Their success is getting the word out that A-State provides quality education," Pratte said. "In turn, that is helping us recruit the next round of freshmen and making us a destination of first choice."
Honors students are a part of each of Arkansas State's nine academic colleges.
"Our Honors students have been incredibly important in transforming the College of Business," Dean Shane Hunt said. "From their exceptional contributions in the classroom, to the research they work on with our business faculty, they are leaders in the academic success of the College of Business."
To learn more about the Honors College at A-State, visit their website at AState.edu/Honors or follow them through social media: Facebook/AStateHonors, Twitter/AStateHCA and Instagram/AState_Honors.