Honors College Establishes "Remembering Shelby Rhodes" Scholarship
12/01/2017
JONESBORO – The Honors College at Arkansas State University, through the generosity of donors, announced the establishment of the "Remembering Shelby" scholarship. Chancellor Kelly Damphousse and Rebecca Oliver, director of the Honors College, outlined the details surrounding the scholarship during an announcement, Friday, Dec. 1, in the Administration Building lobby.
The scholarship honors the memory of Shelby Rhodes of Sheridan, an Honors student who died in an automobile accident Aug. 10. Rhodes, who was entering her senior year, was to be president of the Honors College Association (HCA).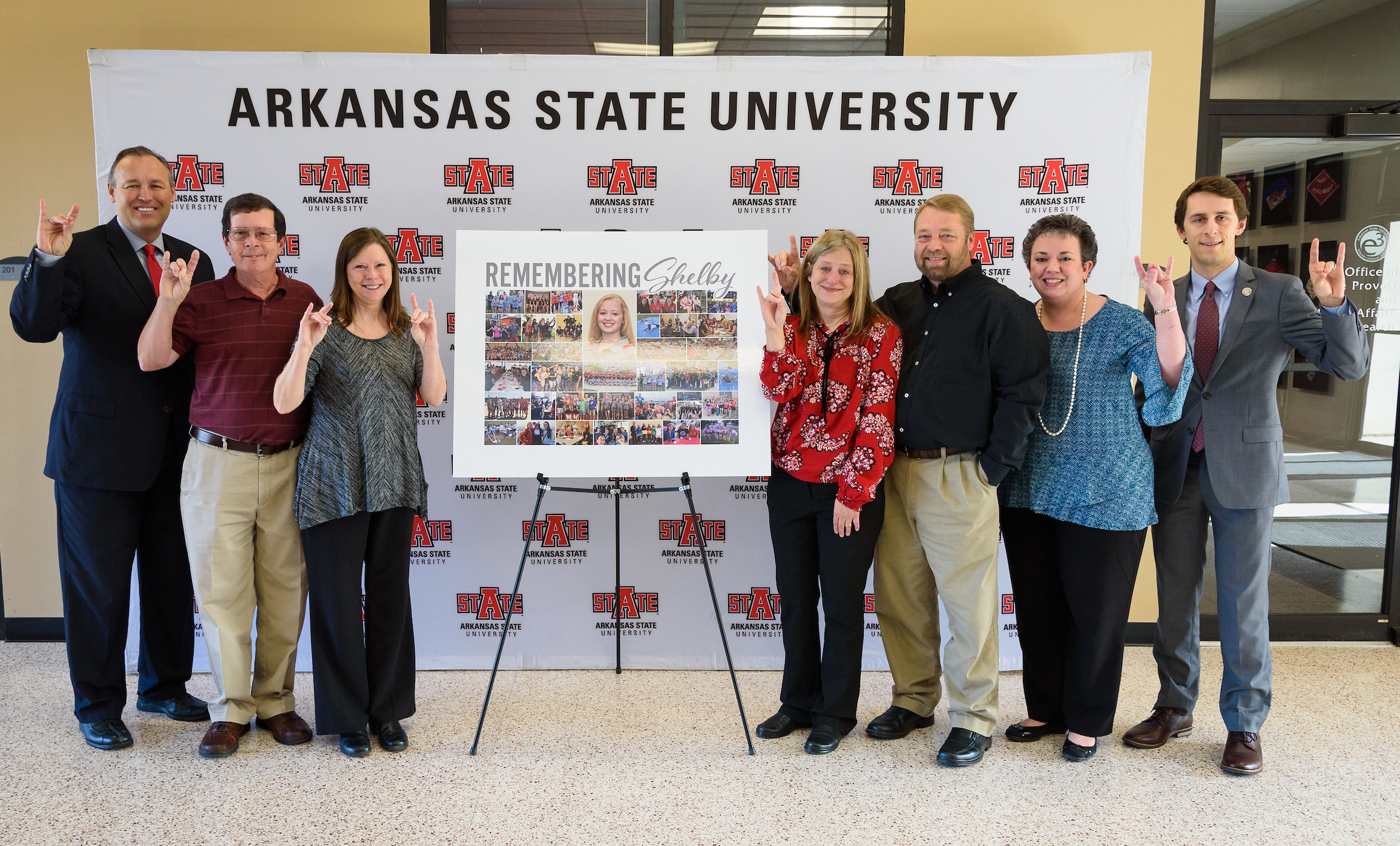 Announcement of "Remembering Shelby" scholarship — (from left) Arkansas State University Chancellor Kelly Damphousse, Bobby Bradshaw (Shelby Rhodes' uncle), Mary Bradshaw (Shelby Rhodes' aunt), Vickie Rhodes (Shelby Rhodes' mother), Roy Rhodes (Shelby Rhodes' father), director of the Honors College Rebecca Oliver, and assistant director of the Honors College Chad Whatley).


"I contacted Shelby's parents, who I have known since Shelby was at Sheridan High School, a couple of weeks after her passing to ask for permission to try and raise the funds to endow a scholarship in Shelby's name," said Rebecca Oliver, director of the Honors College. "They were more than gracious in giving us their blessing."
"This scholarship will live on in perpetuity and will be awarded to countless generations of A-State Honors students," commented Damphousse. "No university, no chancellor ever wants to have a scholarship named after a student who passed away before his or her time. But, Shelby Rhodes is most deserving of this honor and her legacy and contribution to A-State will live on because of this scholarship."
Damphousse noted than in late September, an anonymous donor came forward and promised a two-to-one match for any donation. Oliver said over 70 individuals, families and corporations contributed to the scholarship fund over the last three months. The donations met the original goal of $25,000 and an extra $5,000 was added, allowing the scholarship to be awarded immediately.
The scholarship will be $1,000 for the academic year and will likely be divided to $500 for the fall and spring semesters.
Shelby's parents, Roy and Vickie Rhodes of Sheridan, attended the announcement, along with her aunt and uncle, Mary and Bobby Bradshaw.
Shelby was a biological sciences major. An A-State Scholar, she had studied abroad in Costa Rica last year and participated in the Honors World War II study abroad experience in 2015. She also was an Honors Ambassador, a College of Sciences & Mathematics Ambassador, and member of Women in STEM.
"While we did not have enough time with Shelby, this scholarship will afford future students time to accomplish their goals and achieve their dreams," concluded Oliver. "In this way, Shelby's name and her legacy at A-State will live on longer than any of us."
Oliver said that Rhodes, who was to graduate in May 2018, was on track to earn top distinction from the Honors College and will be awarded a degree posthumously along with a gold Honors medallion this spring.