Helmets and Heels Wows Red Wolf Female Football Fans
07/31/2013
Today over 300 ladies are excited to discuss the sport of football, particularly Red Wolf football, than they did the previous day after participating in Tuesday night's "Helmets and Heels" event.
The capacity crowd occasion was held in Centennial Hall in the Carl R. Reng Student Union on the Arkansas State campus.
ASU Head Coach Bryan Harsin, his coaching staff and 12-15 players came together to offer the women lessons and information in Football 101 in preparation for the upcoming 2013 season. The wives of the coaching staff also were on hand.
"It was fantastic," said Christina Ryan, event organizer and wife of Mickey Ryan, Arkansas State's associate athletics director for external relations. "The coaches, wives and players did a wonderful job and their contributions made the evening a great success."
Ryan said the occurrence served as a fundraiser to help purchase pink gloves and wristbands for the team members to wear throughout the season in observance of breast cancer awareness.
She also thanked the vendors and sponsors for their contributions.
"We definitely plan to do it again next year and in the future," she concluded.

Season tickets for ASU's 2013 football campaign are currently on sale at the A-State Ticket Office. The ticket office can be contacted at 870-972-ASU1, or tickets can be purchased online through A-State's official athletic website, AStateRedWolves.com.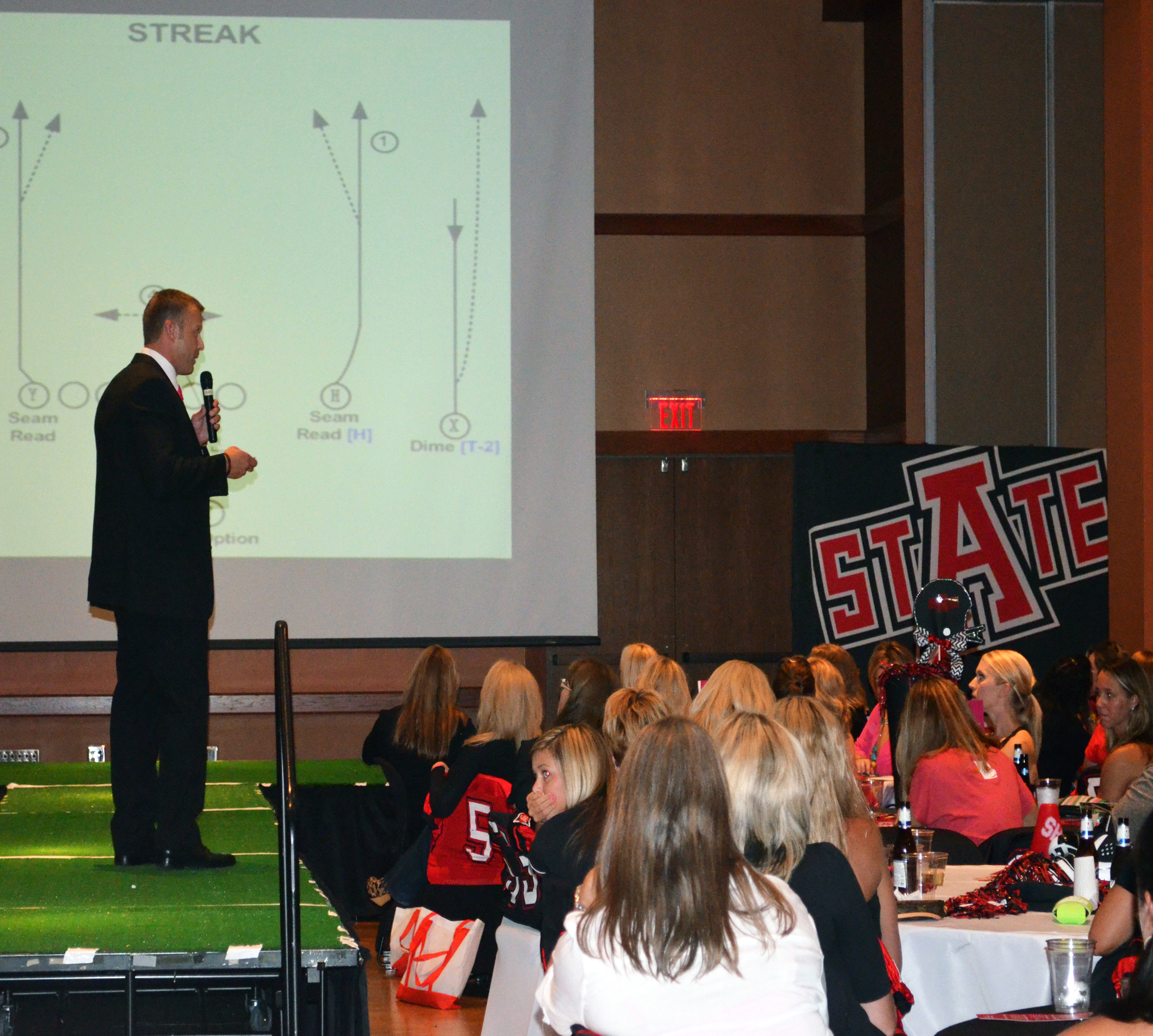 Coach Bryan Harsin explains football plays to the 300-plus women
who attended the "High Heels and Helmets" event Tuesday night.