Freshman Class Highlights A-State Fall 2014 Enrollment
09/03/2014
JONESBORO – With the largest freshman classes since its implementation of more rigorous admission standards, Arkansas State University welcomed more than 13,000 students to campus for the start of the 2014-15 academic year.
The 1,699 first-time students are also the most academically prepared freshman class for the third consecutive fall.
A-State's first-time students posted an average ACT score of 23.9, more than three points above the Arkansas average of 20.4 and higher than the 21.0 national average. The composite grade point average of 3.47 for the incoming 2014 class also improved over last year's 3.44 GPA.
"The quality of students who choose Arkansas State for their college education continues to rise," Chancellor Tim Hudson said. "These are students who have multiple options, but more and more see the value of Arkansas State as their best opportunity."
Arkansas State's Honors College admitted another record freshman cohort and the total enrolled students for fall 2014 is an all-time high for the program.
Admission standards for Arkansas State increased again this fall, the final year of a long-range plan to raise the minimum ACT and high school GPA for regular admission.
Arkansas State reported an 11th-day head count enrollment of 13,135 for the fall 2014 semester compared with 13,552 last year. A combination of the higher admission criteria, significant recent graduation totals and a dip in international and degree centers registration account for the bulk of the differential.
"We are admitting more first-year students who are prepared to succeed in college," Vice Chancellor for Student Affairs Rick Stripling said. "This is leading to better retention, less remediation and more graduates. With increased on-campus living and a renewed commitment to student programs, we see this translating into a vibrant campus community that is a destination university of choice for more and more freshmen in our state and region."
Arkansas State's first-year retention rate hit a new all-time high with 74.8 percent for 2014. The university's percentage of students in remedial courses has dropped by almost 50 percent over the past five years.
The progress in retention and steadily rising academic standards resulted in A-State conferring more than 11,700 degrees the past three years, the most in a three-year period in school history.
This year's freshman class numbers drive a new record on-campus population, topping last year's mark by 100 additional students. The impact of opening five new houses on Sorority Row last fall is reflected in Greek participation up double-digits for both fraternities and sororities over last year.
# # #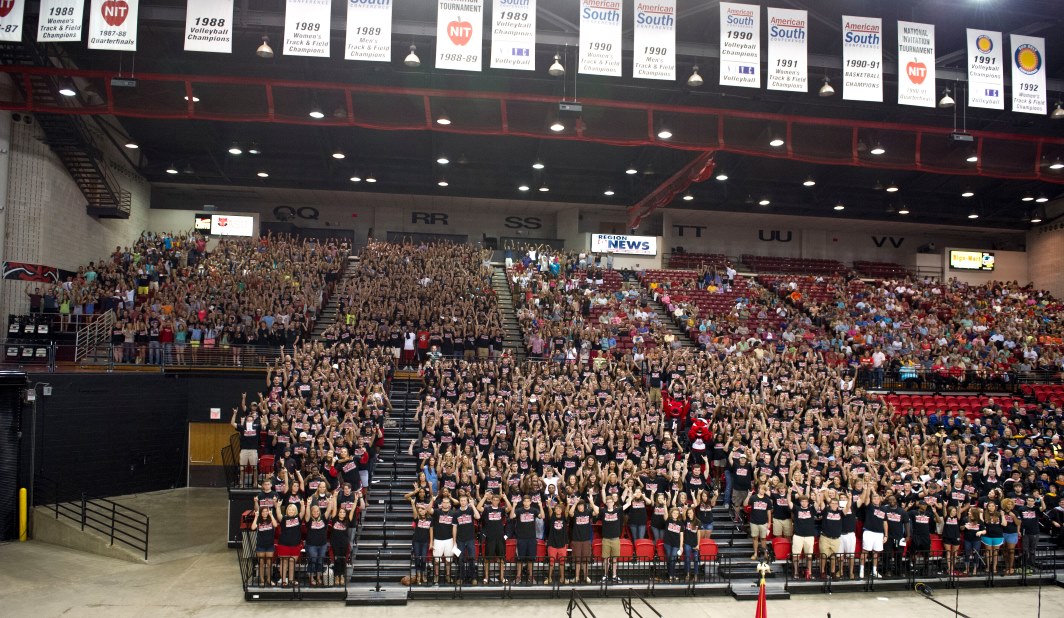 Freshman Class 2014 attends First-Year Convocation