Erin Wadley Receives R.E. Lee Wilson Award
04/07/2016
JONESBORO — Erin Wadley, a senior from Sherwood who will graduate from Arkansas State University in May with a Bachelor of Arts degree in political science, received the R.E. Lee Wilson Award for 2016 at the 83rd Student Honors Awards ceremony Thursday evening at Cooper Alumni Center.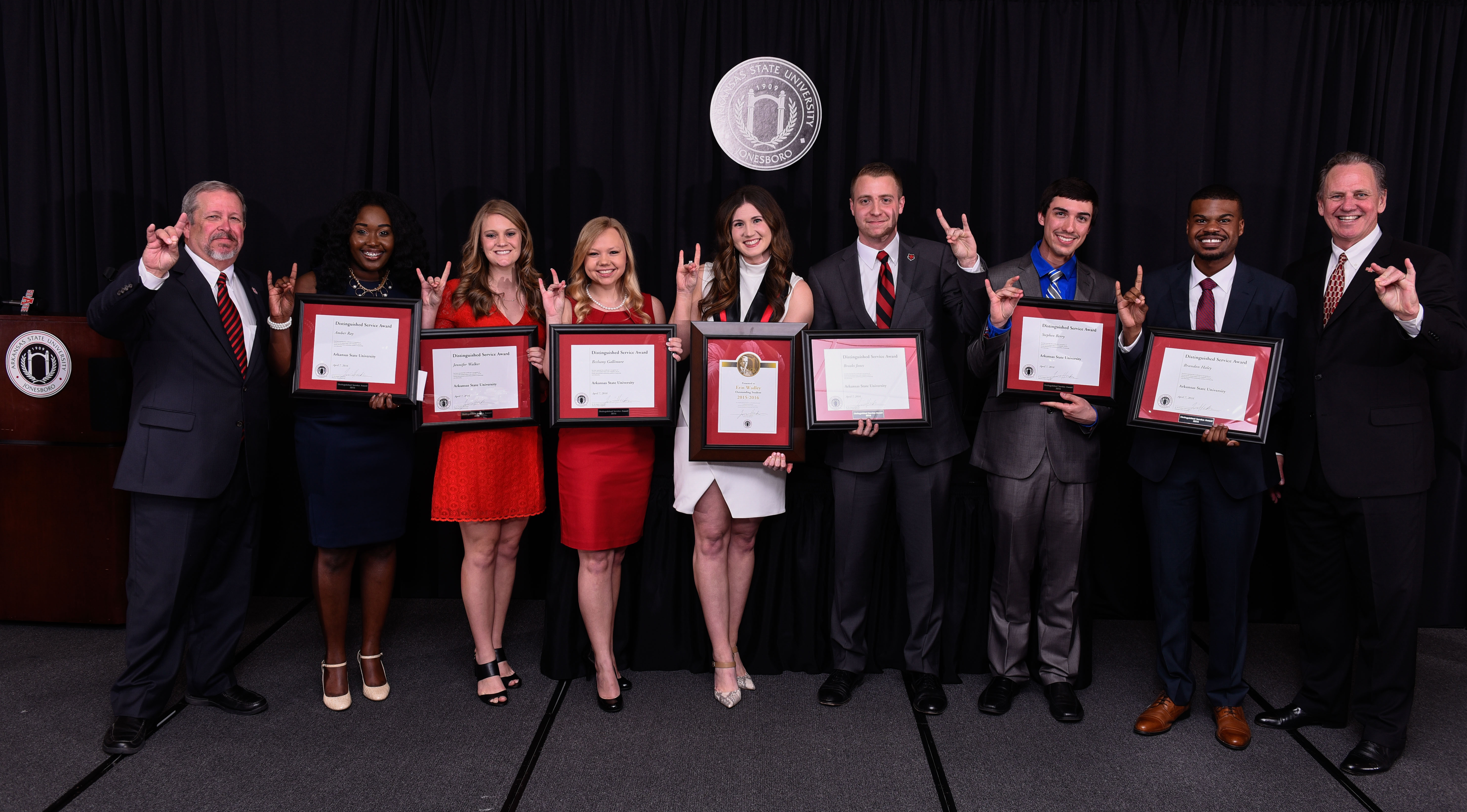 2016 Distinguished Service Award recipients
(from left) Dr. Rick Stripling, Vice Chancellor for Student Affairs; Amber Ray of Little Rock; Jennifer Walker of Maumelle; Bethany Gallimore of Hot Springs; Erin Wadley of Sherwood; Brook Jones of Monticello; Stephen Berry of Bono; Brandon Haley of Marion;
Dr. Tim Hudson, Chancellor.
Wadley was selected from a group of seven Distinguished Service Award winners honored at the ceremony. Perry Wilson, the great-great grandson of R.E. Lee Wilson, presented the award to Wadley.
The Wilson Award is presented annually at the Student Honors Awards ceremony to the university's most outstanding graduating senior. The recipient is selected on the basis of character, determination, involvement, leadership, participation and academic achievement. This honor is bestowed in memory of R. E. Lee Wilson, a member of the Arkansas State University Board of Trustees from 1917 until his death in 1933. Presentation of the award began in 1934.
Wadley, who maintains a 3.874 grade point average, is the recipient of several scholarships, including the Dean Robert Moore Leadership scholarship, the privately funded political science scholarship, the Arkansas Promise scholarship, and an Arkansas Lottery scholarship.
Graduating in the top 10 percent of her class with perfect 4.0 GPA for four consecutive semesters, Wadley's academic achievements involve National Society of Collegiate Scholars inclusion, being a six-time member of the Chancellor's List and recipient of the above-average Greek woman's GPA from 2012-15. She also appeared in advertisements for the Arkansas Scholarship Lottery.
On campus, Wadley is active in the Student Activities Board, having assisted in the planning of campus-wide events and student activities as well as overseeing budgets. She implemented marketing plans and offered creative initiatives to help promote campus events as part of the SAB's marketing committee and helped engage students to attend and promote athletic events as a member of the spirit committee through Order of the Pack and a baseball tailgating event called Day at the Park.
As a three-term senator in the Student Government Association, Wadley represented the SGA on numerous committees including Shared Governance Oversight, which reported directly to the chancellor, and on Development, Communications and Alumni, Honors Awards, Intercollegiate Athletics and Lecture-Concert. Also, she administered the A-State Action Fund budget, in which she allocated funds for registered student organizations to maximize student-led activities. Her position also allowed her to work toward making A-State the only certified, bicycle-friendly campus in Arkansas and she volunteered at the NEA Food Bank.
She also worked with the Student Advisory Committee as a liaison between students and administration and as the career and personal development chair for Chi Omega sorority. She was a foundation ambassador and participated in philanthropic events benefiting St. Jude Children's Research Hospital, arthritis and diabetes research, the Sparky Hearing Foundation, breast cancer research, Feeding America, Huntsman Cancer Institute, Children's Miracle Network, Camp Sunshine, the Muscular Dystrophy Association, Toys for Tots and Make-A-Wish. She also helped in recognizing military heroes.
A global student leader, she traveled to Belize in spring 2015 with other students to study the country's economic, political, governmental and environmental conditions. She enhanced her public-speaking skills by addressing Arkansas State University's Legacy Society, the Arkansas State class of 1965, an alcohol awareness event and students at High School Leadership Day.
Wilson Award winners are honored in a permanent display outside Centennial Hall in the Carl R. Reng Student Union. Previous winners of the award joined to form the Wilson Fellows, a chapter within the A-State Alumni Association.