Embassy Suites Red Wolf Convention Center Celebrates Grand Opening
03/09/2020
JONESBORO – Hundreds of city, county, state and university representatives packed the Arvest Ballroom of the Embassy Suites of Jonesboro Red Wolf Convention Center for the ribbon cutting and grand opening celebration Thursday on the Arkansas State University campus.
From Arkansas Gov. Asa Hutchinson to rising country music performer Cory Jackson, the program was highlighted start to finish with comments and entertainment suitable for the historic milestone event.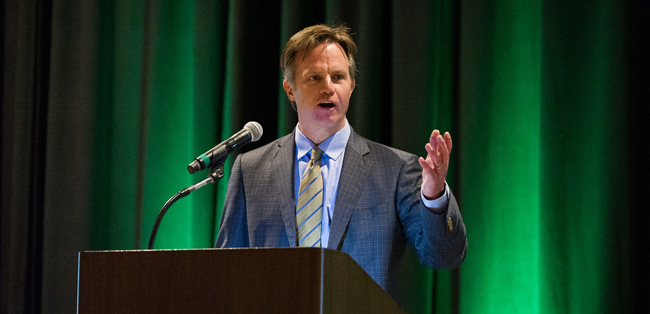 Tim O'Reilly, CEO, O'Reilly Hospitality Management
Tim O'Reilly, chief executive office of O'Reilly Hospitality Management, LLC, was among the lineup of speakers. Others included Embassy Suites Global Head Alan Roberts; ASU System President Chuck Welch; A-State Chancellor Kelly Damphousse; Delta Regional Authority Co-Chair Chris Caldwell; Jonesboro Mayor Harold Perrin; Arvest Bank Regional President Jim Cargill; and Jonesboro Advertising and Promotion Commission Chair Jerry Morgan.
General Manager Kraig Pomrenke, who emceed the event, thanked those in attendance for their involvement and commitment to the new venture, which includes the Embassy Suites Hotel, Red Wolf Convention Center, and Houlihan's Restaurant.
The A-State Spirit Squad, Howl and Scarlett, and the Paragould High School Drumline also helped set the festive mood for the occasion.
Embassy Suites by Hilton in Jonesboro has 98 king suite, 101 double queen suites, plus four conference suites.
The Red Wolf Convention Center features 40,000 square feet of space, including the 15,000-square-foot Arvest Ballroom and the 4,000-square-foot Delta Ballroom.
Arkansas State University and O'Reilly Hospitality Management are engaged in a long-term public-private partnership that includes a hospitality management program through the Neil Griffin College of Business.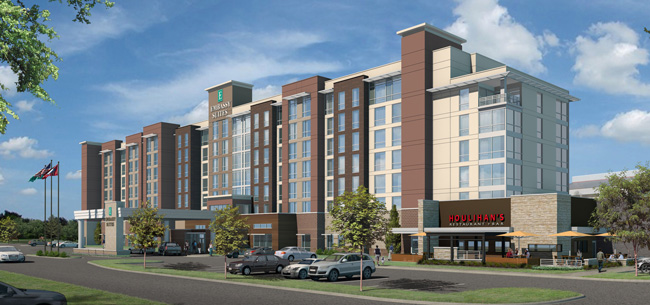 Embassy Suites of Jonesboro Red Wolves Convention Center
# # #