Eight Students Inducted Into Kappa Tau Alpha Honor Society
04/19/2018
JONESBORO – Eight Arkansas State University students were recently inducted into the Kappa Tau Alpha (KTA) honor society in a ceremony at Fowler Center on the campus of Arkansas State University.
KTA is a college honor society that recognizes academic excellence and promotes scholarship in journalism and mass communication. Membership is a mark of high distinction and honor.
The students were Hessah Saad Alqahtani of Saudi Arabia, Ghanem Ayed Elhersh of Jordan, Annah Alizabeth Elrod of Jonesboro, Jillian Griffin of Marion, Christopher J. Lee of Piggott, Miranda Reynolds of McCrory, Mattie Robinson of Paragould and Misato Tsuruta of Japan.
Robinson was named the top undergraduate scholar and Alqahtani the top graduate scholar for the 2018 class.
Only students majoring in journalism and mass communication are eligible. Membership is by invitation only by one of the society's 96 campus chapters and is based solely on scholarship and character. The seventh oldest national honor society, Kappa Tau Alpha was founded at the University of Missouri in 1910 at the world's first school of journalism.
Dr. Holly Kathleen Hall, associate professor of strategic communication, serves as the A-State chapter adviser and national vice president. Information about Kappa Tau Alpha can be found at kappataualpha.org.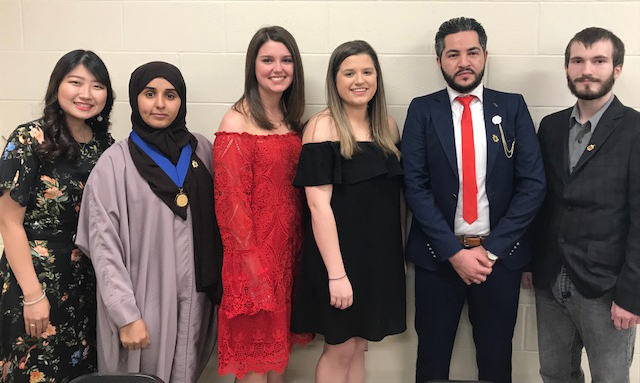 Inductees into Kappa Tau Alpha honor society are (from left) Misato Tsuruta, Hessah Saad Algahtani, Miranda Reynolds, Jillian Griffin, Ghanem Ayed Elhersh and Christopher Lee. Not pictured: Mattie Robinson and Annah Elrod.