Earl Morris Receives Arkansas State's R.E. Lee Wilson Award
04/02/2015
JONESBORO — Earl Morris, a senior from Jacksonville who will graduate from Arkansas State University in May with a double major in biology and chemistry with an emphasis in pre-pharmacy, received the R.E. Lee Wilson Award for 2015 at the 82nd Student Honors Awards ceremony Thursday evening at Cooper Alumni Center.
The recipient is selected from a group of seven Distinguished Service Award winners honored at the ceremony. Perry Wilson, the great-great grandson of R.E. Lee Wilson, presented the award to Morris.
The Wilson Award is presented annually at the Student Honors Awards ceremony to the university's outstanding graduating senior. The recipient is selected on the basis of character, determination, involvement, leadership, participation and academic achievement. This honor is bestowed in memory of R. E. Lee Wilson, a member of the Arkansas State University Board of Trustees from 1917 until his death in 1933. Presentation of the award began in 1934.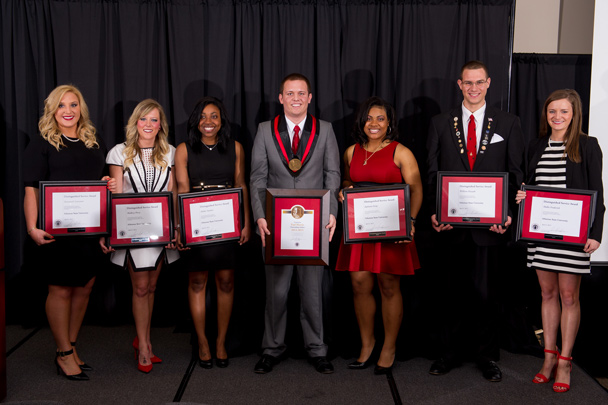 The 2015 Distinguished Service Award winners (from left) Savannah Lancaster, Mallory Perry, Wilson Award winner Earl Morris, Amber Sanders, Japhanie Gray, William Kazyak and Hallie Frederick.
Morris, who has a 3.85 cumulative grade point average, is a member of the Dean's and Chancellor's lists as well as the Honors Director's List. An Honors College student and A-State Scholar Scholarship recipient since 2011, Morris was nominated by Rebecca Oliver, director of the Honors College.
Among his academic accomplishments, Morris finished in first place in the 2014 Create @ STATE STEM undergraduate poster presentation and second in the chemistry presentation. He also came in second in the AR P3 (Plant Powered Production) symposium poster display.
He was involved in four additional regional presentations in 2014 titled, "High Throughput Phenotyping of High Vitamin C Tobacco Lines" at the American Society of Plant Biologists (ASPB) southern section regional meeting in Lexington, Ky., P3 symposium at the Winthrop Rockefeller Institute in Morrilton, National Science Foundation EPSCoR annual conference in Little Rock, and the Arkansas IDeA Network of Biomedical Research Excellence (INBRE) Conference, in Fayetteville. That poster outlines "Investigation of the Role of Myo-inositol Oxygenase in Vitamin C Synthesis and Its Effects on Tobacco Plants."
The recipient of the Dr. Glenn D. Cooper Memorial Scholarship in 2014-15, Morris also received the V.C. and Bertie H. Kays Educational Scholarship for Academic Excellence and served as a National Science Foundation (NSF) intern during the summer of 2014. He is a 2014-15 nominee for Who's Who Among Students in American Universities and Colleges and received a thesis research grant from the College of Sciences and Mathematics in the fall of 2014.
Active in fraternity activities for Lambda Chi Alpha, Morris was named the organization's outstanding new member in Greek life in 2013. He served as scholastic and alumni chairman and a board member of LXA at Arkansas State to aid in management of the fraternity house.
With numerous volunteer and charitable activities to his credit, Morris works extensively with St. Jude Children's Research Hospital, including the St. Jude's Up 'til Dawn event, a highway cleanup, Honors Reception Day, benefit for Sanfilippo Syndrome research, food drives, letter writing campaigns to overseas soldiers, St. Bernards patient ambassador program, Heart and Sole 5K, CASA (Court Appointed Special Advocates) for children and Conner's Song to aid in healing of children through creating art.
Wilson Award winners are honored in a permanent display outside Centennial Hall in the Carl R. Reng Student Union. Previous winners of the award joined to form the Wilson Fellows, a chapter within the A-State Alumni Association.
# # #