Diversity Excellence Awards Presented at University Luncheon
04/17/2014
JONESBORO – Two faculty members whose dedication to achieving a more diverse university environment were recognized Wednesday as recipients of Arkansas State University's Diversity Excellence Award for 2014.
According to Dr. Faye Cocchiara, interim chief diversity officer at A-State, "The Diversity Excellence Award is an annual recognition of the faculty member or academic unit that has demonstrated the highest commitment to advancing diversity and inclusion on the A-State campus over the past year."
Dr. Claudia Benavides-Espinoza and Dr. Gauri Guha were co-recipients of the award, which was presented at a university luncheon in Fowler Center. Chancellor Tim Hudson announced the winners, who were selected by a university committee from among the nominees.
Other nominees recognized at the luncheon were the Department of Management and Marketing, the College of Humanities and Social Sciences, and the College of Media and Communication.
The keynote speaker for the luncheon was Dr. Myrtle P. Bell, professor of management at the University of Texas at Arlington, and author of "Diversity in Organizations," a comprehensive, research-based book for teaching diversity.
Bell challenged the audience members to heighten their sensitivity and awareness of diversity issues both on campus and in their daily lives.
Guha, associate professor of economics and finance in the College of Business, was cited for using his international business experience in class projects to improve his students' cultural competence and ability to think globally.
He also helps support several organizations for international students, such as the Indian Student Association and the Red Wolves Cricket Club, while also serving as advisor and coach of the Red Wolves Shooting Team, which recently won the State Collegiate Championship.
Benavides-Espinoza, assistant professor of sports management in the College of Education and Behavioral Science, was cited for addressing low female enrollment in the sports management program by implementing recruitment strategies that doubled the number.
She also is an expert in bystander sexual harassment research, with which she enriches her classes. One of her students wrote for her nomination, she " . . . frequently encourages students to ask themselves tough questions about their biases and stereotypes," with the result being perspectives that change because of engaging class discussions.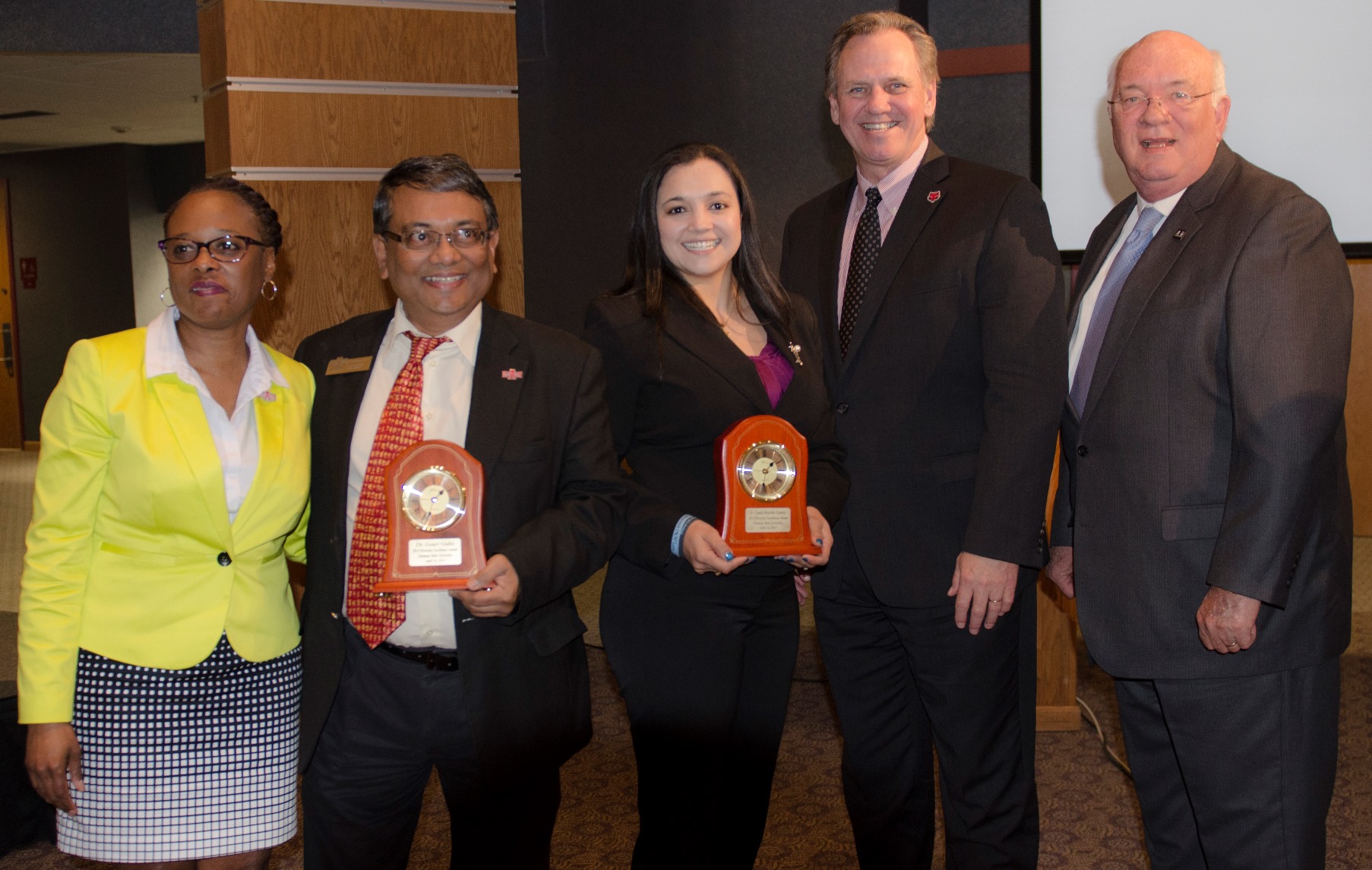 Diversity Excellence Award winners Dr. Gauri Guha and Dr. Claudia Benavides-Espinoza (center) are congratulated by (from left) Dr. Faye Cocchiara, interim chief diversity officer, Dr. Tim Hudson, chancellor, and Dan Pierce, member of the ASU Board of Trustees, at the conclusion of the awards ceremony.