Department of Media Students Produce Broadcast of Sun Belt Conference Soccer Championship
11/15/2017
JONESBORO – Students, faculty and a staff engineer from Arkansas State University recently traveled to Foley, Ala., to produce the video broadcast of the 2017 Sun Belt Conference Women's Soccer Championship. Using the Department of Media's mobile production trailer, Red Wolves 1, the crew produced seven soccer matches, Wednesday through Sunday, Nov. 1-5.
All matches were carried live via satellite and available to a worldwide audience via ESPN3. The crew is also producing the Sun Belt Conference Volleyball Championship for ESPN3 from First National Bank Arena on the A-State campus, Thursday through Sunday, Nov. 16-19.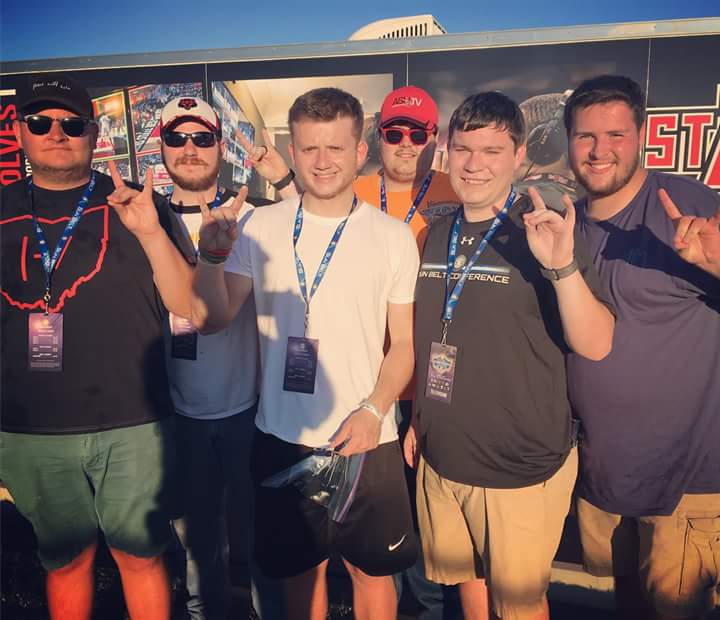 Arkansas State University Department of Media student production crew for the 2017 Sun Belt Conference soccer championship (from left) — Rob Nelson of North Little Rock, Drew Hancock of Batesville, Jacob Blevins of Batesville, Wes Gwaltney of Newark, Trent Taylor of Harrison and Clayton Holderfield of Cabot.
"The campus-wide interest in our new sports media major and minor has been very humbling," said Collin Pillow, instructor in creative media production. "Our students are realizing they have the opportunity to experience real-world sports media by being direct participants at national and international levels thanks to our partnership with ESPN and the Sun Belt Conference."
It was the second trip for several of the students after the Department of Media formed a partnership last January with the Sun Belt Conference and ESPN to produce the 2016 volleyball championship in Arlington, Texas.
Rob Nelson, a junior from North Little Rock, noted that the trip to Foley was a great experience and resumé builder. "Getting this kind of hands-on experience was the exact reason I chose Arkansas State. Working with a group of my peers, I learned about the importance of every production being a team effort. Because of the experience I gained on this trip, I feel I'm much more prepared to work in live production on a professional level."
"This was my second trip with Red Wolves 1 to help produce a Sun Belt Conference Championship for ESPN3," stated Drew Hancock, a senior creative media production major from Batesville. "The first trip was an amazing learning experience, but this one was a bit more. By now I've worked with the faculty members and students many times, so it felt so much more like a well-oiled crew producing a professional broadcast. The reason for that was it legitimately was a professional broadcast. By the last day, which was certainly our best show, I felt confident that I could do this for a living.
"Being immersed in the actual thing, your studying is so much more effective for learning the field than a classroom setting ever could be. I recommend working toward going on a trip like this to any future student that wants to learn by doing. The bragging right of having worked on an ESPN3 production doesn't hurt things either."
Junior Wes Gwaltney of Newark added, "This trip was the best experience and a great opportunity to experience what a multi-day event is like in our career and the amount of work that goes into such an event."
The tournament production experience was also the second time for Clayton Holderfield, a sophomore from Cabot. "I have enjoyed having the opportunity to work on the crew for the production," he said. "I feel like we all did our best and created a great product for ESPN3. I enjoyed seeing our knowledge of the sport progress. It was also cool getting to meet and talk with ESPN on-air personalities Drew Fellios and Lori Lindsey."
"As we continue to expand the number and frequency of our external partnership opportunities, increasing student involvement/leadership has become priority number one," concluded Galen Perkins, instructor in creative media production. "Simply put, the students on this trip did not disappoint. In an experiential learning setting such as this, students are involved in every aspect of production, from running cable and cameras, to operating professional graphics and video switching systems.
"It was exciting as a faculty member to kick back and observe the process at times, knowing that students were directly applying skills learned in the classroom and taking ownership of the production. Through many pre-dawn mornings and late nights, their enthusiasm level never dwindled, and they continued to produce a great product on a national level."